Founder/Admin
Staff Member
CFO (Chief Fun Officer)
Joined

Feb 13, 2016
Messages

39,484
Likes

179,699
Location
This is a review, listening tests and detailed measurements of the Soundkraft Enigma Bluetooth powered DSP speaker. It was sent to me by the company and costs about US $365 (?) a pair.
It comes in real textured wood finishes which warms my heart as a woodworker. I wish the base was less industrial though to go with the natural feel of the rest.
A beefy 6 amp/24 volt EPSON (printer) power supply. 50 watts of amplification is provided per channel.
Above is the master speaker. A set of speaker wires connects the slave. I got a choice of whether I wanted the master on the right or left and the Bluetooth name of the speaker!
The front-facing driver is from SB Acoustics and is put to use as a full range driver. The rear tweeter made by German company VISATON is for "ambiance." A down firing port finishes the back.
I like that there is a wired Aux in, allowing high fidelity playback on the desktop.
Measurements that you are about to see were performed using the Klippel Near-field Scanner (NFS). This is a robotic measurement system that analyzes the speaker all around and is able (using advanced mathematics and dual scan) to subtract room reflections (so where I measure it doesn't matter). It also measures the speaker at close distance ("near-field") which sharply reduces the impact of room noise. Both of these factors enable testing in ordinary rooms yet results that can be more accurate than an anechoic chamber. In a nutshell, the measurements show the actual sound coming out of the speaker independent of the room.
Likewise listening tests comply with the latest research into proper evaluation of speakers calling for mono, instead of stereo listening:
The grill is not removable so speaker was tested as you see.
Soundkraft Enigma Measurements
The design of the Engima brings challenges to both our (my) measurement system and overall philosophy of objective speaker analysis due to inclusion of rear firing tweeter. This creates a very complex soundfield as soon as that driver takes over, quickly diminishing accuracy of Klippel NFS using the usual 1000 point measurement. Accuracy sank to 2% by 4 kHz or so and sank fast above that. Fortunately on-axis is not impacted as the rear driver makes no contribution there: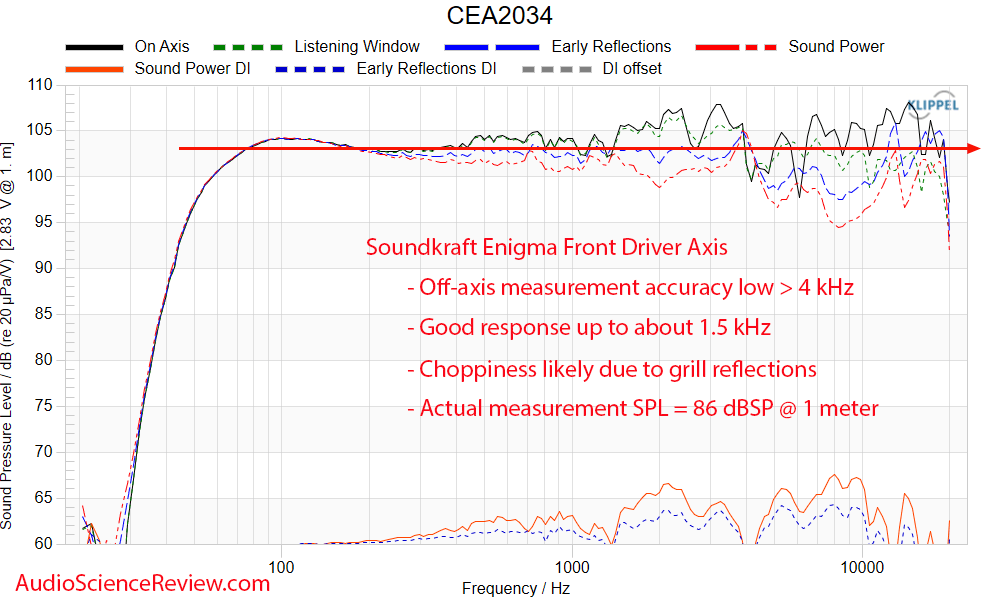 Being a lifestyle speaker, it needs to have a grill which causes the reflections/jaggedness that we see above a few Kilohertz. Below that, it is reasonable with very nice bass extension for such a small box. We are talking flat response down to 70 Hz! This is aided by the DSP. F10 where response drops by 10 dB extends to almost 45 Hz which is very nice especially in this category speaker. Remember, this is a speaker roughly the size of European football.
Listening window (dashed green) looks better than on-axis which is nice. Also nice is the far-field response:
And as a result predicted in-room response, again far field:
Distortion is kept under control other at 86 dBSPL. I set the max at 90 as otherwise there was too much distortion:
To investigate the peaking of distortion, I thought I show the distortion of the main full range driver (which I am calling "woofer") here:
It seems like a mix of resonances and some cone breakup. Harmonics land in less audible part of the hearing band so subjective outcome may not be so bad.
Here is the composite response. Again, remember the "woofer" is full range front driver:
Port resonances are strong but fortunately the port is rear facing so less audible than if it were firing forward. We can see the rear tweeter pushing the high frequency response way up but that would be attenuated based on how far it is from rear wall.
Beamwidth paints a rather sad picture as first due to natural beaming of the full range driver:
But if we watch the contoured colors of the same we see the rear tweeter coming to rescue somewhat:
Ditto for vertical dispersion:
Finally here is our waterfall:
Soundkraft Enigma Listening Tests
First impression with Enigma placed on my desk elevated 6 inches was quite positive! There is impressive and warm bass. The single speaker could play very loud before gently compressing and creating light static. The effect of rear tweeter was obvious as it lengthened high frequency note decays. It was a bit bright so it was a toss up as to whether you want to block it or leave it as is. It did provide the function I mentioned in measurements: as you rotated to the right of the speaker, the tonality would shift some but still quite acceptable as the acoustic center would rotate between the back and front.
I thought I analyze the effects of some of the resonances using EQ:
Applying these two took away a bit of brightness although it did push back the spatial qualities a hair. Still, I liked it with these than not. The third filter was what was indicated by the predicted-in-room response. I did not like the effect so left it out.
All in all, the sound was quite enjoyable and truly hifi. This was in sharp contrast to bluetooth speakers that sound toylike most of the time. Subjective performance is well above casual look at the objective results.
Conclusions
I went into listening tests having seen the measurements thinking there would be some audible issues. Reality was that this was not the case. The measurements here are complex in their application to subjective response due to much less common use of rear firing tweeter. And lack of accuracy in our high frequency measurements. Even with no EQ, the Enigma is a pleasant speaker to listen to. It brings not only innovation in its organic look and feel, but also with "good bones" underneath to produce good "hi-fi" sound.
I am going to recommend the Soundkraft Enigma speaker. I think you will be hard pressed to find any lifestyle speaker to match its performance.
-----------
As always, questions, comments, recommendations, etc. are welcome.
Any
donations
are much appreciated using
:
https://www.audiosciencereview.com/forum/index.php?threads/how-to-support-audio-science-review.8150/
Last edited: