Raphaelite CS30-MKII 300B integrated tube amplifier review: A New Performance Record
This is a review and detailed measurements of Raphaelite CS30-MKK 300B single ended tube amplifier. It is available on eBay for $1449 + $310 shipping to California + tax. There are some better deals from retailers direct and it took just over two calendar weeks from ordering to arrival.
Today, we're breaking records.
I've never heard of Raphaelite, but a Google/eBay advertising algorithm determined I was curious about 300B tubes and was smart enough to show me this. It worked because I was sold on looks alone.
Specifications
Raphaelite 3.5K30AQ output transformer
The transformers are rated for 30 watts of power. Raphaelite uses the term "fully coupled" in their online marketing and "unity coupled" on the unit itself. The original unity coupled transformer was developed by Gordon Gow for push-pull topologies and is still used by McIntosh today. The patent has long expired.



ALPS remote controlled volume potentiometer
Power transformer rated for 300W
Input sensitivity: 450mV
Output power: 2 x 8 watts (RMS)
Signal to noise ratio: 80dB
Input impedance: 1KΩ
Output impedance: 4Ω, 8Ω
Power consumption: 130W
Frequency response: 15Hz-25KHz-3dB
Net weight: 23 kg (~51 lbs)
The packing was well thought out, but even though there was minimal damage to the box, the transformer cover was dented. Surprisingly, the amp comes shipped with tubes and those were all fine. The connector supplying the LED for the ammeter wasn't working, which gave me an excuse to open it up and inspect it.
You can see a simple layout with a nice mix of PCBs with point-to-point wiring. PCBs provide lower costs of manufacturing and what's important are the components not the topology. We're not dealing with tiny surface mounted resistors here. No ferrite chokes are used (which may provide an opportunity for tweaks in high EMI environments). This is supposedly inspired by the original Western Electric 91B design, modified to handle "modern" tubes. The are some IC's since there is an infrared remote, and the ammeters blink while the unit is warming up. One of the visible ICs near the input jack is the NE555P which is a timer.
These "permalloy" input transformers can be plugged in or out of the signal chain to allow this to operate as a proper integrated amplifier or pure power amplifier. I tested this unit, as designed, with the input transformers enabled.
Test Setup
Topping D90 MQA as tone generator
Vishay Dale NH250 1% 4.48 ohm non-inductive resistors
E1DA Cosmos Grade A ADC
@pkane MultiTone software
Tube amplifiers are sensitive to speaker loads, so the resistor will show a different frequency response than actual use with speakers.
Out of the box:
Preamp tube: Shu Guang 6J8P
Power tube: Psvane 300B
Rectifier: Shu Guang 5Z3P
These tubes were used for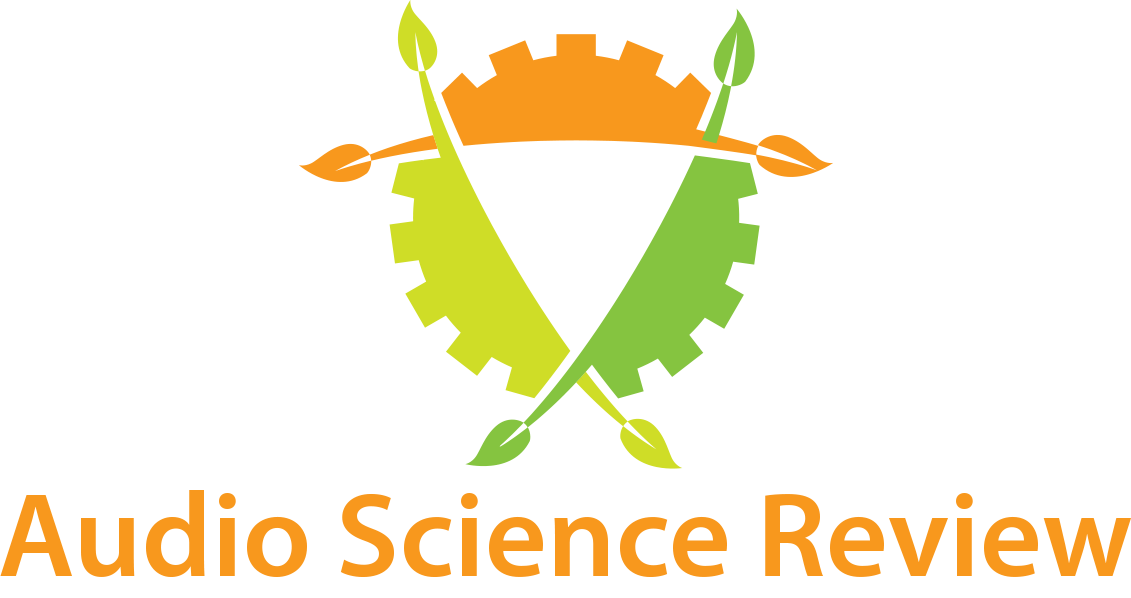 The challenge: How does a budget 300B SET compare to a "straight wire with gain"? You tell me. It's time to put your ears to the challenge. Poll is open for 14 days. No peeking at the results. Test Setup: I connected a Topping D90, set it at 0 dB volume, to a budget 300B single-ended...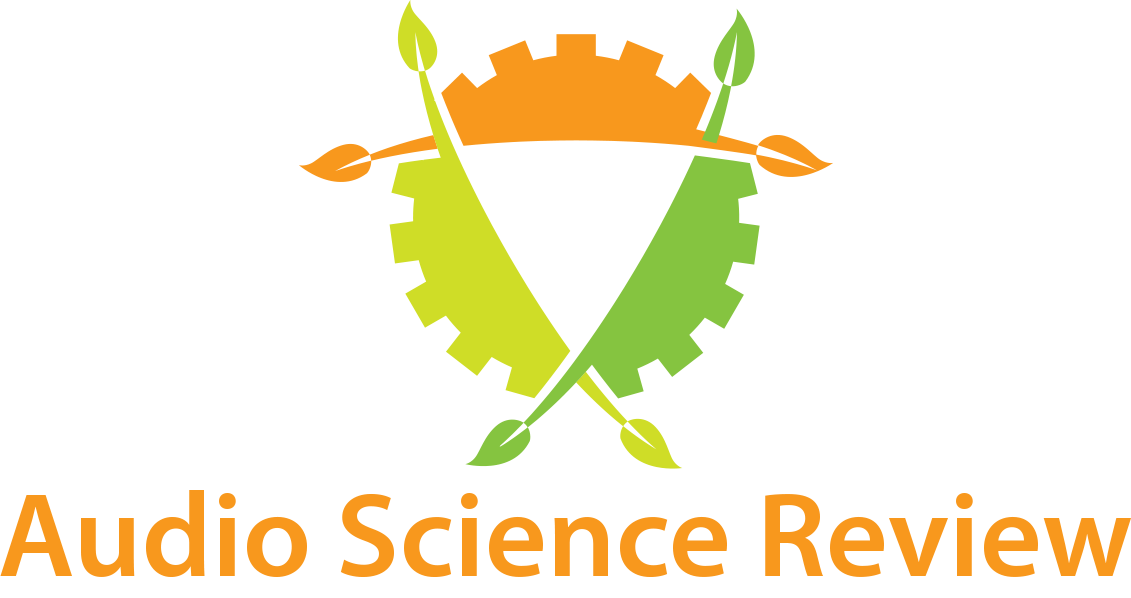 www.audiosciencereview.com
Tube Selection
For measurements, I swapped in some new old stock USA made tubes and new USA made tubes.
Rectifier
: CBS/HYTRON JAN-CHY 5U4G
While the rectifier is not part of the signal path, it is necessary for converting AC to DC. While a tube rectifier theoretically has lower noise than a solid-state rectifier (until you filter the output), it's doubtful that cleaner rectification is going to carry all the way through the signal chain.
Compared to the factory tube, the NOS tube reduced THD but increased noise.
Hytron was founded in 1921 and acquired by CBS in 1951 (yes, the TV company). By 1952, the "CBS/Hytron" facility was manufacturing germanium diodes and transistors! They continued manufacturing semiconductors and tubes for about 10 years! The JAN (Joint Army Navy) specification indicates that tube was originally produced for the US defense industry.
Preamp tube
: Philco 6SJ7
The 6SJ7 is a high gain tube that largely saw use in RF amplification. Since it offered wide bandwidth and high-gain (at the time), it was also used for audio. Nowadays, something like the 12AX7 is a more popular tube (and actually was a collaborative effort between RCA, Sylvania, and GE for the US defense industry).
Compared to the factory tube, this increased gain, but added both THD and noise.
Philco has its roots as far back as 1892 (when the company was called Helios). Philco stands for "Philadelphia Battery Company" and was famous for taking the lessons learned from Henry Ford and assembly line manufacturing and applying it toward radios. In the 1950's, Philco engineers invented the surface barrier transistor which was a high-speed transistor and powered many of the earliest computers used by the National Security Agency and the ground guidance systems used in the USAF Atlas intercontinental ballistic missile. Philco was acquired by the Ford Motor Company in 1961 and integrated Ford's Aeronutronic Division into a new company called, Philco-Ford. Philco-Ford famously was responsible for
constructing NASA's Mission Control
. Although I've given the history of Philco, these 6SJ7's are likely made by RCA based upon appearance.
Power tube
: Western Electric 300B
These tubes are as expensive as the rest of the amplifier combined. The current production of the
Western Electric 300B genuinely does measure cleaner than other commercially available products and does show improved measurements with "burn-in."
We are looking at this straight out of the box. The wood box is a $100 upcharge. The glass appearance is clearer than the Psvane. That is, the visible purity of the glass is noticeably more transparent! Without burn-in, the WE 300B tubes show higher levels of distortion than the factory tubes at high power but better levels at lower power.
Western Electric has a history that goes as far back as 1869. The Western Electric Engineering Department became Bell Laboratories in 1925 and would go on to develop revolutionary products including the transistor, laser, CCD, radio astronomy and even software technologies such as UNIX, C, C++. The "Hawthorne Effect" which describes how people will change their behavior simply because they are being observed was first recognized at Western Electric's factory in the Hawthorne suburb of Chicago. To say that Western Electric is an important center of US manufacturing and innovation in the 20th century would be an understatement.
The 300A/B tube was developed in this early era of innovation at Bell Laboratories. 1933 for the 300A and 1938 for the 300B. These vacuum tubes were originally developed for audio applications such as the telephone and movie theaters. It was never intended for home use.
After WWII, Western Electric ultimately continued to produce the 300B largely as a high-endurance high voltage regulator for industrial use.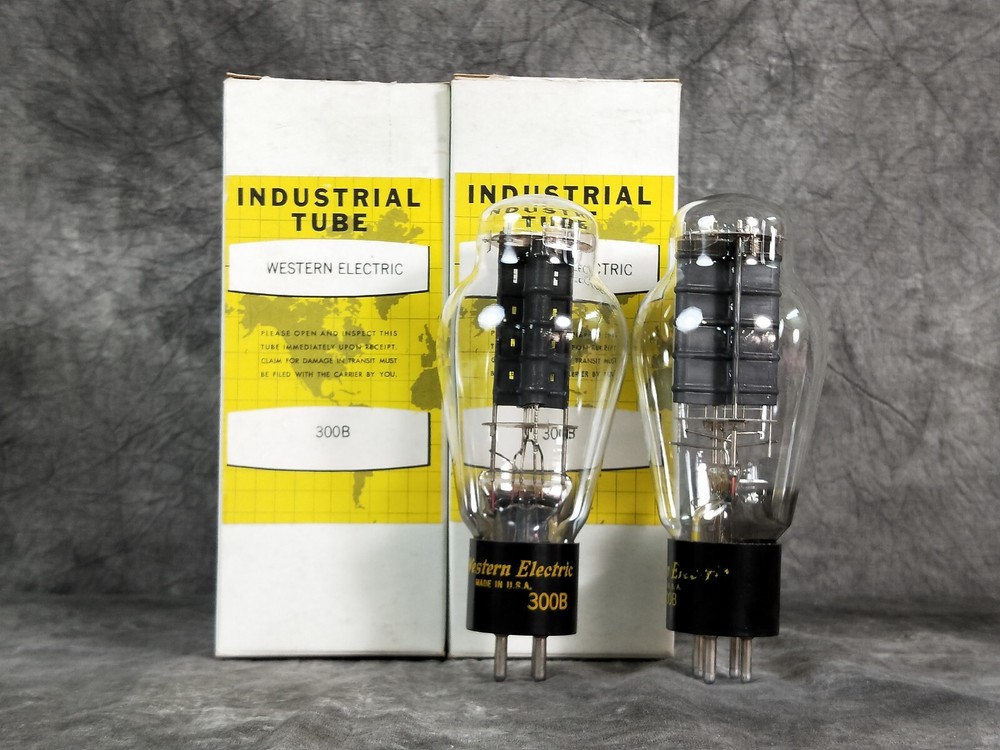 (Photo taken from an eBay listing)
In the 1960's, each Western Electric 300B tube was only $8 each, or $80 in 2023 dollars adjusted for inflation (as opposed to the $700 they are going for now!). There were better tubes intended for home audio like the 6550 and the 300B's role in home audio was basically absent. It was limited to the realm of DIY hobbyists.
Western Electric really didn't care about audio, as their business was focused on telecommunications as well as its role as a defense prime. They ran Sandia National Labs, developed and produced Nike missiles, and developed or supported a wide range of radar systems including the Distant Early Warning system for NORAD and
operating the SAGE System
.
The last Western Electric 300B tube came off the manufacturing line 1988 at which point the Kansas City Works vacuum tube production ended. That is also the year that
original radars of Distant Early Warning line (that required human observation of the radar screens) began to be deactivated
and were upgraded to solid state systems. It may simply be a coincidence in timing but the fact that little is known about Western Electric's tube manufacturing during the peak of their defense activities says a lot about where their tubes were being used.
So why does the 300B have the reputation for being so special for music when Western Electric themselves didn't consider it to be anything special?
The aura and "legend" of the 300B among audiophiles really seemed to take on a whole new life in the 1970's in Japan. At that time the theater systems that were originally installed in the 1960s were coming off lease and being sent overseas, largely for scrap metal. Turns out that some hi-fi hobbyists had a chance to listen to the 300B for the first time at that point. Since it was also bragging rights to have a large enough listening room for theater speakers and partly because the 300B also sounded great, it took on a whole life of its own.
Today's Western Electric is a new company focused exclusively on audio. Unlike licensing or brand-name agreements like Kodak, Polaroid, Tung-Sol or GE Home Appliances,
the modern Western Electric actually did license all of the IP involved in the original Western Electric tube production
, including manufacturing protocols, and purchased the tooling used by Western Electric and even hired some of the original Western Electric employees involved with tube production to help train their current workforce. Even a large stock of original 1963 nickel alloy is being used.
Today's Western Electric 300B is not a true historical reproduction. It's is an evolution.
The biggest change is the method in which the nickel is carbonized. The traditional supplier went under, and the modern Western Electric initially thought they could bring the process in-house until realizing the safety challenges of using large volumes of explosive CH4 gas in the absence of sulfur. They ended up going down the route of using Graphene, presumably through ALD, to coat their nickel. ALD provides, conformal, pinhole free thin-film coatings at the angstrom level. Other innovations like improved vacuum pumps, clean room filtration and modernized quality control methods on top of the refined Bell Laboratories protocols.
These efforts have generated a 300B tube that measures with lower distortion than competing products and results in a tube that has a 5 year warranty! It is officially rated for 40,000 hours (4.6 years running 24/7/365!)
Western Electric
isn't worried about burn in
, even though it is
measured to make a difference
. They advise against silly stuff like cryotreatment.
Ready to break records?


That's the
LOWEST
WORST 5W SINAD of any amplifier measured here.
At 50 milliwatts, the SINAD is in the 30 to 40 dB range. The NOS rectifier and NOS pre-amp tubes worsen measured performance, but you can see how the pattern is different in the midrange/treble above -100 dB which means it could sound better to use the NOS tubes.
Resistors vs. Speakers
Ignore the SPL numbers in the legend for all of these. You just want to look at the "shape of the curve". I took these REW sweeps at different dbFS.
In a resistor, you don't see any surprises with different volume content. Lower volumes reveal the 60 Hz AC mains noise.
Now look at the
JBL XPL90 which has been measured here
and look at the different results depending on the dBFS sweep.
This 300B SET with my speakers offers the opposite of a loudness curve.
You get extra treble boost with higher energy, but at low volume, the treble increase is lower. This is all from extra distortion that's happening. There is even a slight bass boost at lower volumes. Again, distortion.

But at least amongst 300B fans, this may be the right "pattern/character/flavor" of distortion.
Now we're starting to see the effect of the SET and its role as a "fixed effects box". You cannot turn it on or off, but a simple Parametric EQ isn't going to let you replicate the "300B tube sound". You can pick one treble boost for the entire song, not a dynamic one that depends on the content.
We know the "showroom sound" can be fun for short periods of time, but the boost can be fatiguing. But you have to think about this in musical content. The showroom sound comes only on demand during transients! So, imagine having an effects box where the effect is subdued in the normal parts and during transients, it jumps up even more.
This is why recording the SET seems to lose the effect compared to actually listening to music on a SET tube amp. You not only have to think about the actual speaker but all the volume it's running at.
Take a look at the slope of those REW sweeps with the XPL90. The rise in treble begins at 3 kHz, right? Let's see what
@amirm
measured on the XPL90.
Do you see something at 3 kHz also?
What's really neat is that if I take a few different 2-way speakers that I own, and eyeball-match the volume at 1 kHz, we can see that the relative to the resistor, you get a pretty consistent bass boost while the treble gain differs between the different speakers/crossovers. This really does counteract the "rolled-off" highs that measurements into resistors generate.
Listening Test
Honestly, it sounds great. With real speakers, the treble boost removes the rolled off highs that
we hear in the recordings
. The exaggerated dynamics are still pretty subtle. This is a testament to the engineers of the 1930's to have reached a point where you're pretty close to the audible performance. It's also a way to see the spread between the absolute worst measuring amplifier tested here against a 120 dB SINAD DAC paired with a straight-wire-with gain.
The fit/finish is great. The remote feels nice and sturdy, although it's not the best functonality since you cannot tell if you have the remote upside down by feel. Likewise, the remote doesn't sit flat on a table because the CR2025 battery cover is prominent. Amp warm-up time is very quick!
Conclusion
When you review a solid state amp, there's rarely a history lesson that comes along for the ride. The product performance speaks for itself. It's tue amps that get a history lesson and to quote
@John Atkinson
in his
review of a different 300B tube amplifier
: "Its measured performance is what I would expect from an amplifier with a single-ended output stage that uses a single 300B tube."
I hope in writing this review, it becomes easier to capture some of the appeal of tubes. It's not purely a technical product based upon the measured performance. Like collecting vintage artwork or physical books, tube electronics can be a way to connect to the history of audio.
Through blind testing, objectivists can validate that differences are heard, the differences are small, and therefore a well-engineered low-cost product makes a lot of sense. "Within the performance envelope, most amplifiers are indistinguishable from each other."
For subjectivists, the blind testing does validate that poor SINAD can still sound reasonable. By looking at the speaker-loads, we can see that synergy is not sighted bias, and that the "unique" sound signature is indeed present through a non-linear, content-dependent enhancement.
When people talk about "sweet" treble, where things don't sound bright but the treble has some sort of clarity, we're seeing the signal-dependent treble boost where loud transients will see more enhancement than the softer high frequencies. This isn't sighted bias, but a measureable phenomena that isn't easily reproduced in software.
Do I recommend this amp
? Not if it's your only amp. You're really restricted by the power, and the special treble sweetness is unpredictable. It's a lot of money too.
Do I recommend this amp among 300B tube amps
? This is my first experience with a 300B tube amp. It certainly lives up to the expectations of sounding different, and it subverted my expectations about how poorly something could measure and still sound reasonable. In my mind, I was thinking SINAD of the 50's or 60s would be my threshold, and I didn't expect SINAD in the 20s and 30s to somehow still sound great. So yes, I do like it.
Do I recommend that you go out and try listening to a 300B amp the next time you're at a show or dealer?
Absolutely.
Much as classic literature has stood the test of time, the overall representation of music provided by the Western Electric 300B tube has also stood the test of time. Harmonic distortion, intermodulation distortion, and noise are all present with tubes and it's as far from fully transparent as you might measure. Science and modern measurement tools has helped us gain some insight into potential quantitative explanation for the description of "sweetened" treble. Blind testing combined with measurements and analysis of resistive vs. speaker loads should help each tribe of audiophiles understand the other side a bit more.
This review should help subjectivists see how science can help translate poorly defined descriptions like "sweet treble" into numbers. Measurements are still good for those of us who trust our ears. Likewise, the blind testing and recordings should help objectivists see how owners of 300B aren't in need of a hearing aid -- bad SINAD can still sound pretty good, and the introduction of speaker/amplifier interactions can generate a unique "sound signature" that might be preferred by some.
To reference the current season of
The Mandalorian
, I consider myself a walker of both paths in the audiophile hobby: objective and subjective.
This is the way.
Last edited: