Founder/Admin
Staff Member
CFO (Chief Fun Officer)
Joined

Feb 13, 2016
Messages

37,967
Likes

162,366
Location
This is a review and detailed measurements of the Vandersteen VCC-5 center home theater speaker. It was kindly purchased used by a member and sent to me for testing. Despite the fact that it came out around 2003 (?), it is still on sale for US $2,700.
The VCC-5 is by far the deepest and heaviest center speaker I have tested:
It weighs nearly 70 pounds requiring help from my wife to test it. It is hard to see from the picture but there are two woofers on each side inside some kind of enclosure and then a coaxial (?) driver in the center. Despite being used, this is a very clean specimen.
I got a kick out of the old school screw terminals in the back and a paper manual having a $5 cost written on it!
There is lengthy discussion of placement around rear projection TVs and magnetic interference. The old terrible days of back pictures....
I did not think the grill is removable so did not attempt to do so. All testing is as you see.
Here are the specs from the company. Note the use of first order, 6 dB/octave crossover:
Measurements that you are about to see were performed using the
Klippel Near-field Scanner (NFS)
. This is a robotic measurement system that analyzes the speaker all around and is able (using advanced mathematics and dual scan) to subtract room reflections (so where I measure it doesn't matter). It also measures the speaker at close distance ("near-field") which sharply reduces the impact of room noise.
Both of these factors enable testing in ordinary rooms yet results that can be more accurate than an anechoic chamber.
In a nutshell, the measurements show the actual sound coming out of the speaker independent of the room.
I opted for a higher resolution scan than normal to the tune of 1,500 measurement points in 3-D space. Despite this, the sound field became complex 4 and 9 kHz, pushing the error up to 2%. Elsewhere it is comfortably below 1%.
Reference axis for measurements was roughly the center of the driver (I could not see it through the grill so went by dimension of it).
Measurements are compliant with latest speaker research into what can predict the speaker preference and is standardized in CEA/CTA-2034 ANSI specifications. Likewise listening tests are performed per research that shows mono listening is much more revealing of differences between speakers than stereo or multichannel.
Vandersteen VCC5 Measurements
Acoustic measurements can be grouped in a way that can be perceptually analyzed to determine how good a speaker is and how it can be used in a room. This so called spinorama shows us just about everything we need to know about the speaker with respect to tonality and some flaws:
I must say, I did not expect the wavy response in bass. I think the little "transmission" line they have for the dual woofers must be causing ringing. I was disappointed to see overall levels not matching and changing in different regions. It just isn't a pretty sight to have errors across the entire audible frequency band in one form or other.
Early window response shows somewhat the same story:
Putting the two together we get:
Since I could not see the drivers, I only took a shot of measuring the central two-way driver in near-field:
I was impressed with how nice and flat the response of that driver is in low frequencies. Yet when combined with the woofers, it loses that. That deep notch at 5 kHz could be an artifact of near-field measurement of the coaxial driver.
In center speaker you want wide and smooth directivity. Sadly we don't have that here: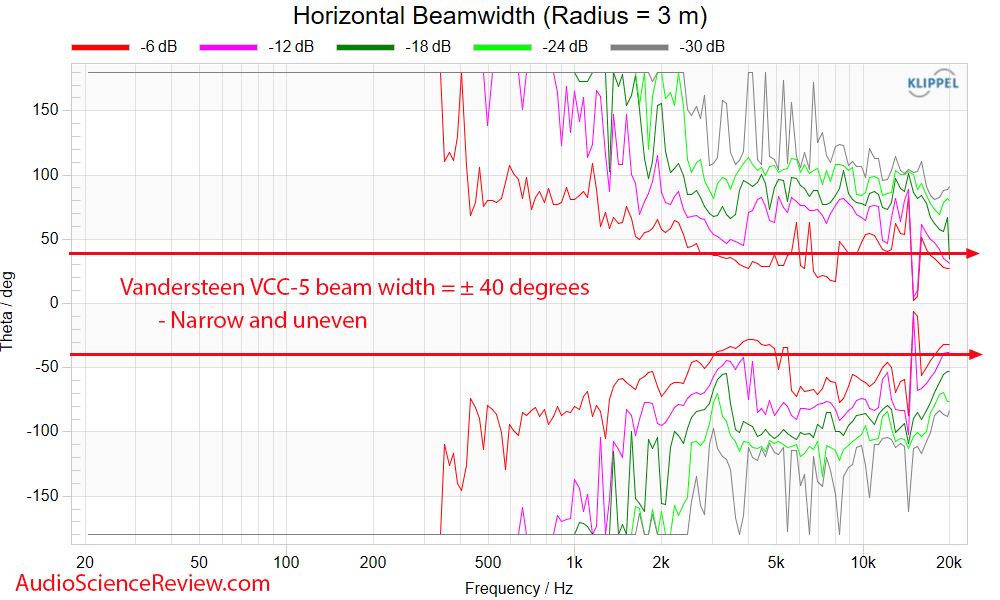 Directivity narrows as the midrange driver beams. This goes on to 5 kHz when it suddenly widens as the tweeter takes over. So I expect the tonality to be different for listeners outside of sweet spot in the 2 to 5 kHz.
Contour plot shows the same:
Note that I have switched to 3 meter distance vs the default 10 meter I have been reporting until now. It doesn't make much difference but it is more typical of far-field listening distance in home situations.
Here is our vertical where the coaxial driver shines, producing similar response to horizontal and better than many 2-way solutions:
I took three snapshot of the entire 3-D directivity:
Very well controlled but you clearly see the shrinking directivity in the third globe.
Impedance plot shows a prominent resonance:
3.7 ohm minimum impedance is very low but fortunately the company tells you it could drop to "4 ohm."
A benefit of low order crossover filters is supposed to be better "timing" response. So for those of you who cheer such measurements, here is the impulse response at 1/3 meter:
I could not draw a lot of conclusions from distortion measurements other than not liking the mid-frequency rise at higher SPLs:
And too high in bass relative to output we are getting:
Vandersteen VCC5 Listening Tests
Listening to the VCC-5 was not that great. I didn't like any of the tracks I was playing. Both the lows and highs were unpleasant. I brought out the EQ tool but it was very challenging to hand create parametric filters to correct the shelving errors in its frequency response. Still, I put together a set and listened to it. I thought it made some difference but was not positive about the benefit. So I performed a few blind tests of the EQ vs not. At the end, it was not conclusive. Sometimes I liked my EQ better, sometimes the default. In other case, I was not enjoying the sound.
I realized I had spent some time outside so my ears were plugged again. To see the impact that, I moved the speaker wire to my Revel Salon 2 and I could believe the transformation. Wow, every one of my reference tracks were once again beautiful, with great tonality and of course plenty more bass. Thinking is is unfair, I swapped out the Salon 2 for Revel M16. I lost two thirds of that joy but still, the overall tonality and clarity was so much better than Vandersteen. I switched back to my salon 2 and enjoyed my music for the next hour.
I did test for directivity. You do lose some brilliance in music as you move over one seat but it is not dramatic at that distance. Closer to the speaker it was however.
The VCC-5 can play loud but it doesn't have much deep bass. You must have a sub as otherwise it won't be satisfying at all.
Conclusions
I watched a streaming video of company founder, Richard Vandersteen on a speaker panel at one of the other shows a while back. Towards the end, the moderator asked each panelist to comment on advancements in speaker design. Kevin Voecks from Revel answered first by saying there was huge advancement in distortion measurements with Klippel system. Mic moved to Richard who said: "nothing!" That old rules hold and there is nothing new. Well, given the performance of VCC-5, I say he is firmly mistaken. This speaker could certainly benefit from proper measurement and optimization of crossover to say the least.
In fairness, the build quality and power handling is excellent here -- things you get robbed on with modern budget speakers optimized for cost. The finish is furniture grade (although old-school) and you get the feeling you are paying for something substantial.
I can't recommend the Vandersteen VCC-5.
Edit: I added a poll. Please vote what you think of its performance based on this test.
------------
As always, questions, comments, recommendations, etc. are welcome.
Any
donations
are much appreciated using
:
https://www.audiosciencereview.com/forum/index.php?threads/how-to-support-audio-science-review.8150/
Last edited: