Founder/Admin
Staff Member
CFO (Chief Fun Officer)
Joined

Feb 13, 2016
Messages

39,953
Likes

185,274
Location
This is a review and detailed measurements of the Monitor Audio Silver 100 bookshelf speaker. It is on kind loan from a member and was just discontinued. It still sells for $799.
As you see, the Silver 100 is a very attractive speaker. It feels substantial compared to more budget speakers. Back panel shows the obligatory bi-wire binding posts:
When I was testing the speaker, I could readily hear resonances from the cabinet. I traced most of it to the upper screw for wall mounting. It was loose. I tightened it and got rid of 80% of it.
Measurements that you are about to see were performed using the
Klippel Near-field Scanner (NFS)
. This is a robotic measurement system that analyzes the speaker all around and is able (using advanced mathematics and dual scan) to subtract room reflections (so where I measure it doesn't matter). It also measures the speaker at close distance ("near-field") which sharply reduces the impact of room noise.
Both of these factors enable testing in ordinary rooms yet results that can be more accurate than an anechoic chamber.
In a nutshell, the measurements show the actual sound coming out of the speaker independent of the room.
Measurements are compliant with latest speaker research into what can predict the speaker preference and is standardized in CEA/CTA-2034 ANSI specifications. Likewise listening tests are performed per research that shows mono listening is much more revealing of differences between speakers than stereo or multichannel.
Reference axis was the center of the tweeter (aligned by eye). The grill was not used. It is getting colder with the measurement room temp at 14 degrees C. Accuracy is better than 1% for almost entire audio spectrum indicating a well designed speaker.
Monitor Audio Silver 100 Measurements
Acoustic measurements can be grouped in a way that can be perceptually analyzed to determine how good a speaker is and how it can be used in a room. This so called spinorama shows us just about everything we need to know about the speaker with respect to tonality and some flaws:
Seems like good attempt was made to create a flat on-axis response. We do have some droop above 300 Hz though. And there is a pronounced resonance around 2.5 kHz as indicated. In the same region, we see the directivity become much wider showing a mismatch between the beam pattern of the woofer and tweeter. This causes a broad dip in off-axis response:
Impacting the predicted in-room response:
Still, not too bad.
Looking at near-field response of the drivers we see that the woofer response is to blame for the off-axis response errors:
As mentioned, there is directivity mismatch between the woofer and tweeter:
Fixing that would have required narrower beamwidth through use of a larger waveguide for the tweeter.
Vertical directivity is usually not great in 2-way speakers but here is more acute:
So make sure to point the tweeter axis at your ear. Otherwise you will have even a larger hole in response around 2 kHz.
Distortion is well controlled in bass but there is some error around crossover (I am guessing it is the woofer):
Impedance measurement shows some resonances as usual and minimum impedance which is slightly above average:
For fans of timing measurements, here are the waterfall, impulse and step responses: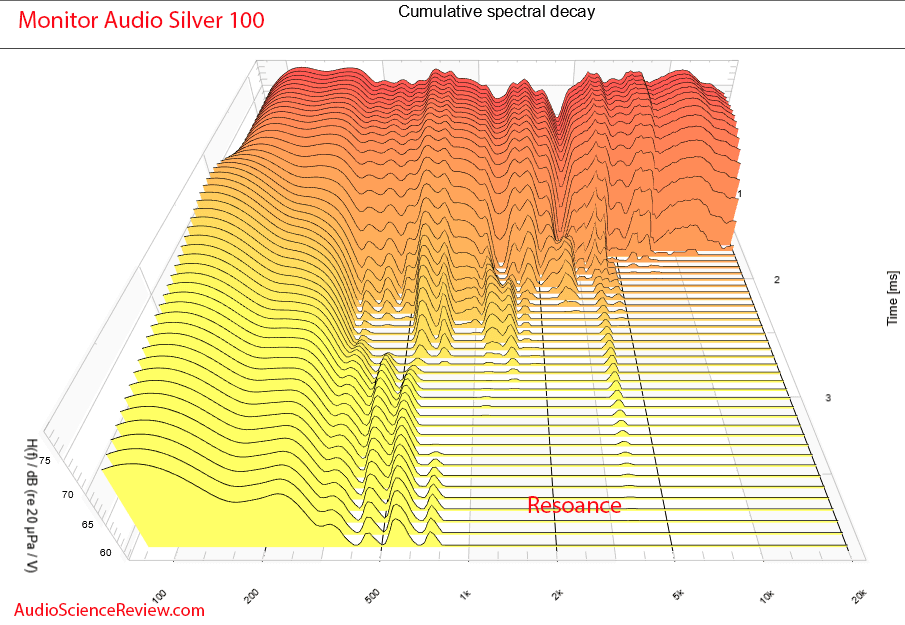 Monitor Audio Silver 100 Speaker Listening Tests and Equalization
The first impression was of slight brightness. But otherwise not too bad. My chops were busted when I tried to develop an EQ for it though. I must have spent an hour creating various filters and abandoning them because they did not in balance improve the sound across multiple music tracks. Eventually, I landed on this simple set of two filters:
It was developed by following the predicted in-room response. I don't have huge confidence in it though but thought I share it.
I found the sound with EQ in place to be spatially large, likely due to wide dispersion of the tweeter. I swapped the Revel M16 in its place and it definitely had a smaller halo around it (but also did not sound bright).
Conclusions
The Silver 100 looks gorgeous and seems to have good engineering behind it to create a good response. It does however have a few small scale flaws. Because their scale was small, it was hard to evaluate their impact and develop correction for it. All else being equal, I rather see a speaker with larger error that are easy to identify and fix.
Such was not the case here. I let you judge its performance then based on data you see as my subjective assessment is weak in this regard.
I am going to give a recommendation to Monitor Audio Silver 100 with the bit of EQ in place. Hopefully we can get our hands on the "G7" version to see if they have made any refinements that mitigate the issues I found.
-----------
As always, questions, comments, recommendations, etc. are welcome.
Any
donations
are much appreciated using
:
https://www.audiosciencereview.com/forum/index.php?threads/how-to-support-audio-science-review.8150/