Founder/Admin
Staff Member
CFO (Chief Fun Officer)
Joined

Feb 13, 2016
Messages

43,385
Likes

222,426
Location
This is a review, listening tests and detailed measurements of the Focal ST6 SOLO6 powered studio monitor/speaker. It was sent to me by the company and costs US $1,599
each
.
This generation of SOLO6 looks gorgeous especially in this market where a lot of speakers are utilitarian. It would look just as good in a studio as it would in an executive office! The enclosure is extremely solid and heavy for its size, adding to feeling of value and luxury. Back side shows the controls and connectivity you have:
Note that the speaker is analog (no DSP). As such, while I attempted to set the EQ controls to center, there can be variations from other samples or from flat response (by small amount at least). Nice set of screw mounts allows easy mounting to ceiling and such for spatial audio/Dolby Atmos applications.
Measurements that you are about to see were performed using the
Klippel Near-field Scanner (NFS)
. This is a robotic measurement system that analyzes the speaker all around and is able (using advanced mathematics and dual scan) to subtract room reflections (so where I measure it doesn't matter). It also measures the speaker at close distance ("near-field") which sharply reduces the impact of room noise.
Both of these factors enable testing in ordinary rooms yet results that can be more accurate than an anechoic chamber.
In a nutshell, the measurements show the actual sound coming out of the speaker independent of the room.
I performed over 1000 measurement which resulted in error rate of about 1%. Reference axis is approximately the center of the tweeter.
I have run the measurements you are about to see by the company and there is general agreement around them.
Focal SOLO6 ST6 Measurements
Let's start with our standard anechoic frequency response measurements: [actual measurement level = 86 dBSPL]
While the response is broadly flat a peak around 60 Hz stands out. There is also extra off-axis energy kicking in from 3 to 8 kHz or so. That extra energy naturally impacts our off-axis measurements:
Combined the two deviations stand out in the predicted in-room response for far-field listening:
Near-field, non-anechoic measurement of the radiating components shows excellent control of resonances from the port/cabinet, but there is some from the woofer:
That may be the reason for the few resonances we see in the waterfall:
Something I have experienced in other Focal speakers is nice control of distortion which is reflected here as well:
At 86 dB the level of distortion rivals large tower speakers!
Horizontal directivity plots show the increased off axis response in treble region: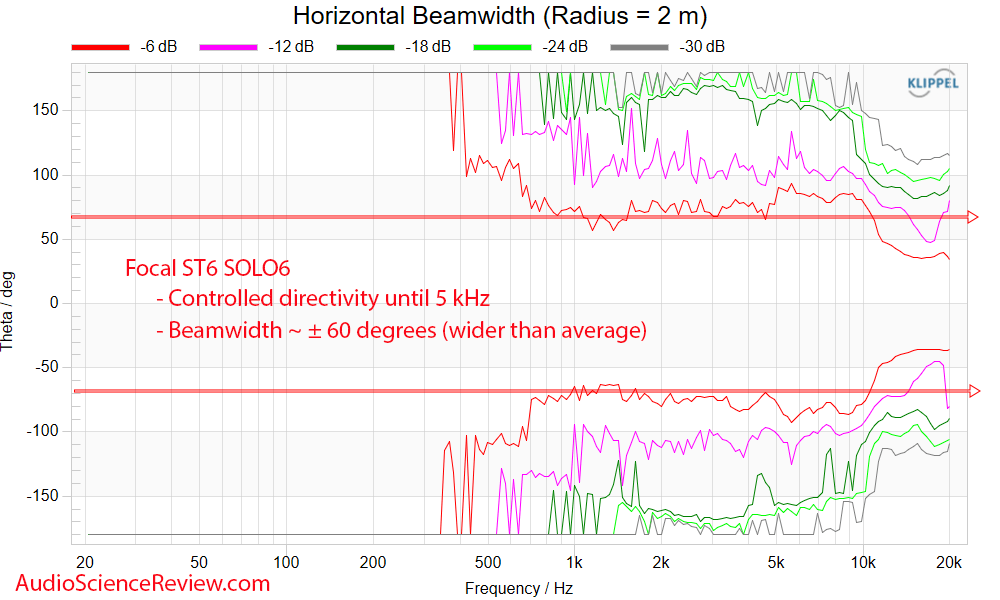 Due to shallower waveguide, you do benefit from wider beam width which enlarges the sweet spot/region.
Vertical directivity is typical of 2-way non-coaxial response which means it is best to stay at tweeter axis:
Finally, here is the step response:
Focal ST6 SOLO6 Listening Tests and Equalization
On first playback, I was impressed by the dynamics and level of bass, in addition to clean sound. I could have lived with the speaker as is but thought I should play with EQ to see if I can improve on it:
Pulling down the 60 Hz hump resulted in "tighter" bass but then it was a bit light in that department and the highs stood out more. I dialed in the dip for the highs and that helped but still too much of a trade off. So I added the third filter in upper bass to fill that region. With all three there, I liked the sound better. Clarity was improved and vocals came more to the forefront. But I could see someone liking the stock sound as well given the small amount of adjustment here.
I could detect no distortion even after the clipping light came on. On that note, the above EQ postponed the onset of the light by a bit, getting me more volume. I could only detect some muddiness starting to set in as the clipping light was more on than off. Playing music with extreme sub-bass resulted in playback of such with mild amount of distortion. Many speakers either don't play these notes or severely distort them.
With the EQ in there, I could sit there and enjoy the speaker for hours.
Conclusions
The new generation of SOLO6 is gorgeous to look at and sports some nice engineering in the form of very low distortion, likely due to design of drivers in-house. Large port with right absorption internally means that you don't have the usual problem of resonance coming out the front. There is some extra off-axis response which was also there in previous generation but I think exaggerated a bit here. Seems like the company has compensated by allowing more bass enhancement through the port. I can see that as one solution or deploying the EQ as I quickly designed.
I should note that the company reached out to me to test this speaker which speaks volume to their level of transparency and confidence in the design.
Overall, I like the Focal SOLO6 ST6 and I am going to put it on my recommended list.
-----------
As always, questions, comments, recommendations, etc. are welcome.
Any
donations
are much appreciated using
:
https://www.audiosciencereview.com/forum/index.php?threads/how-to-support-audio-science-review.8150/
Last edited: