Founder/Admin
Staff Member
CFO (Chief Fun Officer)
Joined

Feb 13, 2016
Messages

40,310
Likes

190,314
Location
This is a review, listening tests and detailed measurements of the Canton Vento 826.2 2-way stand-mount speaker. It is on kind loan from a member and costs 1,000 Euros.
The German manufacturer knows how to deliver a high quality enclosure and finish that is required at this price point. Not much to see in the back:
I read that Canton was once again distributing speakers in US and Germany. But as of now, I could not find any sellers in US and hence the EURO pricing. Don't know if they changed their mind and they are no longer being sold here.
For the measurements you are about to see, the reference axis is the lower part of the tweeter ring. Using the tweeter center as I normally do, created a broad(er) dip in the middle of the measurement range. The grill was not used.
Canton Vento 826.2 Measurements
Let's start with our usual frequency response measurements:
As you see, the frequency response is more or less flat. Alas, the port seems to be tuned low causing a drop of response below 120 Hz or so. There is also some tilting up of the response in upper treble or conversely, the aforementioned dip in the lower range.
Early-window response is good thanks to good directivity control:
Predicted-in-room response then is reasonable:
Although admittedly, I did not know how to quite draw the trend line.
Near-field response shows two strong resonances: one coming out of the port and the other likely caused by the woofer:
We can see the rather low port tuning. I wonder if it would have been better if it was at higher frequency.
Distortion measurements show a problem unfortunately with the woofer break up/resonance:
To confirm that is the woofer, here is the near-field distortion measurement of the woofer:
During the sweep, I could easily hear the woofer complaining at 96 dBSPL -- much more so than many speakers I have tested.
Beam width has some variations but is typical of this class of speakers:
Impedance dips pretty low so somewhat stressful for an amp:
CSD waterfall shows the resonances we have already noted in the frequency response measurements: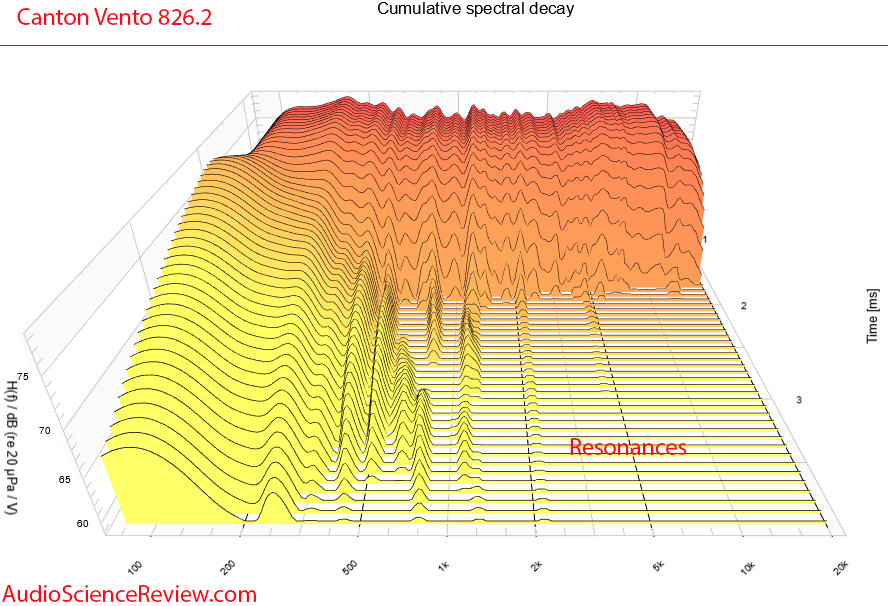 Finally, here is the step response for fans of that:
Canton Vento 826.2 Listening Tests
I focused in a couple of areas: bass response and overall tonality. On the former, sub-bass output was not there. Then again, that is typical of small 2-way speakers. On overall tonality, I thought I found it somewhat bright. Equalization was hard given that the response errors are small and spread out. So I substituted the Revel Performa3 M105 which is similar size (though heavier) and price to Canton. Immediate impression was a warmer sound due to flatter bass response. I found it much more enjoyable to listen to for that reason.
Conclusions
The Vento 826.2 is beautifully finished speaker and with manufacturing in Germany, is priced right. Overall frequency response is close to target but could use some fine tuning. Power capability and bass response are weak point, something that was noted in the listening tests. So best to compliment with a sub with appropriate equalization.
I am torn on whether to recommend the Canton Vento 826.2. Overall objective performance is good but there are enough flaws that make me hesitate. Certainly there are better bets out there in US for that price. For those of you in Europe, those options may not be available in which case, the Canton may be a good candidate.
------------
As always, questions, comments, recommendations, etc. are welcome.
Appreciate any donations using:
https://www.audiosciencereview.com/forum/index.php?threads/how-to-support-audio-science-review.8150/