Founder/Admin
Staff Member
CFO (Chief Fun Officer)
Joined

Feb 13, 2016
Messages

35,410
Likes

136,172
Location
This is a review and detailed measurements of the Revel M80XC outdoor/indoor Atmos height/surround speaker. It was kindly purchased by a member and drop shipped to me for testing. It costs US $900 a pair.
Note
: our company, Madrona Digital is a custom integration company and is a dealer for Harman brands such as Revel. So feel free to read what you want into my subjective remarks (objective tests use the same protocol as any other speaker).
As outdoor speakers go, the M80XC is on the larger size but attractively finished:
Owner wanted it tested without the grill and this is how it looks:
As you see a waveguide is used to better control the directivity (how wide the beam is) as woofer transitions to tweeter. There are no ports as you see in the back:
Variable impedance is provided so you can drive it at much higher voltages (to compensate for long runs of speaker wire). And of course plenty of mounting options.
Measurements that you are about to see were performed using the
Klippel Near-field Scanner (NFS)
. This is a robotic measurement system that analyzes the speaker all around and is able (using advanced mathematics and dual scan) to subtract room reflections (so where I measure it doesn't matter). It also measures the speaker at close distance ("near-field") which sharply reduces the impact of room noise. Using computational acoustics, far-field response is computed and that is what I present.
Both of these factors enable testing in ordinary rooms yet results that can be more accurate than an anechoic chamber.
I performed over 1000 measurement which resulted in error rate of about 1%. Clean high frequency response is responsible for ease of measurement in this regard.
Reference axis is approximately the center of the tweeter. Grill was not used.
Revel M80XC Measurements
Acoustic measurements can be grouped in a way that can be perceptually analyzed to determine how good a speaker is and how it can be used in a room. This so called spinorama shows us just about everything we need to know about the speaker with respect to tonality and some flaws:
On axis response is marred by drooping of the bass response and a couple of resonances. Directivity is good though as we will confirm later. We can see the cause of the resonances in driver response:
Our off-axis response is actually better than on-axis:
Overall though, there is insufficient bass for the amount of treble we have:
Impedance and phase graph show one of the resonances: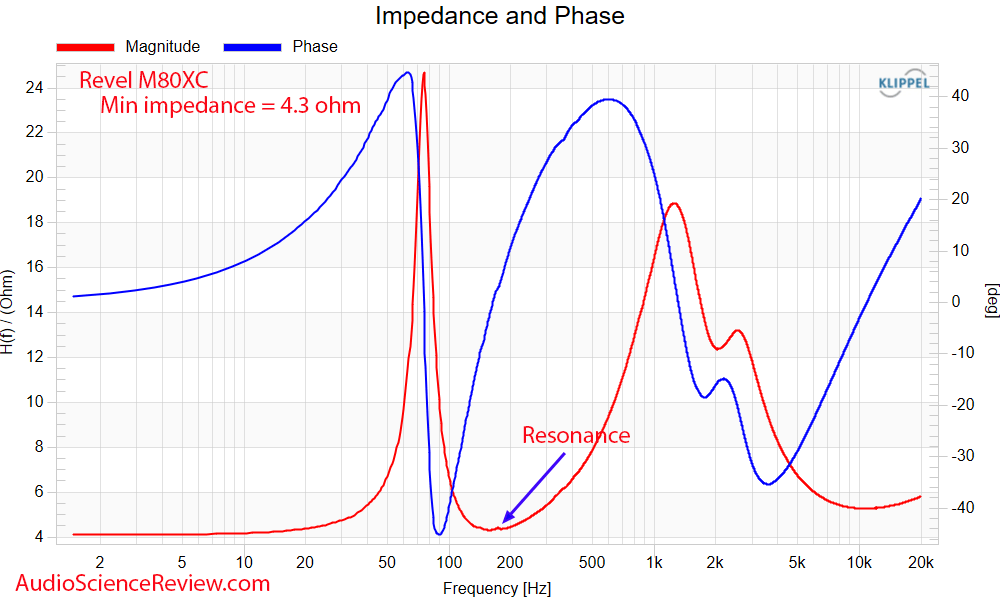 As noted, directivity is excellent:
\
This is almost studio monitor class directivity control! This should make it produce wider response with similar frequency response and show less sensitivity to its environment. Here is our 3-D baloon during the crossover transition showing good response:
Vertically we have the usual issue with 2-way non-coaxial response so aim the speaker to where people's heads are:
I don't know how but I got talked into now taking 4 SPL and distortion measurements:
At 66 dBSPL distortion is actually below noise floor of the room in low frequencies. And falls off the chart at higher frequencies. As we increase the level, we see mainly the woofer distortion sticking out:
Without a port, woofer is staying in control and not going above 100% THD.
Here are the relative distortions for the last two levels:
Revel M80XC Listening Tests
I can't simulate outdoor listening indoor so I tested the M80 just like any other hifi speaker. Out of the box, the sound is clear with highs accentuated. Power handling is superb allowing me to get to ear bleeding levels with no hint of bottoming out.
To get rid of the brightness, I used some EQ:
The dialed in filters are quick and dirty but were enough to give the speaker more substantial bass and tamed the brightness. The narrow resonance fix had a very subtle effect. Once there, I could enjoy these speakers as if there were truly hi-fi speakers with no reservations. Indeed they would beat many bookshelf speakers out there!
Conclusions
There is definitely care in design of the Revel M80XC for a market that usually doesn't consider such. Cost, looks and dealer margins rule there. If the tuning had more bass and/or less highs, this would be a fantastic speaker regardless of application. As is, it needs a bit of EQ to make it less bright and bring the bass more forward. Once there, it is a very competent design, one that I would be happy to use in a hifi system.
I am going to recommend the Revel M80XC.
-----------
As always, questions, comments, recommendations, etc. are welcome.
Any
donations
are much appreciated using
:
https://www.audiosciencereview.com/forum/index.php?threads/how-to-support-audio-science-review.8150/