Founder/Admin
Staff Member
CFO (Chief Fun Officer)
Joined

Feb 13, 2016
Messages

42,691
Likes

215,118
Location
This is a review and detailed measurements of the JBL Synthesis SCL-5 In-Ceiling speaker. It was purchased by a member and kindly drop shipped to me for testing. It costs US $2,200.
It is hard to see in the picture but both the tweeter and woofer are angled toward each other. In the way I tested it, the woofer is on the bottom as seen and shoots up. And the tweeter shoots down. Measurements were made using my selected "reference point" as indicated (more or less) by the "+" mark. As you will see later, this makes interpretation of the measurements quite challenging.
There is a switch for near and far field. Documentation says to use near-field if you are within 2 feet (?) of a wall. I chose to use the far-field setting.
Backside shows pretty complex crossovers and fancy looking drivers: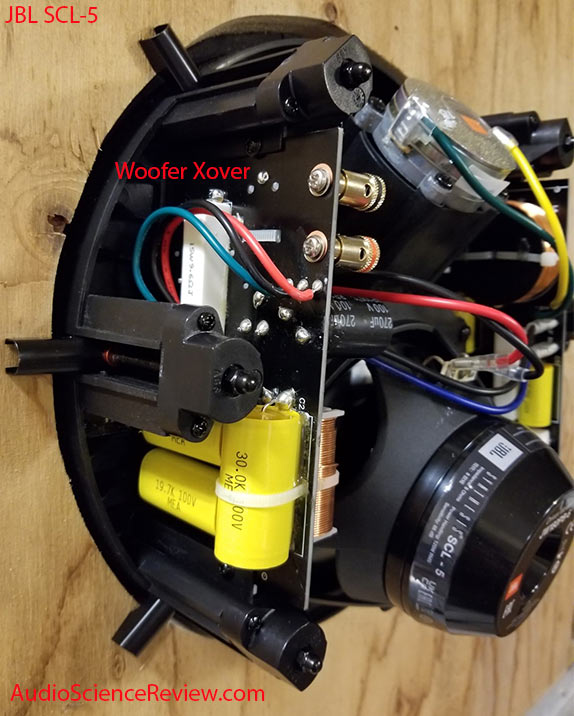 The "anechoic" measurements you are about to see were made by Klippel Near-field scanner using a special "baffle" mode. Speaker is mounted to plywood sheet (fair bit larger than what you see above). Klippel NFS then scans the speaker in a special manner where it is able to both filter room reflections and what comes from behind the baffle. In other words, you are able to see an infinite baffle anechoic response.
Here are the specs for the speaker from JBL:
Note
: our company Madrona Digital is a dealer for Harman and as a result, JBL products. Above speaker was purchased through our company so feel free to read whatever bias you like in my commentary.
JBL Synthesis SCL-5 Measurements
I like to caution you to not immediately jump to conclusions when you see the standard CEA-2034 as I did when I first looked at it.
It took fair bit of further analysis and thinking to properly interpret the results:
We have two major issues here. One is the sharp dip/cancellation around 1.5 kHz which happens to be the crossover point. The other is the sloping down tweeter response. The key to understanding both of this is what I said in the introduction: the tweeter is angled (down) whereas my measurements are at 90 degrees to baffle. As a result, we are seeing the off-axis response of the tweeter. In use, you can position the speaker whereby you are sitting on-axis to the tweeter (by rotating/elevating the speaker). The cancellation is also at least partially caused by that as you will see later. Indeed if you angle down -40 degrees response gets much better:
Our early window response is designed for front facing speakers that are free standing so not applicable to this situation but here it is anyway:
I was able to disconnect the tweeter while measuring it giving me much more accurate near-field response:
I wonder if the occlusion in front of the woofer is causing that resonance near 1 kHz?
Being from JBL, I expected these speaker to sound clean even at high SPLs. While I heard more or less the same during the in-room sweeps, I was unhappy with the high distortion around 1.5 kHz:
Combined with the cancellation around the same point, the THD% present a very ugly picture but again note that this is due to measurement axis. The first graph is more representative of what is going on. The source of that distortion is easy to determine as I had near-field response of the tweeter:
Clearly the tweeter is unhappy to be playing below 2 kHz. I think we have seen this issue before in compression drivers.
Due to use of baffle, the response is omnidirectional up to about 2 kHz but then narrows with frequency:
Vertically we see a strange graph but as indicated by the arrow, we see that there is a more optimal reference angle:
Impedance is reasonable:
All the measurements were made without the grill. This is an attractive enough speaker that I thought some could use it that way. I also wanted to remove that variable as we already have our hands full figuring out what is going on.
Still, I performed a quick in-room measurement of grill/no grill:
We see the typical of impact of slight attenuation at higher frequencies. Pretty negligible in the grand scheme of things.
Waterfall display was hard to optimize:
Finally here is the step response:
"Listening Tests"
I can't properly listen to the speaker as I don't have it mounted in a well. Only experience was through sweeps as the measurements were going on. There, the response sounded very clean for what it is worth. I could not detect any degradation at 96 vs 86 dB.
Conclusions
Usually our measurements "speak" to us clearly as to the performance of a speaker. JBL through a wrench in that work by angling both drivers creating a highly complex soundfield. Still, I think we managed to work our way through understanding what is going on to some degree. The main conclusion there is that you better pay attention to how you aim the speaker at you. And even then, use an EQ to smooth out the response.
One negative was the high distortion around crossover point as created by the tweeter. Maybe there are trade offs there with respect to directivity that forced the tweeter to go down that low even though it is quite unhappy. In my book, that is a failing that I don't want to see in a speaker that is so expensive.
At the end, I think we have a "study" here of what a complex in-wall speaker does. Hard to draw firm conclusions about "how it sounds." I know I am not capable of driving such. I let you all review and comment.
FYI I have included the exports of measurement data but I don't think preference scores and such make sense for a speaker like this.
----------
As always, questions, comments, recommendations, etc. are welcome.
Any
donations
are much appreciated using
:
https://www.audiosciencereview.com/forum/index.php?threads/how-to-support-audio-science-review.8150/
Last edited: