Founder/Admin
Staff Member
CFO (Chief Fun Officer)
Joined

Feb 13, 2016
Messages

34,986
Likes

130,322
Location
This is a review and detailed measurements of the NHT SB2 bookshelf speaker. It is kindly sent to me by a member. I think the SB2 came out back in 2002 when NHT was a different company than it is now (it closed and re-opened as a direct to consumer company). At the time, the SB2 cost US $400 for a pair.
The fit and finish of the SB2 is quite nice:
This is a super sturdy cabinet with no ports. It has a "piano black" coating which gives it a higher-end feel. The tweeter is a bit cheesy looking though and lacks a waveguide for good integration with the woofer.
Measurements that you are about to see were performed using the
Klippel Near-field Scanner (NFS)
. This is a robotic measurement system that analyzes the speaker all around and is able (using advanced mathematics and dual scan) to subtract room reflections (so where I measure it doesn't matter). It also measures the speaker at close distance ("near-field") which sharply reduces the impact of room noise.
Both of these factors enable testing in ordinary rooms yet results that can be more accurate than an anechoic chamber.
In a nutshell, the measurements show the actual sound coming out of the speaker independent of the room.
At the risk of creating grief for people using my spinorama measurements
, this is a higher resolution (in frequency domain) scan.
Spinorama Audio Measurements
Acoustic measurements can be grouped in a way that can be perceptually analyzed to determine how good a speaker can be used. This so called spinorama shows us just about everything we need to know about the speaker with respect to tonality and some flaws:
Sadly we have a lot of flaws. Frequency response is anything but flat with share of both peaks and dips and elevated high end. Not a good idea to apply this EQ to everything you play.
Above is similar to a much more crude measurement by another site:
https://www.soundandvision.com/content/war-little-worlds-first-place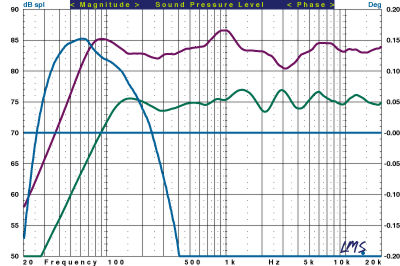 Sensitivity is all over the place (depending on frequency) but is probably around 82 dB which is pretty low. Company says it is 86 dB.
The SB2 is the purple graph which shares the same ups and downs as my measurements. As an aside, they gave it the best score of the speakers they had rounded up for their testing.
Off-axis response is also odd-shaped:
Leading to a predicted in-room response with an uneven response:
Directivity plot shows how the woofer and tweeter don't meet each other with the same sound cone size at crossover frequencies:
The larger sin though is the uneven response.
Vertical response is bad but that is more often than not the case:
NHT says the nominal impedance is 8 ohm but your amp better be able to drive 4 ohm load:
Distortion when compensated for room effects is higher than I like to see in mid-frequencies where our hearing is very sensitive:
Note that per suggestion from members, I ran these distortion tests at 86 dB instead of 96 dB that I use for larger speakers.
Interesting that distortion rises around the same peaking of 700 to 900 Hz. Is that the woofer breaking up? Or is tweeter playing down that low and doing it?
Some sign of the same is in the CSD/waterfall:
Speaker Listening Tests
I immediately cringed when I played the first track on SB2. It was bright and just not right. I then dialed in a quick, single filter in Roon player to pull that peak around 800 to 900 Hz:
Wow, that was transformative! Detail immediately increased due likely to removal of the distortion/resonance causing that peak.
The sound was still bright but I did not want to keep messing with it. With just that one filter, the speaker went from bad to, "hey, this is not half bad!" I enjoyed my next few tracks until I stopped to post this review.
Note that the SB2 is extremely inefficient. I had to turn up the volume to levels on my 1000 watt amplifier that I rarely ever use with any speaker. Practical efficiency is probably less than 80 dB. Good news is that there was no break up. The bass was unclean at higher levels but it was livable.
Conclusions
NHT had quite a good reputation in its original incarnation when this speaker was release. It is sad to see it have such poor objective performance out of the box. Fortunately with a bit of EQ it becomes reasonable. Build quality and sturdiness of the cabinet is likely better than anything you can get for $400 today.
Overall, I can't recommend the NHT SB2. It clearly was not designed with best goals of produce a neutral and transparent sound.
-----------
As always, questions, comments, recommendations, etc. are welcome.
Had to plant my corn transplants in the garden. With none of you volunteering to do the digging and fertilizing of the soil before planting them, I had to hire my helper again and am out another $100. And he has to come back tomorrow for planing tomatoes. Needless to say, I am feeling poor and hence, depressed. I hope you can cheer me up by
donating as much as you can
using
:
https://www.audiosciencereview.com/forum/index.php?threads/how-to-support-audio-science-review.8150/