Joined

Mar 22, 2021
Messages

38
Likes

67
Location
This is a review and measurements of Marantz NR1200 slim 2-chnannel stereo receiver with network capability (D&M HEOS, AirPlay2, Spotify connect, etc.).
Marantz USA sells this in their online store for US$599
. I bought mine from a dealer in Tokyo in January 2021 for 62,000JPY.
Amir once
reviewed NR1510 AVR
and concluded that it was not recommended because of its poor performance. The NR1200 is a stereo receiver, not an AVR, although it looks very similar to the NR1510. Does it have similar bad performance? Or, as Amir hoped, has its performance improved?
"Let's hope D&M takes this advice and produces more peformant products in the future."
I used
Cosmos ADC
and
REW
for my measurements. My measurement method is described
here
.
Marantz NR1200 Amplifier Measurements
Let's start with analog input, 5 Watts into 4 Ohms. Not so good but not so bad as NR1510.
Marantz NR1510 Analog In SINAD: Ch1: 60.305dB / Ch2: 65.140dB (Measured by Amir)
Marantz NR1200 Analog In SINAD: Ch1: 76.2dB / Ch2: 75.0dB
Then, Power vs Distortion. This is interesting: the Power vs Distortion curve usually worsens linearly from maximum to smaller power. However, in the case of the NR1200, it is almost flat from 10W to 100W, around SINAD=79dB. At output power of 10W or less, both THD and THD+N deteriorate due to worsening 3rd Harmonic. The numbers below the graph are at 5W.
This curve is similar whether the load is 4 ohms or 8 ohms. Also, there is no difference between analog and COAX inputs. This suggests that performance of the built-in DAC is fine for the amplifier, but this will be verified later. The numbers below the graph are THD+N (inverse of SINAD) at 5W.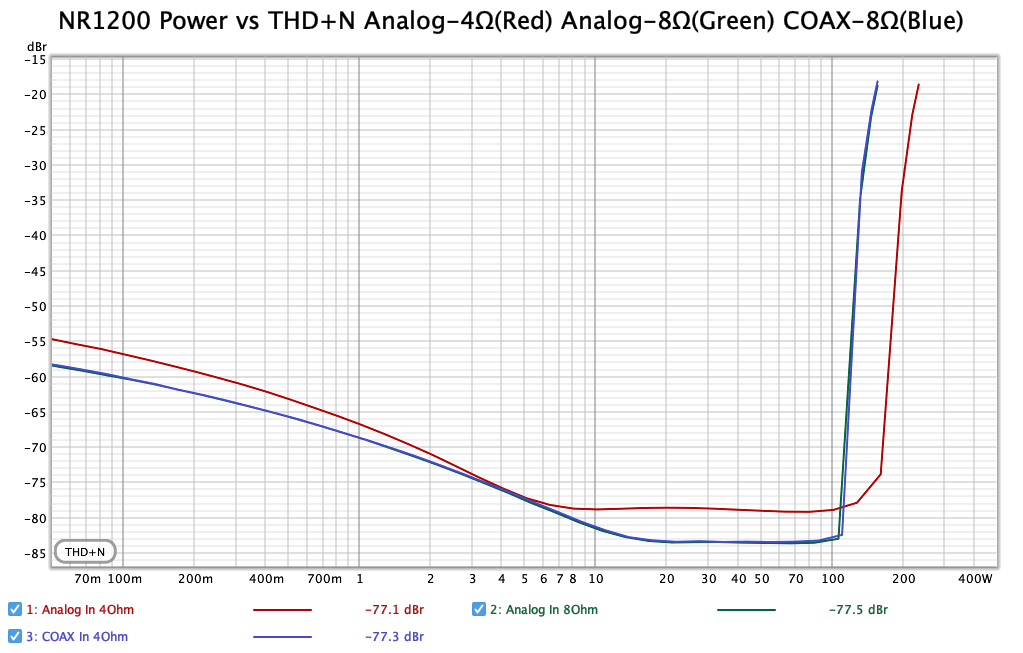 Multitone Analog Input is better than that of the N1510.
Frequency Response was flat between 20Hz and 20kHz.
Marantz NR1200 DAC Measurements
Let's start with test of the DAC subsystem using the pre-out and COAX input with volume adjusted to get 2Vrms out:
The results were as bad as the performance of the NR1510's DAC subsystem tested by Amir.
NR1510 HDMI Input / Pre-out SINAD Ch1: 77.587dB (Measured by Amir)
NR1510 HDMI Input / Pre-out SINAD Ch2: 76.724dB (Measured by Amir)
NR1200 COAX Input / Pre-out SINAD Ch1: 78.9dB (HDMI and Toslink performance were as same.)
But the Power vs THD+N measurement with COAX Input showed better performance, why? This is because there is a dependency between the pre-out level and the THD+N of the NR1200. Although an odd specification, the maximum output of the NR1200 is not 0dBFS. The volume is specified from -79dB to +18dB, and a volume of +3.5dB gives a pre-out level of 2Vrms. When the volume is at -1dB, the THD+N of the pre-outs is at its best, -102.6dB. This is not that bad a value.
Unlike the output of the preamp, I believe the primary use of the NR1200's pre-outs is for output to the subwoofer; when the DAC output is passed to the amplifier within the NR1200, there will be no unnecessary gain control, so there will be no THD+N degradation. But this is just my wishful thinking on my part.
Then, I will discuss the shortcomings of the NR1200 DAC that I found. It is vulnerable to jitter. As long as a good DDC (e.g. SMSL PO100 PRO and HiFiBerry Digi+ Pro) sends the digital signal to the NR1200, there is no problem. However, if the digital signal contains significant jitter, the noise level will increase significantly. N (noise) was -111.9dBFS with the HiFiBerry Digi+ Pro COAX output. But N was -93.8dBFS (18dB worse) with Amazon HDMI Audio Extractor, which has
a lot of jitter in the SPDIF COAX output
.
Commentary and Conclusion
The performance of the NR1200 seems to be somewhat better than the NR1510 (SINAD 75 vs 65). I have the NR1200 in my living room with my family listening to FM radio, TV music programs, SVOD, Spotify. For such use, the NR1200 is easy to use and there are few complaints about the sound quality.
As far as usability is concerned, finding the desired local FLAC file on the NAS can be very time consuming. (Even using the
HEOS app
.) So, I connect Raspberry Pi based
Allo Boss2 Player
to my NR1200 Analog Input to play local music files.
Audiophiles will complain about the NR1200 for two reasons:
SINAD worsens at normal listening volume. (SNAD = 67dB at 1W into 4Ohm)
Bult-in DAC is vulnerable to jitter.
I use a better DAC and an amp in my own room.
Finally, compare THD+N vs Level with other amplifiers. One is the
DENON PMA-800NE
, also a D&M Class-AB amp; the other is the
Aiyima A07
, a less expensive Class-D amp. The numbers below the graph are THD+N (inverse of SINAD) at 1W. I leave it to each of you to decide whether it is usable as a stereo receiver.