Founder/Admin
Staff Member
CFO (Chief Fun Officer)
Joined

Feb 13, 2016
Messages

40,310
Likes

190,315
Location
This is a review and detailed measurements of Marantz NR1510 5.2 4K slim Home Theater AV Receiver. It is on kind loan from a member and costs US $799.
I have been wanting to test a slim AVR for a long time as they much better fit under a TV in a living room than the monster that regular AVR line has become with so many channels that never gets used in this application (there is an NR170 with two more channels for Atmos). I also like the more traditional look of this Marantz compared to their regular line with the obscure porthole for the display and such. Here is the back panel:
During my testing, the unit hardly got warm to touch which again, makes it a great fit to stick in a cabinet below the TV.
Marantz NR1510 DAC Measurements
Let's start with our divide and concur test of the DAC subsystem using the pre-out and HDMI input with volume adjusted to get 2 volts out: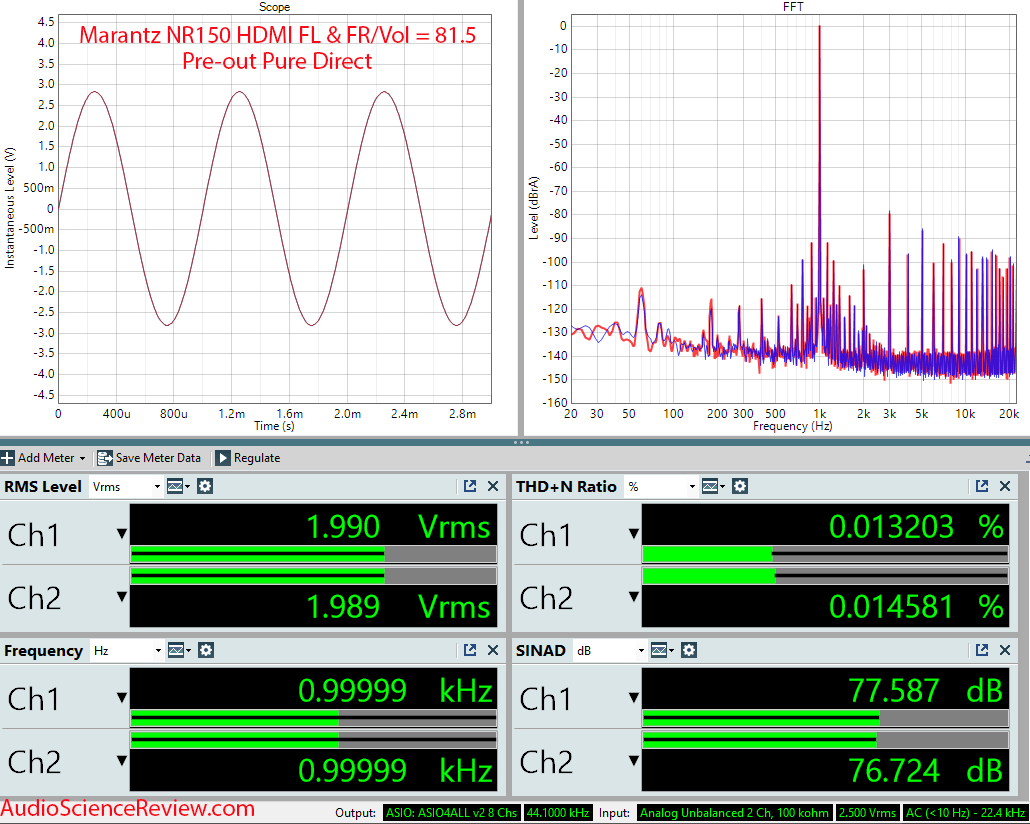 Not a good start. We not only have a lot of distortion spikes, but also what looks to be jitter around our 1 kHz tone. That high distortion sets SINAD which naturally places the NR1510 vey low in the rankings:
Toslink performance is the same:
In case you are curious about lower levels performing better, they do:
Fortunately noise performance is much better:
Then again IMD test shows a noise level that is not competitive with even budget desktop products:
Multitone shows lots of spurious tones:
Jitter as noted, is not great:
Linearity suffers from a 180 Hz power supply spike that is very close to measurement test tone of 200 Hz:
Perhaps the worst news is frequency response:
Caused by what we have seen before: Marantz's decision to use an ultra low DAC reconstruction filter:
This brings savagery to the wideband noise+distortion test vs frequency:
If the company wants to continue selecting this ill-advised filter, I hope they at least add an option in the menu to change it to the default for the DAC chip they have used.
Marantz NR1510 Amplifier Measurements
Let's start with digital Toslink input:
And compare to analog:
We pick up good bit of performance sadly. It should really be the other way around as the most often used input would be digital. But let's give the unit benefit of doubt and continue with analog input. Even so, the NR1510 manages to land at the bottom of our rankings:
I was surprised to see that even with normal processing mode, nothing was digitized:
The input is "multichannel" so I guess they tried to keep the "purity" of that but not letting you process that for bass management or auto-EQ.
SNR is "OK" but nothing to write home about:
Multitone is poor as you can predict:
Crosstalk should be better especially since the input is not subject to processing:
I had set the ECO mode to OFF and was surprised to see the unit produce very little power:
On a whim, I set it to "Auto" and then it started to produce full power! Seems like a bug to fix. And yes, I had to go back and re-measure everything up to this point with that setting as it did improve SNR.
Here is our max and peak output which is healthy:
Here is our 8 ohm results:
Finally, let's see how it varies with frequency:
We see that hump starting at just 3 to 5 watts which may be due to some kind of rail switching to get more power while staying efficient at lower power levels.
Conclusions
From look, size and functionality, the NR1510 puts a smile on my face. Finally an AVR that doesn't weigh a ton or look like a mini-stove masquerading as an AV Receiver! Alas, the rest of the story is depressing with performance being sub-par in every category and measurement, other than available power. Some of these seem to be by choice (DAC filter) but many other just show low attention to circuit design and quality execution. This is a miss as I think many 2-channel music fans like to have the option of surround in limited package/channels. Upping the performance substantially would give any company a unique offering here. Let's hope D&M takes this advice and produces more peformant products in the future.
Needless to say, I can't recommend the Marantz NR1510 ARV.
-----------
As always, questions, comments, recommendations, etc. are welcome.
Any
donations
are much appreciated using
:
https://www.audiosciencereview.com/forum/index.php?threads/how-to-support-audio-science-review.8150/