Founder/Admin
Staff Member
CFO (Chief Fun Officer)
Joined

Feb 13, 2016
Messages

40,339
Likes

190,906
Location
This is a review and detailed measurements of the Behringer A800 Class D Stereo Amplifier. It is on kind loan from a member. The A800 costs US $299 including free shipping from multiple sites.
The member who loaned it me has done a youtube video of it which you can see by clicking on this
link
.
Behringer has been in this game for a long time and it shows from high level of optimization of weight, size and robustness of the A800:
The unit is quite shallow relative to its width.
Standard gain controls are provided which go up to 30 dB (for balanced input). Nice set of LEDs show the output level including clipping indicators. All amplifiers should come with such displays (with switch to turn them off). I could do without the notches in the volume control though as they are fake (they are fully analog) and made exact setting harder (it would creep into the notch). Not a big deal though.
Back panel shows nice set of connectivity:
For my testing I focused on XLR input only and standard speaker banana connectors.
The amp hardly radiates any heat and has no fan. Given the pro application of these amps, I expect them to be robust and reliable.
During measurements, the A800 provides high level of predictability and assuredness that I sometimes miss when testing switching amplifiers. It only shut down once after fair bit of experimentation at full power.
Amplifier Audio Measurements
As usual we start with our dashboard of 1 kHz tone with a gain of 29 dB to deliver 5 watts into 4 ohm load:
This performance is very close to the
Behringer A500 which I reviewed
before. That amp though, generated much worse SINAD because of its non-switching power supply:
Its distortion products are capped to -80 dB which is what we see in A800. Eliminating those power supply components sharply improves SINAD which is relative to sum of noise and distortion:
Signal to noise ratio is "OK:"
Don't use it on sensitive speakers you may hear some hiss (although turning down the gain may help some).
32-tone test signal resembling "music" shows early rise in distortion with frequency:
Crosstalk is reasonable:
Dual, 19+20 kHz tone shows very high level of intermodulation distortion as we saw in multitone test:
Fortunately your music doesn't have such high amplitude tones and threshold of hearing is high that I don't think this is nearly as much of a problem for the ear as it is for the eye.
Frequency Response Measurements
The necessary low pass filter is causing some peaking at 20 kHz to the tune of 0.5 dB:
The above is with a resistive load. I have been asked frequently how the amp performs with a real speaker. Stereophile uses a simulated load of a 2-way speaker that was given to them by NHT. I built a similar load based on schematic from Doug Self:
Here is the impedance of my load versus frequency:
My response is more damped in low frequency than what Doug Self and Stereophile show. I will investigate this further but for now, it is close enough. Here is the phase response:
And Stereophile graph of the two: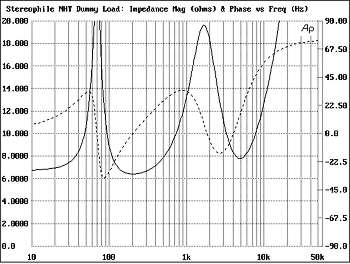 Using my simulated load this is what I get with A800 amplifier:
As you see, there is hardly any difference. Looking at stereophile graphs, they use highly zoomed version to show differences. This is what happens when I do the same:
So a bit of ringing becomes apparent but it is so small as to not be of any consequence. Heaven knows your speakers are not anywhere close to this level of variation.
I will test some of the other amplifiers I have with this load and see if it causes more variation. As it is, resistive load is the same as complex one.
Note that neither my load, nor stereophile's are high power ones. So I cannot plot full power graphs and such. Above measurements were at 5 watts.
Amplifier Power Measurements
Going back to our resistive load, we get this output with 4 ohms:
The show starts well with A800 being much quieter than our premium brand NAD AVR. But then distortion kicks in and we don't do as well. We get however tons of power nearly a quarter of a kilowatt. Similar story holds for 8 ohm load:
Still, that is a lot of power at 8 ohm leaving our AVR way back in the dust.
Using 1% threshold for THD+N, we get more power naturally than my graphs above indicate:
Left hand is short-term burst power, right side is long term.
Thermal Stability
Performance improved just a bit after 10 minutes of warm up at 5 watts:
So you don't have to leave it on for good performance.
Conclusions
The Behringer A800 does what pro amps try to do: provide solid, middle-of-the-road distortion and noise with tons of power in quiet and light package for little money. The design is stable and better than the A500. As such,
I can recommend the A800 as an everyday amplifier.
------------
As always, questions, comments, recommendations, etc. are welcome.
You all asked for more amplifier tests and you are getting it. So time to pay up!
Donate as much as you can using
:
https://www.audiosciencereview.com/forum/index.php?threads/how-to-support-audio-science-review.8150/