Founder/Admin
Staff Member
CFO (Chief Fun Officer)
Joined

Feb 13, 2016
Messages

28,203
Likes

72,774
Location
This is a review and detailed measurements of Fiio K3 DAC and portable headphone amplifier. I got talked into buying it earlier this month due to popular demand. Fo you all's sake, it better measure well!
The Fiio K3 is quite cheap for such a combo product and costs just USD $109 including Prime shipping from Amazon. As such, if it works out, it will be killer combo as far as price is concerned.
The first impressions are positive with the nice but very small looking enclosure:
We see the typical gain switch and bass boost. Unusual in this price class is having a "balanced" output which in the case of headphones, just means potential for higher output power. Please don't confuse this with balanced inputs which provides high level of ground loop immunity. Balanced output doesn't provide such benefit.
The volume control is a rather unique implementation where an analog control is used with min and max (unlike rotary controls that keep turning). Instead of controlling the level directly though, its value is digitized and then used to control the level in the DAC. This has the benefit of providing very precise channel matching.
The rear end shows the typical USB input but also both Toslink and Coax digital audio outputs which again I don't expect to see here given the small enclosure: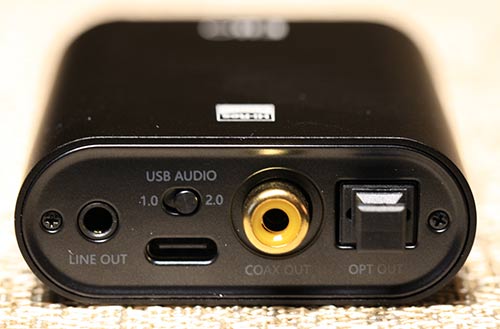 The USB input is type C which is nice. Not sure why one needs USB version 1 or 2 switch these days.
There is a line out 3.5mm jack as you see. Normally these jacks are just wired to the front headphone jack but here, performance was different as you will see later.
Being small and despite being metal, the unit drags easily due to light weight and shiny surface. It would at least need some sticky feet to make it stay put if you are going to put it to desktop duty.
DAC Measurements
As I noted above, initially I was going to run the dashboard view using the headphone jack but then realized that the headphone out does better:
SINAD was in high 80s with the headphone jack. This may be instrumentation difference as the rear jack connects more solidly but I don't think so.
The distortion spec beats Fiio's own rating of 0.004%. Maybe that is for headphone out? Regardless it is good to see honesty here.
Looking at the FFT spectrum of our 1 kHz tone, we see the highest distortion product is at about -98 dB yet our SINAD is 92 dB. This indicates that the SINAD which uses sum of distortion+noise as its basis, is likely dominated by noise, not harmonic distortion. The FFT reduces noise level by some 30+ dB here letting us see distortion products so it is misleading in that regard with respect to noise level of the product. We can tease out the issue here with other measurements.
As it is, the SINAD is "OK," falling in tier 3 performance class of DACs tested:
Note that the output voltage is just shy of 2 volts which is fine for line out but this is as much as we get for headphone out jack just the same. This means that we will have trouble generating enough power for high-impedance headphones.
Linearity is unusually good for a little device like this:
Jitter measurements at first look good with no spurious spikes but that is due to higher noise floor as noted earlier:
Excellent DACs push that noise floor down to -150 dB or so, allowing more spikes to be visible (if they have them).
Dynamic range is "OK":
Evidence of high noise floor becomes abundantly clear in our intermodulation distortion versus level:
Any dreams you had of replacing a Topping DX3 Pro or even NuPrime uDSD with the Fiio K3, should be shattered by now.
Multitone test shows the same rise in noise floor:
Need even more evidence of high noise floor? Here it is:
Headphone Amplifier Measurements
Focusing on headphone output performance, the impedance is comfortably low:
Channel balance as expected is superb:
Let's get into all important power versus distortion+noise, first at 300 ohm:
As predicated, the low output voltage become problematic generating output levels that is even short of $10 dongles at just 13 milliwatts in high gain. I like to see 100 milliwatts here for ample power to drive high impedance headphones such as Sennheiser HD-650.
Switching to 33 ohm load, we are now current limited so let's see how the K3 does:
We have a lot more power now at 108 milliwatts. As a way of comparison, the Topping NX4 DSD produces 147 milliwatts here (and 58 milliwatts with 300 ohm load).
I tested the balanced output with my 50 ohm load:
We double the power here which is nice. Unexpectedly, the noise/distortion level also goes down substantially in balanced mode.
Listening Tests
As usual, I started my listening tests with the Sennheiser HD-650 representing high impedance headphone class. As predicted in the measurements, there just is not enough power here. Bass notes were weak and almost in hiding.
Switching to Hifiman HE-400i to represent low impedance headphones, performance improved a bit with higher output level but again, bass notes were on vacation and nowhere to be found.
I briefly tried my AKG K92 which is far more efficient than the above two and it did produce higher output here, enough to keep me away from max volume.
Conclusions
The Fiio K3 seems to set rather low targets and it meets it. Problem is that we are not about low targets here.
We want excellent performance here especially in the headphone amplifier section so that the headphone is the limitation, not the amplifier. In that regard, the anemic 2 volt output of the Fiio K3 becomes a limit for high-impedance headphones. Likewise there is not enough current for low impedance headphones to drive them well.
Balanced output may make up for that but if you are going to target that, why not get a better performing DAC+amp? The Topping NX4 DSD costs a bit more ($160), but it has built-in batteries that allows it to have much better drive capability. Its DAC portion is also superior.
Net summary is that this is a nice little DAC and combo but fails to meet our rather high standards here. If you find use for its unique feature set, and can live with its modest output level, you are welcome to get it. But I can't recommend it generally.
The Fiio K3 is available for sale if someone wants it.
------------
As always, questions, comments, recommendations, etc. are welcome.
Snow has melted but now I need gas money to go and pick up all the packages piled up at the post office. So please consider
donating
money using:
Patreon
:
https://www.patreon.com/audiosciencereview
), or
upgrading your membership here though Paypal
(
https://audiosciencereview.com/foru...eview-and-measurements.2164/page-3#post-59054
).