Founder/Admin
Staff Member
CFO (Chief Fun Officer)
Joined

Feb 13, 2016
Messages

26,880
Likes

63,276
Location
This is a review and detailed measurements of Audeze Deckard DAC and headphone amplifier. It is on kind loan from a member and seems to be discontinued. Seems to be a product of year 2016 with retail price of USD $699. Owner has bought it used for much less.
The unit has rather unusual hefty metal enclosure with super sharp extruded aluminum edges that can easily pierce your fingers:
Other than that, the volume control feels very nice. There are RCA outputs and inputs in the back. The RCA out is variable and seems to just be connected to the output of the headphone amplifier. I only tested the unit as a DAC+Amp combo. With the front toggle switch, seems like you can use it as just a headphone amp/pre-amp if you wanted.
Looking for information on it, I ran into a CNET review saying this:
Is Steve Guttenberg right? Let's find out!
Measurements
I adjusted the output to typical 2 volt output and tested the unit using its RCA output:
Stated spec is 0.0004% distortion. We are off by a big factor to 0.003%. I played around but could not get much better distortion metrics. This puts the unit in third tier of performance: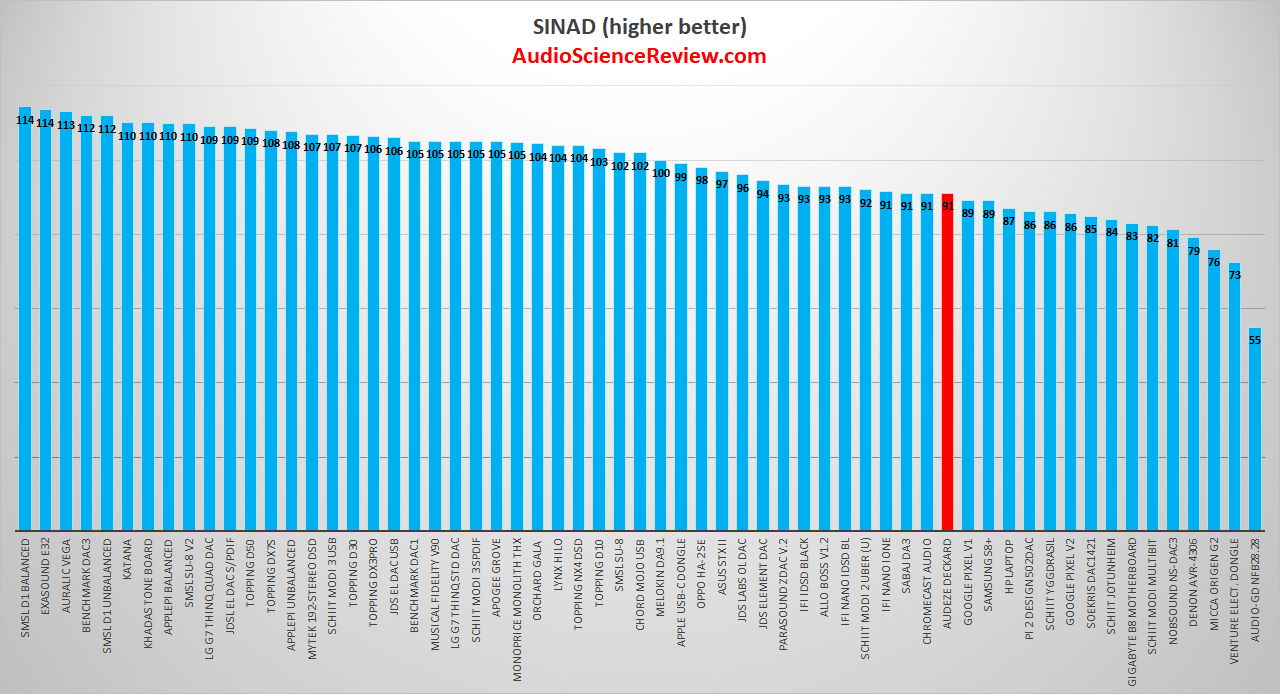 Note that DAC+headphone combos do worse in this test since they have the sum distortion of both subsystems. Still, there are a other combo units with much better performance.
Noise level is rather high as reflected in dynamic range:
Intermodulation test shows the same:
Jitter follows suit:
Linearity is not bad though:
Found very odd results when testing THD distortion and noise versus frequency:
This is due to this test using much wider bandwidth than the dashboard (90 kHz versus 22.5 kHz). The ultrasonic response changes a lot causing variations in the THD. Why it is so correlated, I don't quite know but read below.
I had a heck of a time getting consistent results of THD versus power. Later listening tests revealed that the headphone jack is loose and if you push it all the way in, it causes buzz and hum. I re-ran the tests and kept the jack a hair proud and got much better results (no impact on Dashboard above):
Nearly half a watt at 300 ohm is really high amount of power. Alas, with it also comes a lot of noise as we see in the comparison to Topping DX3 Pro.
Similar outcome greets us with 33 ohm load:
As indicated, if you can, use this unit with minimum or medium gain. But if you need power, lots of it is available at 1.7 watts with high gain.
Output impedance is comfortably low:
Listening Tests
Before getting started, I wanted to check for audible noise. So I plugged in my AKG K92 into Deckard, set it to high gain and set the level to max with music paused. Buzz and hum was clearly audible. But then by chance I touched the headphone jack and this is when I realized it was loose and caused varying amount of noise depending on how you held it. I plan to open it up and see if I can fix it.
This caused me to stop the listening tests and go back back to re-measuring but not before hitting play in Roon by accident while wearing the AKG K92. What greeted me was so loud and so distorted that it loosened the wax in my ears, shot them through my nostrils and into my drink! OK, that is not what happened but this is the closest I have come to going deaf. I literally had to sit for a few seconds in silence to gather myself.
Plugging in the headphone so that the buzz was not there showed very nice subjective performance with the K92 which are very efficient and easy to drive.
Switching to the other extreme with Sennheiser HD-650, the Deckard seemingly did not care. It had enough power to drive them as loud as you ever wanted with authority.
The Hifiman HE-400i had no issues whatsoever. Fidelity was very good with little to complain about.
Conclusions
The Audeze Deckard doesn't seem to have benefited from proper engineering measurements and refinement. Its DAC performance is ordinary, likely degraded by the high noise floor of the amplifier. Fortunately it compensates for that with tons and tons of power, proving my point that you always want more power than you need. This is true whether you have a headphone amp or speaker amp. Amplifiers will most definitely distort when pushed to the limit even when you think you are not playing them loud enough.
If you have difficult to drive headphones and are on a budget, getting a used one at the bargain price the owner got the unit, it is a good option. At its original new price of $699, I can't recommend this unit seeing how you can get powerful amplifiers, with much lower noise and and distortion that you can pair with a DAC for much less money.
-------------
As always, questions, comments, recommendations, etc. are welcome.
If you like this review, please consider
donating
funds to support these reviews using:
Patreon
:
https://www.patreon.com/audiosciencereview
)
or
upgrading your membership here though Paypal
(
https://audiosciencereview.com/foru...eview-and-measurements.2164/page-3#post-59054
).
Last edited: