Founder/Admin
Staff Member
CFO (Chief Fun Officer)
Joined

Feb 13, 2016
Messages

37,372
Likes

156,075
Location
This is a review and detailed measurements of the Chane A1.5 bookshelf 2-way speaker. I purchased it at suggestion of members and donations toward it. It costs US $329 a pair from the company as of this writing. It is apparently the fifth revision of this design and hence the numerical designation.
Despite being small, the cabinet feels quite heavy and solid:
I like the binding posts but they are too close to each other making it hard to run them:
This speaker seems to have a massive following ignited by a review of earlier version of it by CNET praising it.
Measurements that you are about to see were performed using the
Klippel Near-field Scanner (NFS)
. This is a robotic measurement system that analyzes the speaker all around and is able (using advanced mathematics and dual scan) to subtract room reflections (so where I measure it doesn't matter). It also measures the speaker at close distance ("near-field") which sharply reduces the impact of room noise. Using computational acoustics, far-field response is computed and that is what I present.
Both of these factors enable testing in ordinary rooms yet results that can be more accurate than an anechoic chamber.
I performed over 1000 measurement which resulted in error rate of about 1%. Clean high frequency response is responsible for ease of measurement in this regard.
Reference axis is approximately the center of the tweeter (vertically and horizontally). As a funny aside, when I was searching for measurements of this speaker, I landed on a massive thread in AVS Forum with a person claiming I will be botching this as I am supposed to contact the company to get the acoustic center. Well, if it is very different than assumed, company best to provide that information to all of its users. More on this later.
Chane A1.5 Measurements
Acoustic measurements can be grouped in a way that can be perceptually analyzed to determine how good a speaker is and how it can be used in a room. This so called spinorama shows us just about everything we need to know about the speaker with respect to tonality and some flaws:
Ouch. This is not what I expected to see for a speaker with so much praise. Efficiency was low as also evidenced by me having to crank up the levels to get it to measurement point. Response peaks in treble region and there is some nasty business both in on-axis and off-axis response around a few hundred hertz to nearly 2 kHz. By measuring the drivers and port we get some clues as to potential reasons:
We see the classic budget speaker cabinet/port resonance peaking as the woofer response is going down causing it to be much more of a problem than it would be otherwise. Tweeter response is also quite uneven.
Early window response due to poor directivity is a mess:
Normally I could tell you to both absorbers here and there to help the situation but I can't think of anything. Each reflection contributes randomly to the response -- by eye anyway.
No wonder then that our predicted in-room response is quite choppy:
It also appears to not slope down much so likely sound bright.
Company talks a lot about the distortion levels in the woofer and seems like there is something to that:
As seen though, they need to do something about the tweeter.
Even during the sweep with hearing protection I could tell at 96 dB SPL there were problems.
As we would expect, horizontal beamwidth cannot be described at any fixed angle:
It is so uneven and broad at some frequencies that I think the sound will be very room dependent. Same is seen in our contour map:
Vertically the tweeter heavily beams at the top of its range with strong narrowing of the response:
Symmetry of the measurements is very good which means we did nail the acoustic center!
Here is our 3-D balloon plot at three mid frequencies;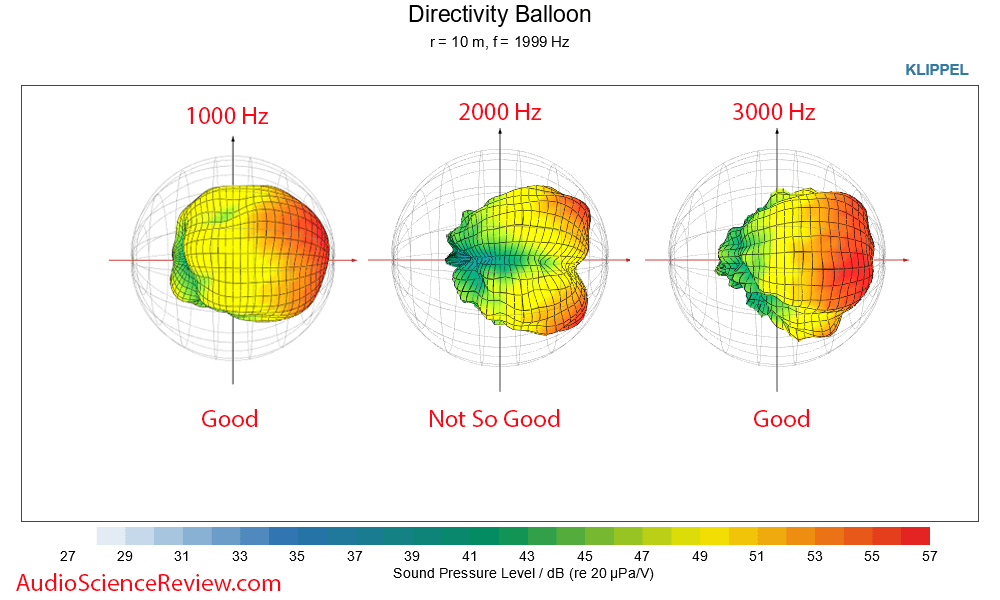 Sound source starts as a uniform surface but then splits into two before unifying back again.
Impedance for the most part is high so your amplifier should be happier:
Then again the low sensitivity as noted earlier will require a powerful amplifier to play loud.
You all have asked for impulse response, so here it is:
Chane A1.5 Listening Tests and EQ
I must say, despite glancing at the measurements before listening to the A1.5, I was not ready for the experience that greeted me. The sound was hyper bright and was energizing the room in a way that I have rarely heard. Higher notes would linger in my large space. The combination at first was impressively addictive until you some notes literally poke a hole in your eardrum and you realize you are listening to the classic "showroom sound." Mind you, it is one of the best implementations of that besting what even Klipsch does but wrong it is. So out came the EQ tool with shelving to bring the highs down:
That wasn't enough so I went after the irregularities in 500 to 1500 hertz with dual filters to build a flat top (I did it visually and hence the fractions). Once there, I tamed 90% of the brightness but some notes would still stand out. I tried adding a bit of bass boost where there is a dip in upper bass/lower mid-range but that caused the speaker to run out of headroom and distort. And kind of made it boomy so I omitted it.
Power handling was very good. The little woofer doesn't upset easy. But something else was nice: there was this great spatial qualities to the speaker which I think is due to very wide directivity in lower treble area. This may also be why it sounds bright because I don't have any side wall absorption.
With all the filters in place, I listened for a good bit and soon I lost track that I was testing the speaker and instead enjoying its sound.
Conclusions
Objectively the Chane A1.5 violates many rules for good sound in speaker design. Sadly the same was present in listening tests. Unless the showroom effect is in play, I can't figure out why the speaker is so popular. Maybe people are using it in home theater applications where equalization is very common. If so, sure, I could get pushed to get on board if you EQ them well.
As is, I can't recommend the Chane A1.5.
You must use EQ and if you do, then you can get good sound out of it and maybe some unique characteristics.
-----------
As always, questions, comments, recommendations, etc. are welcome.
Any
donations
are much appreciated using
:
https://www.audiosciencereview.com/forum/index.php?threads/how-to-support-audio-science-review.8150/