Founder/Admin
Staff Member
CFO (Chief Fun Officer)
Joined

Feb 13, 2016
Messages

25,155
Likes

52,533
Location
This is a review and detailed measurements of the Oppo HA-1 DAC and headphone amplifier. It is on kind loan from a local member who literally flew to our nearby airport to deliver it to me! The HA-1 is discontinued but it cost USD $1,199 when it was being sold by Oppo. I just searched on ebay and was surprised that it goes for $1,200 to $1,700!!! Will this be a top find as the
Oppo UDP-205
UHD player was? We will find out.
The HA-1 is a hefty unit with a beautiful, high resolution graphical display:
I wish all DACs/headphone amps above $1,000 came with such a display.
In some respect though, beauty is skin deep as the display is very sluggish to keep up with volume control changes. Worst yet, even though the volume control appears to be digital, it is not. My son has had an HP-1 for a few years and on his, the fancy ALPS motorized control has gone partially bad. One channel is weak until the unit fully warms up. There are a lot of people complaining about this. I found the part online and it costs about $35 which is not bad. What is bad is the thousand screws and subsystems you have to take apart to get to it! Even for someone as skilled as me, it was a nightmare. So be careful in buying a used one if it has this issue. The loaned unit fortunately was free of this problem.
The back panel shows how full featured the HA-1 is:
Everything you would want is there from XLR DAC output and analog inputs to bluetooth. Even today such functionality would be impressed let alone back in 2014 when the HA-1 came out.
All is for not if the performance is not there so let's find out how well it ticks inside.
DAC Measurements
The HA-1 has both fixed and variable output levels from rear "pre-out" jacks. Let's look at the fixed output first:
This is respectable performance. With SINAD (signal over distortion and noise), the HA-1 barely squeezes into top tier of all DACs tested:
The output is above 4 volts so we (my son was assisting me) put the unit in variable mode to dial it down to 4 volts (for XLR output). I was quite surprised at the sudden drop in performance:
We have lost as much as 20 dB in noise and distortion. And this happened while keeping the output voltage the same! Channel balance became much worse too. I am assuming this is due to the output of the DAC now going through the headphone amplifier. Very unfortunate as this makes the HA-1 a lousy DAC with volume control.
For the rest of the DAC measurements, we put the unit back in fixed volume mode. Here is the dynamic range with balanced and unbalanced outputs:
This is very good and nicely beats the specifications.
Frequency response is boring in a good way (dead flat):
Linearity was likewise exceptional:
Jitter performance showed issues however:
We have two distinct spikes with symmetrical distance to our 12 kHz tone indicating it is jitter at frequency of 6.5 kHz. Some internal timer is ticking at this rate causing these spikes. Turning off the LCD display did not make a difference, nor did making it dance around with spectrum analyzer.
The broadening of the "skirt" around the 12 kHz tone indicates random jitter (with low spectrum) which shouldn't be there either.
Intermodulation distortion showed the classic ESS IMD Hump:
This is the most extreme version I have seen though. The HA-1 uses ESS 9018 DAC by the way.
Multitone was pretty clean though:
Headphone Amplifier Tests
Let's dig right in with power output at 300 ohm at three settings: "Normal" (low gain), "High" and + 6 dB on the volume control (it doesn't stop at 0 dB):
The low gain has very little output. Surprisingly, my son has to use an IEMatch even in that mode to get good channel balance with his LCD-X headphones!
Going to +6 dB though produces fair bit of power at the expense of elevated noise and distortion. More on why the curve is jagged later.
33 Ohm load changes the equation thusly:
While there is no clipping, distortion rises above just 10 milliwatts or so.
Testing balanced XLR output using all three modes gives us this: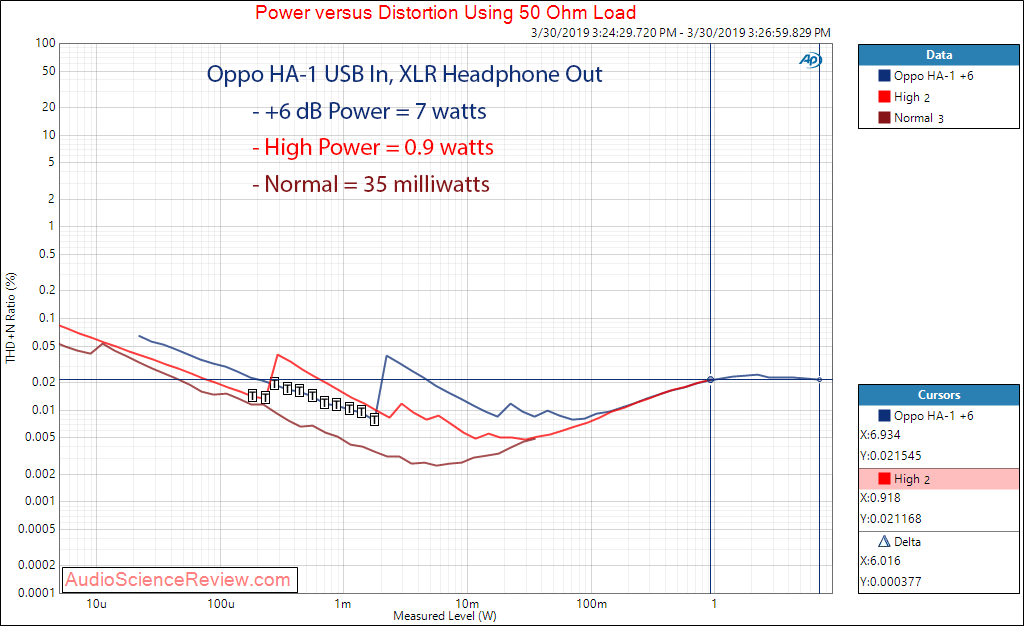 I had to expand the graph to the right to encapsulate the whopping 7 watts of output!
The jagged and unusual curve bothered me so I tested the HA-1 with analog XLR input instead of USB:
As we see, the output is much more sane and conventional. We must be seeing that ESS IMD Hump in there with USB input.
As much improved as this is, the HA-1 is no match for the
Massdrop THX AAA 789
when it comes to distortion and clean power.
Output impedance was comfortably low at 1.4 ohm:
Channel matching bore witness to my son's experience that the HA-1 is not usable with very efficient headphones:
Listening Tests
I tested the HA-1 with Sennheiser HD-650 first (1/4 inch jack). There was good bit of power but I could get the amp to distort before the drivers got there. Sensation of strong bass was not quite there until the rest of the spectrum was somewhat distorted.
The experience with Hifiman HE-400i was much better. Here, the HA-1 could drive the headphones to the limit with powerful bass response.
Conclusions
The HA-1 must have been a major effort by Oppo. It is a complex beast internally with relays clicking, large LCD, many features, remote control, etc. There are however good number of rough edges both in the DAC and headphone amplifier. If it were being sold for half or a third of when it was new, it may have been a good buy on its looks and functionality alone. But not when it is being sold well above list price with potential for volume control failing.
Given all of this, I can't recommend the Oppo HA-1.
------------
As always, questions, comments, recommendations, etc. are welcome.
As I am typing this, my wife is finishing cooking Lasagna. The smell is amazing and I am hungry so can't think of any reason for you to donate money other than you should!
Patreon
:
https://www.patreon.com/audiosciencereview
), or
upgrading your membership here though Paypal
(
https://audiosciencereview.com/foru...eview-and-measurements.2164/page-3#post-59054
).
Last edited: