I bought this amplifier with built-in DAC over 1 year ago from Amazon and had no issue using it several hours per day. My kid is using it daily on TV and XBOX over the SPDIF input, I'm using it couple of times per week as well and it works as expected, as in day one. It's barely warm during operation on low to moderate volume, so I really need to push it out very loud to make it heat up a bit on top. It has relays and protections all over, so I'm somehow confident that it's really hard to blow it away with ease.
After I unpacked it and connected to the speakers I had a strange impression that bass is not on pair with my good old Pioneer A-209R MOSFET output stage amplifier. I was kinda disappointed by this and almost ready to pack it back and return it, but...I settled down for 3-4 days without listening to any music, then during the weekend I did another test. This time bass was "on pair" with what I was used to remember from my older Pioneer amp, but way much powerful output, so I was happy.
I haven't done any REW compares between the two amps, because this was definitely a subjective opinion of mine on the first day, not sure why, because I wasn't expected this amp to sound better or worse than the previous one, all I needed was just a more powerful amp.
The
YAMAHA A-S701
is about identical with
A-S801
, but the DAC being different:
PCM5102A
with SPDIF and COAX transport vs.
ES9010K2M
that adds USB transport too. Also, on the amplifier parts and schematic, the above two are about the same with the "older brother"
A-S700
.
Front
​
Front plate seems to be a black thick aluminium foil glued on plastic, and not full aluminium. However, it definitely looks good enough to me. The knobs are all plastic, but the look is similar with aluminium. I do like the adjustable Loudness contour that does a very good job on evenings when listening quietly to TV, to not disturb the sleeping family. I don't use the Bass/Treble controls, but I think YAMAHA is the only company I've seen using 20Hz and 20000Hz controls on their amplifiers, while most are using 100Hz and 10000Hz, like I'd ever care about adjusting the "boomy" sound of the 100Hz.
Back
​
On the backside of the amplifier there is a low/high impedance switch that ensures sort of a protection against overloading the output stage when two pairs of low impedance speakers are connected in parallel (e.g.: when connecting one pair of 4-Ohms or two pairs of 8-Ohms speakers). Basically, the big transformer has 4 windings: a pair able to deliver 2 x 40 VAC and another pair able to deliver 2 x 33 VAC, so when choosing
"high impedance"
you get the biggest voltage on both positive and negative rails of the power amp and when choosing "low impedance" you get the lowest voltage. Of course, this selection will need to be done with the power knob OFF, although on the newer Yamaha AVR models there's an on-the-fly selection available on the menu from the front LCD. Not setting the impedance selector correctly, according to your speakers impedance, might cause the amplifier to enter into protection state due to overcurrent or overheating, especially when max. power is used for a longer time. However, with my 4 Ohms speakers I never had any issues leaving this impedance-selector on the High setting (per
Audioholic's recommendation
), so I guess it's really hard to make this amp to overheat.
Worth mentioning that the max. power consumption is about double what YAMAHA states on the backplate.
Inside arrangement
​
The inside construction is done in a similar way like server computers, with a big motherboard and more "raiser-cards": one DAC board, two analogue inputs boards, one auxiliary PSU board. This modular design might be helpful if something gets broken, because only the defective cards will get swapped, but this design will also improve the inside air ventilation too.
​
The pre-amp and power-amp inside are fully transistorized, while the input stages are opamp-based, so the schematic is rather complicated and well engineered. I do like the inside work and PCB layout and the components seem carefully chosen, with good quality Japanese capacitors (
Nichicon FW
for audio circuits United Chemi-Con ASF, SMG and
SMQ
for power supplies and bypassing) and low-noise Japanese opamps from NJM/JRC. Soldering looks good, components are well-arranged, several protections are in place and the power supply transformer seems beefy enough to help the output stage in delivering enough power for regular 85...90 dB/W/1m speakers to achieve the THX standard of 105 dB of loudness peaks (85 dB SPL with 20 dB of headroom) in a normal-sized living room (more info here:
http://www.acousticfrontiers.com/2013314thx-reference-level/
).
Transformer with shielding
​
There is a big and heavy transformer provided by the Japanese manufacturer
KAGA COMPONENTS
shielded around with copper foil, on the horizontal plane, to minimize EMI field across surrounding analogue circuitry.
Bridge rectifier with thermistor on top and the three 2SA1659 drivers for the big speakers relays
​
The bridge rectifier used to power amplifier circuitry is a Japanese 6 Ampers
Fujitsu S5VB60
with tiny thin heatsink on top and something that might be a thermistor. The temperature gets analyzed by a microprocessor and if it's too high then the audio power will get cut-off and the amplifier will enter into an emergency state.
Big 12000uF/71V power supply reservoir caps and Japanese relays for speakers
​
Positive and negative rails are "buffered" by two big reservoir caps from NIPPON CHEMI-CON rated at 12000uF/71V at 85C. Given that the inside temps are quite low (40-50C) while operating at moderate-to-high power output, I think that 85C caps is a good frugal choice here and a rating of 105C would be overkill.
Auxiliary linear power supply, also used for stand-by operation
​
There is an auxiliary PSU as well that ensures power on the digital board and also takes care of the auto stand-by feature, that can be enabled/disabled from the switch from the backside of the amp. This small PSU makes possible the use of the power ON/OFF button from the remote control, of course, if the mains power button from the front panel is in ON position. I personally like to have an analogue mains ON/OFF power button instead of having only a "digital" one, because this ensures that no power will be drawn from the mains outlet when that button is fully depressed. There is a very small transformer installed on the dedicated PSU board followed by a
Fujitsu D4SBN20
bridge rectifier.
Linear PSU with 4A bridge rectifier and 4700uF/16V cap that goes to DAC board regulators and the USB +5V
​
DAC board
​
The DAC board has only COAXIAL and OTPICAL digital inputs, so there is no USB input there. That means you will need a dedicated USB-to-SPDIF transport if you want to connect it to a computer or simply use a computer with SDPIF out (most motherboards have SPDIF-out these days). On the same board there is a clean +5V/0.5A USB power "outlet" (done with
TPS2051CDBVR
) for use with external devices like BT streaming or transport devices.
For the digital-to-analogue convertion a well-known
PCM5102A
chip was used. This chip, when well implemented, has a THD+N at –1 dBFS of -93 dB and a dynamic range of 112dB. The ADC used to connect the SPDIF and COAX plugs is a
PCM9211
that has a similar THD+N at –1 dBFS of -93 dB and a dynamic range of 101 dB at 96 KHz A-weighted. Bypass across the analogue and digital +3.3V power rails was done with Nichicon polarized capacitors.
DAC and ADC 5V power is regulated by
NJM2388F05
and 3.3V rails are regulated by LDO's like
RP130Q331D-TR-F
and
RP170H331B
from RICOH.
Analogue internal "mixer"/input switcher
​
​
The analogue inputs are "multiplexed" by a proprietary chip named YD953A0 soldered on the backside of the analogue inputs board, so basically there are no relays to connect the RCA plugs to the internal pre-amplifier. This chip actually acts as a mixer which is buffered on the outputs by a low-noise
NJM2068MD
(M - stands for the small DMP8 socket, D - stands for very low noise). However, when CD-DIRECT is pressed the YD953A0 and the NJM2068MD are bypassed, this way an even lower background noise is achieved, hence a better SNR and THD+N.
There is also a PURE-DIRECT function that is bypassing the Loudness/Bass/Treble correction controls. Noise difference between CD-DIRECT, PURE-DIRECT and "normal" exists, but I was only able to hear it with volume to the max. (volume knob at 5 o'clock) and my ear at 1" in front of the tweeter & midrange drivers, so at normal-to-high loudness levels with peaks up to 100dB SPL at listening position or avg. around 80-85dB SPL (volume knob around 1 o'clock
)
amplifier's background noise is inaudible at 1" in front of the speakers drivers
, no matter CD-DIRECT or PURE-DIREC are pressed or not (noise was tested with no music playing, only volume knob was setup based on the above listening levels!).
PHONO and CD input board
​
The
PHONO input
stage has very low noise
NJM2068MD
dual opamps and
CD input
stage has
NJM5532MD
opamps with Nichicon FW 10uF/50V polarized cap on each channel, to decouple any possible DC-voltage coming from the CD player/audio source. By using these dual opamps, the Yamaha engineers did a very clever thing, in
converting the audio signal into balanced
, so "traveling" from the input board to the mixer board will grab near to zero interferences. The SUB_out is buffered by a
NJM4580E
dual opamp that also does the low-pass filtering too. All the other analogue inputs are routed directly to the YD953A0 propietary chip that is acting as an input/output selector.
Second analogue inputs board controlled by the proprietary mixer chip named YD953A0
​
Volume control seems to be digital
​
Volume is adjusted via an
ALPS motorized
RK16811MGA09 "1-gang" potentiometer. No, I don't think I'm wrong, it looks indeed like a "1-gang" pot, yes...a mono potentiometer.
Seems that the volume control, like many other functions, are done by the custom proprietary microprocessor with a flash memory inside, named YG398A9 and with a notice on the schematic:
"No replacement part available"
. That means there should be no added volume pot. Johnson noise inside the audio path and no channel imbalance will occur, at least not due to the potentiometer.
The same YG398A9 microprocessor is also handling the overcurrent and overheating protections from the output transistors and bridge rectifiers. The are also some "secret" codes (from remote keys and front panel buttons) to do some basic "re-programming", so after a thermal shutdown you don't need to send the amplifier to RMA, just let it cool down then use the "secrete" codes.
One channel shown, paralleled complementary bipolar SANKEN transistors
​
The output power stage is created around the well-known complementary bi-polar Japanese
SANKEN
transistors
2SA1694
/
2SC4467
with 2 paralleled pairs per channel, each transistor being able to sustain a continuous 4A with peaks up to 8A, so about 60W/transistor at 55C on heatsink (based on
"Safe Operating Area"
and I graphs from transistor's datasheet). Each channel has its own heatsink with two output transistors pairs connected and on top pf each heatsink there's a
LM61CIZ
thermistor that triggers an alarm when overheating occurs, so the microprocessor will cut-off the audio signals and power and enter the amplifier into protection state.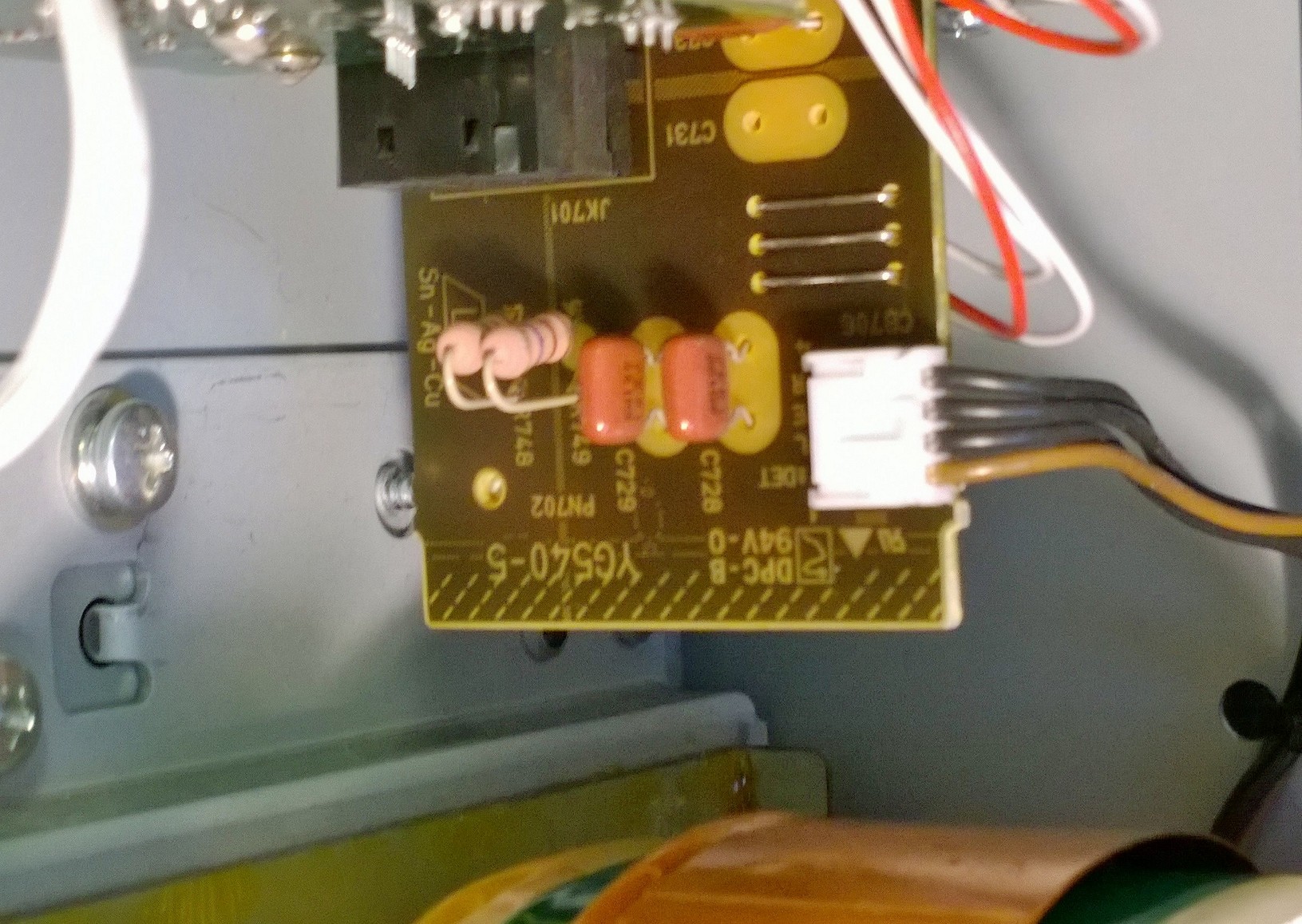 The headphones "connector" board with the two 470 Ohms resistors
​
The headphones amplifier...well, there's no dedicated headamp inside. Instead, Yamaha did placed couple of 470 Ohms resistors serialized with speakers outputs, to decrease the output voltage on the 6.3mm jack plug. Who wants an amplifier with a built-in dedicated transistorized headamp might want to have a look to the Yamaha A-S1100/2100/3100 series that also have "VU-meters" and floating
Circlotron MOSFET
output stage and way more bridge rectifiers and reservoir caps.
I very much like that a Japanese company like YAMAHA is able to use Japanese components inside this amplifier-with-DAC equipment and still keep the price low enough (lower than 500 EUR). I seriously think this amp has a very good price/performance ratio for an amp that has
"For 8 ohms, two channels driven, output was around 105 watts/channel and 185 watts/channel for 4 ohms under 0.01% THD+N"
, per Audioholics wrote here:
https://www.audioholics.com/amplifi...1-amplifier-review/yamaha-a-s801-measurements
, so output power is higher than manufacturer states, which is a good thing. Also, output power is more detailed measured here as well:
https://www.excelia-hifi.cz/yamaha/test/yamaha-a-s700-australian_hifi_03_10.pdf
and some other measurements and thought could be read here:
https://audio.com.pl/testy/stereo/wzmacniacze-stereo/2786-yamaha-a-s801
.