Major Contributor
Forum Donor
Joined

Jan 24, 2020
Messages

1,377
Likes

4,641
Location
Just a majorly ignorant question here, but isn't the room the baffle?
Whatever metaphor is used to describe the influence of the listening room, it is always better to use a loudspeaker without design flaws for listening. Therefore, the hint on what to pay attention on U, V, H OB speaker.
Such a design flaw would exist, for example, if the V-frame OB bass section of example 5 is used in a 2- or 3-way loudspeaker at a crossover frequency above 150Hz (or example 1 above 100Hz).
We can also look at the frequency responses of the example 5 simulation as a CTA-2034 presentation (Spinorama). Those who are here in the forum more often should be familiar with this data presentation - only difference is 40dB instead of 50dB scaling.
Once without XO, with slightly downward sloping PIR and with semi-flat on-axis FR: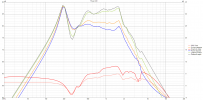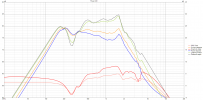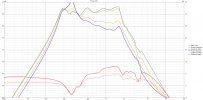 No matter how you design the crossover, the radiated sound power and on-axis FR/listening window never match - this is shown by the DI.
What you don't want is an abruptly and severely changing directivity index DI (or early reflections directivity index ERDI), because that means a sudden mismatch of direct sound to radiated sound power - which happens in example 5 above 150Hz.
Such behavior, no matter what listening room, will always be a problem.
Last edited: