Founder/Admin
Staff Member
CFO (Chief Fun Officer)
Joined

Feb 13, 2016
Messages

42,673
Likes

214,917
Location
This is a review, listening tests and detailed measurements of Focal Chora 816 floor-standing/tower speaker. It is on kind loan from a member and costs US $499.
Despite the low price, the speaker is beautifully finished with a curved port and beautiful light oak finish:
A magnetic grill covers the dual woofers but leaves the port and tweeter alone as there is nothing to damage there.
Speaker is made in France which again, is surprising given the low cost.
The design is 2.5 way, seemingly aimed at home theater applications. Past 2.5-way designs we have reviewed have had issues so let's see if they persist here as well.
Note: by experimentation, I arrived at the reference axis at the upper rim of the mid-woofer below tweeter.
Focal Chora 816 Measurements
Let's start with our usual anechoic frequency response measurements:
At "macro" level the response is good with more or less flat on-axis. There are however small chewiness especially in midfrequencies. And somewhat elevated treble. Sensitivity is high at 91+ which is a benefit of large enclosure of a tower speaker. Bass extension is down to 45 Hz or so (F6). Measuring each driver at point blank gives us more insight at the reasons for above:
With cabinet/port and lower frequency woofer resonating, we get fair bit of variations in mid frequencies as noted. Nicely though, the mid-woofer (blue) resonances are at higher frequencies and lower amplitude so not as destructive.
Early window reflections average out to smoother response but with a pronounced peak around 8 kHz. Given how broad it is, it will be pretty audible:
It shows up clearly in predicted in-room response:
So we are going to have some brightness but otherwise, response is pretty smooth.
Benefit of the 2.5 way design comes from two woofers holding hands to produce much more power relative to distortion they produce as each working in more linear region:
Horizontal beamwidth is fairly controlled which was a pleasant surprise:
From memory, I thought it narrowed sooner than typical 2-way designs:
Vertically there is good bit of narrowing so best to position your ear at the upper rim of the mid-woofer: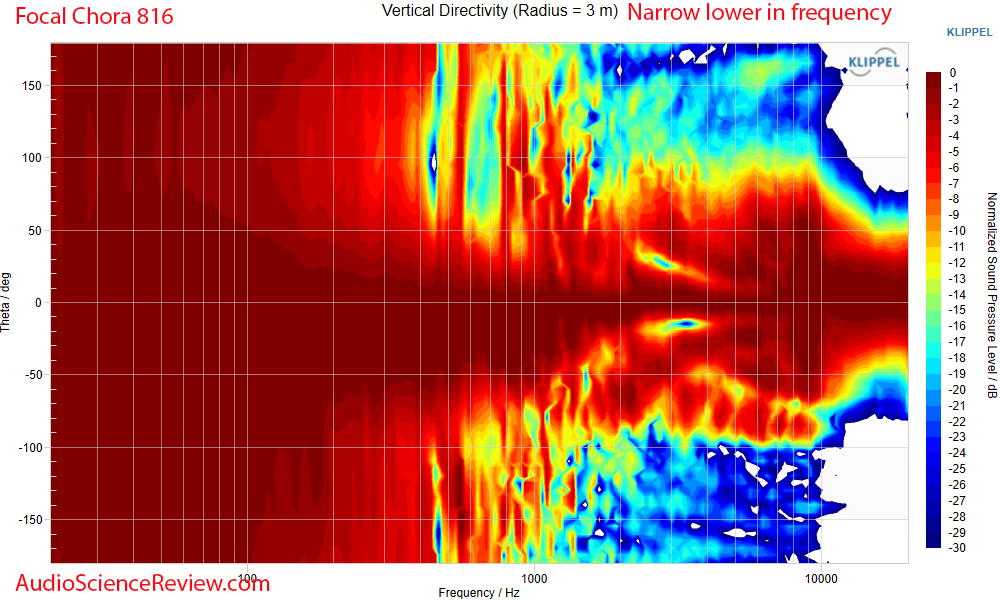 Impedance curve is complex due to the design but has a typical 4 ohm low point:
Waterfall display shows fair bit of resonances:
And here is the step response for fans of that:
Focal Chora 816 Speaker Listening Tests
Upon power up, I immediately noticed the extra sharpness. Mind you, it was pleasant in the way it brought out so much detail but still, it was too much. Per measurements, I dialed in a single filter for that:
The sound was still a bit bright but I wanted to keep that character there so did not play with it more. On bass heavy material, the response from speaker went down low enough to activate the room mode I have at 105 Hz so I quickly dialed in a dip for that (not a fault of the speaker). That tightened the bass and now the sound was very enjoyable. What really impressed me was the incredible dynamics and power handling of this speaker. Powered by my 800 watt amplifier, it played effortlessly with impressive, gut feeling bass. Sub-bass response (below 30 Hz) was there and only slightly distorted. Certainly far, far above any 2-way speaker I have tested in this regard. And probably the best sound I have heard out of a tower speaker at this price point!
I sat there in amazement and enjoyed track after track. Yes, small filters for the various resonances in mid frequencies would likely make things better yet. But I was satisfied enough to not want to mess with them.
Conclusions
The positive look and feel of Chora 816 put me in good mood for testing of the speaker. On the other hand, once I saw the 2.5-way designation, I thought we were going to have problems. It seems that Focal has managed to keep most of the negatives of this approach to acceptable levels while bringing its high output capability to the table. The tweeter plays a bit bright. I imagine this is by design to give it some "showroom sound." In that regard, it is much more tasteful than others in its price class. A single filter was enough to deal with that. Alternatively you could toe out the speaker to accomplish something similar (I always listen on-axis).
Story becomes very convincing when one considers the low price and manufacturing in France! Clearly Focal knows what they are doing in their vertical integration to bring such a solution to market.
The Focal Chora 816 is an easy recommendation for me given its amazing power handling, great looks and very good performance at low price.
It is now my favorite in this price range (and even higher).
-----------
As always, questions, comments, recommendations, etc. are welcome.
Any
donations
are much appreciated using
:
https://www.audiosciencereview.com/forum/index.php?threads/how-to-support-audio-science-review.8150/