I have decided to buy and measure this preamplifier with tone controls, supplied by Audiophonics. It can be ordered here: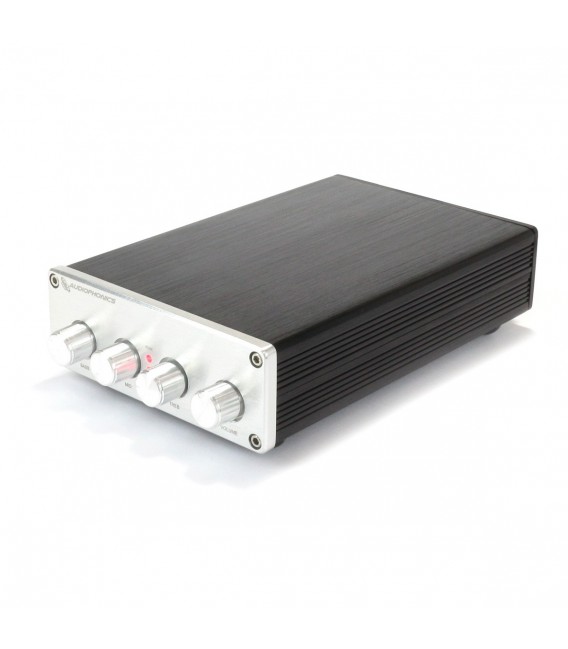 The Audiphonics PRE-TC10 is a preamplifier offering of course volume control, but especially a triple tone control.
www.audiophonics.fr
and it costs 49.92 EUR without VAT and 59.90 EUR with VAT (depending on country). I paid 72.10 EUR total together with the DPD shipment. The preamp has arrived in less than one week from placing the order.
Photos of the product and first impressions
First I made several photos of the preamp and also some photos with replaced top cover.
On the front panel, we can see (left to right) bass control pot, mid control pot, treble control pot and volume pot.
If the treble control pot is set full left, there is a switch that bypasses the tone controls.
This is very useful.
On the rear panel we can see input and output RCA connectors, AC mains receptacle and the power switch.
We can see that the EURO 230V socket is connected only to L and N, though it is a 3-prong socket. This should not be so, strictly from view of valid standards. On the other hand, PE ground loop issues of this SE signal device are avoided. The manufacturer should have use a 2-prong EURO socket, however.
Measurements
After a visual inspection I have connected the preamp to the 230V ac mains net. The preamp started to work as expected and as it should, so I started to make measurements. My system uses Topping D10s as a signal source and E1DA Cosmos ADC as a measuring instrument, used in stereo mode, Left channel, 4.5V input range, with 830 ohm input impedance.
Frequency responses
It is a tone control circuit so the frequency responses are very important. First, let's see actions of bass and treble controls and of a bypass switch.
The middle frequency of the controls is centered around 700Hz, which is lower than usual 1kHz.
Now, with addition of action of the mid controls:
Mid controls center is about 1kHz.
Noise and distortion
This is the noise measured at preamp output, with controls in the middle position and minimum volume.
Output noise
is 8.95uV/BW45kHz, 6.84uV/BW22kHz, 5.31uVA.
THD and THD+N at 1kHz/2V with tone controls bypassed
THD and THD+N at 1kHz/2V with tone controls in the middle
We can see rise of the distortion when tone controls are activated.
THD vs. frequency at 2V with tone controls activated and bypassed
THD is very low with the controls bypassed and goes quite higher when controls are activated, especially below 1kHz. The rise of distortion with tone controls activated is a result of designers/manufacturers choice of capacitors in tone controls - they use MLCC ceramic capacitors that are known for their non-linearity. They save space at the expense of higher distortion.
Conclusion
Audiophonics PRE-TC10 may be a useful product for someone who needs tone controls preamp at affordable price. Built quality is good, with exception of the control knobs that collide a bit with the front panel when turned. Hopefully, it can be fixed by pulling the knobs a bit, as they are not fixed by screws.
Last edited: