Founder/Admin
Staff Member
CFO (Chief Fun Officer)
Joined

Feb 13, 2016
Messages

42,691
Likes

215,114
Location
This is a review and detailed measurements of the Arturia Minifuse 2 DAC, ADC, MIDI and headphone amplifier. It was kindly purchased new by a member for $147 and sent to me for testing.
The form factor is similar to other products in the market in this price range. Controls have rubberized paint on them which they feel good. Hopefully they last and don't get sticky. Back panel shows the usual connections:
Arturia Minifuse 2 DAC Measurements
I downloaded the control center which updated the firmware quickly and efficiently. It doesn't have any features other than bar graph for input level and a couple of other controls. ASIO driver was included which was a good thing as I ran into an issue using my ASIO emulation in one test. Here is our DAC dashboard:
I was disappointed that the output was limited to 3.2 volt (matches spec). I like to see 4 volt out especially in a pro device. SINAD lands the unit below average but still OK for the class:
Sweeping the output level (by changing digital values) we see an odd issue at low levels:
Seems like a bug to me.
Noise performance is again, "OK:"
Multitone is good:
IMD shows high noise level and worse at 44.1 kHz:
Filter is the typical half-lazy one:
Linearity is OK:
Jitter lands in the same category:
THD+N vs frequency is almost off the chart:
That's because this test uses 90 kHz bandwidth and is capturing the noise shaping in the DAC chip: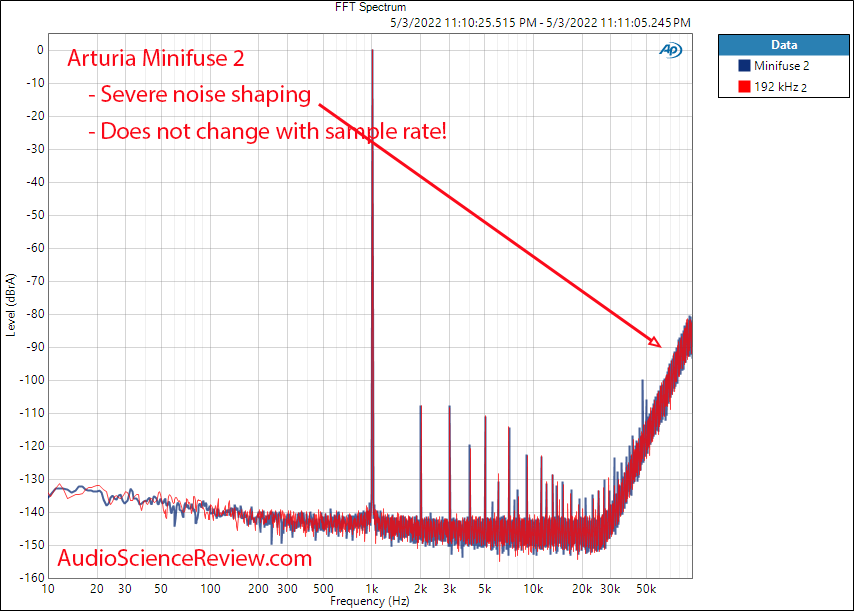 This essentially means the device provides no value with higher sample rates than 48 kHz or so.
Arturia Minifuse 2 ADC Measurements
I was once again disappointed that the input was limited to just 2 volts with the gain knob at miniumum:
For a pro interface I like to see much better performance.
Dynamic range is OK:
As is frequency response:
IMD naturally saturates early but has great noise level:
I suspect the low noise is due to turning the gain so far down.
THD+N vs frequency is not that great:
Arturia Minifuse 2 Headphone Measurements
Our power sweeps indicate a checklist item headphone amplifier:
But is compounded with whatever ails the DAC at low levels.
Conclusions
The minifuse 2 goes after the market that
Focusrite Scarlett 2i2
captures at same price point. Lot of the measurements look similar to that so I suspect the same DAC/ADC is used here. Overall though, the Minifuse 2 underperforms the Scarlett 2i2 by a bit. So the only reason to get it is if there is better access/support for the Minifuse (Arturia is a French company).
Normally I would not recommend this device. But I am going to marginally do so given its cost.
----------
As always, questions, comments, recommendations, etc. are welcome.
Any
donations
are much appreciated using
:
https://www.audiosciencereview.com/forum/index.php?threads/how-to-support-audio-science-review.8150/