Joined

Mar 29, 2020
Messages

236
Likes

198
Location
I present to you the brand new Aiyima D03 Class D amplifier
AIYIMA D03
After several listening experiences, with different amplifiers, by class and by brand, today, after having extensively tested various electronics, even in class D, I focus on the new amplifier from AIYIMA (Chinese manufacturer), which produced the D03
It is a class D of 670 grams, not bulky at all.
Lightweight and easy to place in your usual listening environment, it won't disappoint you.
Indeed, I was thrilled when I realized how much quality and power such an object releases.
In fact, I can say that, having little space in my house, with the D03 I solved the problem.
It is built solidly.
But let's immediately consider what we find inside the packaging.
It contains our device, an infrared remote control, for convenient control of the main functions (adjusting the input / volume / bass / treble / mute mode), a power adapter (DC32V 5A), a USB cable and a cable optical.
A very respectable endowment! From the remote control, slim and functional, it is possible to juggle all the commands that we find on the display.
But let's try to proceed in order, because this little one really deserves it: let's talk about the back, then the front and my listening experiences.
Later this amplifier, which not only has the role of amplifying and that's it, but also takes on the role of digital to analogue decoder (DAC); I was saying, this AIYIMA amp-DAC offers from left to right: a power input (size 5.5 - 2.5 mm, European or USA section) from DC 24-36 v. A 32v 5 amp power supply is recommended.
Then we have the output sockets for the passive speakers (SPEAKER OUT), usually in plastic, which accept the stripped cable, forks or the classic bananas; a speaker out dedicated (hear) to the SUBWOOFER, which, attention !, must be active. Let's move further to the left and our AIYIMA D03 features the classic RCA analog inputs; therefore, still in the audio-in section, a complete range of inputs, now canonical, but not always so integrated in a single device: coaxial input, input for Bluetooth via a special and dedicated antenna (supplied in the package), the OPT (optical) digital input and PC-USB input.
All very neat and complete.
I mean, what can we connect to this D03? Practically, if not all, really a lot: PC, Laptop, Tablet, Smartphone, an analogue and digital source (DVD, CD, etc.), an external DAC.
Let's turn this amplifier around, so that we have its front part in front of us. All very basic and well done, very clear.
On the left, the Switch button and, then, next to it, the INPUT selection button.
Exactly in the center, a pleasant display, with blue quartz, explaining the selected functions, with an indicator of entry in selection (clearly highlighted by symbols or letters), the volume from 0 to 99 and the indication of the KHZ of the DAC. Let's not forget, far right, the volume knob, well made and rather well scaled, to testify, as I said, the good build quality of the object.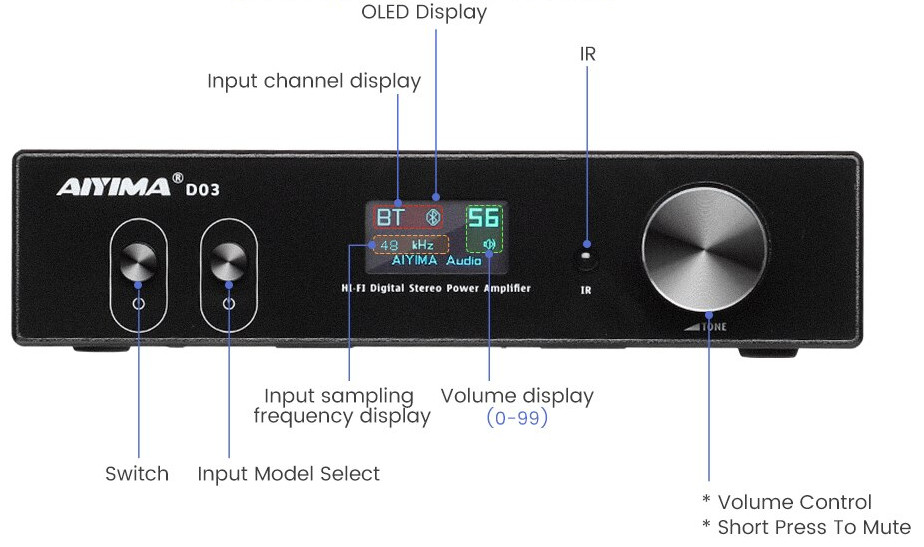 Bluetooth 5.0 chip: QCC3034 supports: ACC, SBC, aptX, aptX-LL, APTX-HD.
Optimal! The sampling frequency of the digital sector, via internal DAC is 24bit / 192khz and does not go beyond.
The encoding is not of the highest quality and, during my listening, I preferred to use a higher performing external DAC and the results were remarkable.
The operating systems supported by the internal DAC (Chip CS8422) are the following: XP / Vista7 / 8/10 / Max OS / MAC / Linux / Mobile OTG. Under the hood we have a Texas Instruments processor, in 8-channel HD audio TAS5548 + a TAS5624, from the same house.
AIYIMA, I remember, for a long time, uses similar chips, from Texas Instruments, of great quality.
Finally, the DRV603, which is a 3V pop-free stereo line driver, for gain control and adjustment.
93 are the DB of the signal-to-noise ratio, frequency response 20-20Khz (± 1.25db); input sensitivity: 0.775V; the gain of the tone (treble and bass): ± 14, which works very well; the output level of the Subwoofer: 2.1, the total harmonic distortion is 0.001% (1kHz 1w) and the variable impedance of 4-8Ω. It means that you can couple a lot of different speakers and with various impedances.
If you follow the recommended power supply, even with high summer temperatures and moderately intense use, the appliance heats up very little.
Let's now turn to my listening experience.
Basically I connected a digital source (PC), with Foobar2000 software, to the D03, via DAC Topping D10s and Q ACOUSTIC 3050i speakers, which are floor standing.
I also own two other high-cost class AB and D amplifiers, branded Onix A55 MK1 and Arcam A29.
What can I tell you? This AIYIMA D03 surprised me.
I also owned an amplifier like AIYIMA A07, but the D03 sounds much more powerful, never clipping, with a detailed scene worthy of the 3255 chip, very sweet on the highs and nice strong lows, but never intrusive.
Personal taste comes into play here, but I guarantee you that there is no comparison with my previous AB and D classes, with respect to which I always noticed some flaws: little power, no bass and annoying details in the mid-high range.
My Q ACOUSTICs now do their duty and are truly enhanced by the AIYIMA D03.
For me it seems much better than aiyima a07 and it also sounds with much more power and pilot better certain types of speakers and on 8 ohm it seems to me that it has a power of 55 watt rms, because I put it in comparison with my Onix A55 MK1 in class A/B
At this point I recommend it.
Last edited: