Founder/Admin
Staff Member
CFO (Chief Fun Officer)
Joined

Feb 13, 2016
Messages

37,966
Likes

162,313
Location
This is a review and detailed measurements of the Sony SS-CS5 3-way bookshelf speaker. Yes, you read that right. It is a 3-way speaker with a mid-range driver in a space where 99% of speakers are 2-way. I purchased it from Amazon for US $149. Bad for me but for those of you shopping for bargains, the SS-CS5 cost just US $78 including shipping for a pair!!! I can't sell you my used socks for that price and still come out whole.
Note: I used to work for Sony and our company Madrona Digital is a dealer for Sony so read as much bias as you want into this review.
While rather light, the SS-CS5 doesn't look particularly cheap or bad:
Here is the back side:
Is that Cyrillic translation I see for the word "manufactured?"
Speaker is made in Malaysia so why Russian language translation for that one word?
Measurements that you are about to see were performed using the
Klippel Near-field Scanner (NFS)
. This is a robotic measurement system that analyzes the speaker all around and is able (using advanced mathematics and dual scan) to subtract room reflections (so where I measure it doesn't matter). It also measures the speaker at close distance ("near-field") which sharply reduces the impact of room noise.
Both of these factors enable testing in ordinary rooms yet results that can be more accurate than an anechoic chamber.
In a nutshell, the measurements show the actual sound coming out of the speaker independent of the room.
Worried that the soundfiled would be complex due to 3-way design, I upped the number of measurement points to above 800 but that still was not enough to fully capture the energy above 14 kHz. So what you see in the measurements below, underestimates the highest audible region by a few dBs.
Spinorama Audio Measurements
Acoustic measurements can be grouped in a way that can be perceptually analyzed to determine how good a speaker can be used. This so called spinorama shows us just about everything we need to know about the speaker with respect to tonality and some flaws:
We see fair bit of frequency response anomolifes identified by broad peaks and dips which should make them quite audible. We also have heightened energy starting around 8 kHz even though what is seen as noted is actually lower than reality.
We see resonances as indicated by the same blips in all three upper graphs around 1 kHz, and 2+ kHz.
There is also directivity error around 3 kHz so I imagine that is one of the crossover points (can't find the spec).
Room reflections are also uneven: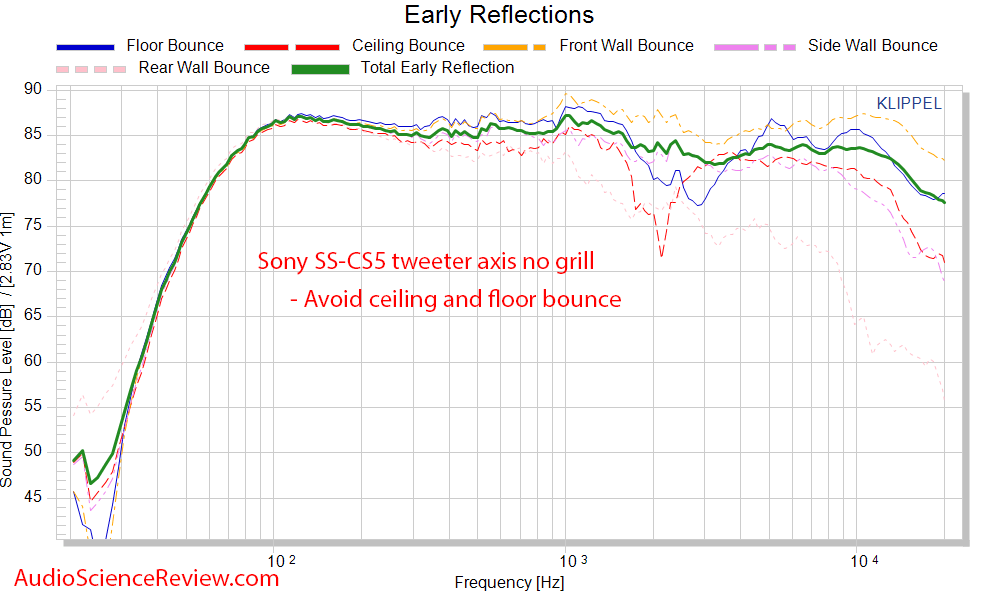 Putting it all together, this is what we can predict for a hypothetical average listening room:
It is more or less what we could have predicted from the on-axis response in the first graph. Overall, the response is not going to be balanced.
Horizontal directivity is not smooth and varies with the driver in play:
The tweeter "beams" (narrows its response) quite a bit compared to mid-range it seems.
Vertical response is hardly ever good in 2-way speakers. Here it seems more of a mess:
Notice how the tweeter response at 20 kHz is so spread out with dips and peaks.
Impedance graph shows some kinks which usually indicates resonances:
Here is our waterfall which can also indicate resonances and such:
Being a small speaker, I started the distortion measurements with 86 dB SPL at one meter:
We expect and get some distortion in low frequencies. But also get a peak around 5 kHz. This becomes much more clear when we look at the distortion percentages at both 86 and 96 dB SPL:
Hard to fault such a small and cheap speaker but still, expect a lot of distortion across the board especially if you turn it up.
Speaker Listening Tests
I always look forward to the first few seconds after the speaker plays. Here, I was like "maybe this is not so bad" until another five seconds passed and I said, "man this thing is bright!" It is so bright that if you play music in the dark, you may have to wear sunglasses! It is also muddy to some extent although the brightness gives the impression of detail.
On the "good news" side I could not get the woofer to bottom out. This is because it doesn't produce a ton of bass but importantly, it gets so bright and loud in upper registers that you want to turn it down.
So I reached into my audio toolbox of filters in Roon player to see if I can improve the sound. This is what I wound up with:
The first filter as show, worked very well, improving detail level and overall balance. But the sound was still quite bright. So I put in a quick and dirty shelving filter for the high frequencies. That tames some of the problems there but still, this is not a listenable speaker for me. It would require a lot more work to possibly make it not sound so bright.
For a quick test, I put my hand on the little tweeter and that gave much needed relief! If it were me, I would just disconnect the tweeter as a quick fix. My overall sanity would be in danger otherwise.
Conclusions
Boy, did I go into this review hoping for a great bargain at this price. Around $36 a speaker. Are you kidding me? Alas, that was not meant to be. I don't know what the objective scores are but subjective results are just too annoying for me to tolerate.
Needless to say, I cannot recommend the Sony SS-CS5 speaker.
-----------
As always, questions, comments, recommendations, etc. are welcome.
The pink panthers are getting restless and the males say they want to see some virtual "action" since they can't get it outdoor. Apparently there are videos for panthers procreating in the dark web but cost money to see them. So please
donate
a few dollars so that the panthers can see what they would naturally do in the wild using
:
https://www.audiosciencereview.com/forum/index.php?threads/how-to-support-audio-science-review.8150/
Last edited: