Founder/Admin
Staff Member
CFO (Chief Fun Officer)
Joined

Feb 13, 2016
Messages

34,637
Likes

126,046
Location
This is a review and detailed measurements of Micca OriGen G2 DAC and headphone amplifier. It is on a kind loan from forum member. The Amazon link shows the product not being available anymore but I find it on ebay for $110 or so.
The OriGen G2 is refreshingly different from the typical DAC and headphone amp. It is an elongated metal box with nice 1/4 and 3.5 mm headphone jacks:
Nice set of LEDs indicate the sample rate. The volume control has a nice feel and its position on top makes it easier to manipulate than front mounted on small enclosures.
For inputs, we have both optical Toslink and USB, the latter of which I tested for this review.
I tested the OriGen+ version a while back and it was a nightmare to install from driver point of view. Fortunately this one is UAC2 compliant so it was plug and play with Windows 10.
Let's get into the measurements and see how she does.
Measurements
As usual, I start with our dashboard view using the the front headphone output (1/4 inch) and volume set to max: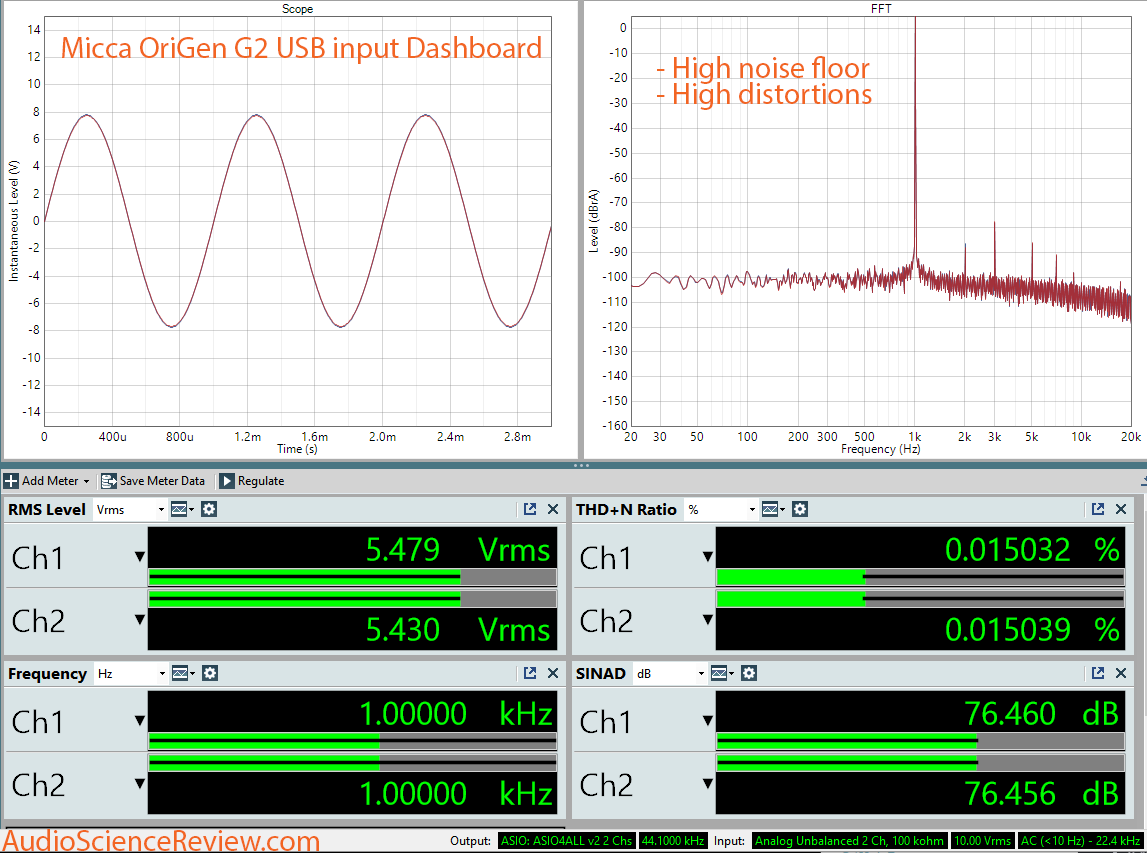 We have a healthy output voltage of nearly 5.5 volts. Noise and distortion however are quite poor. At first I thought there was something wrong with my setup until I looked up the specs and saw THD+N of 0.02%. My measurements at 0.015 is actually better than what is specified by Micca. Lowering the volume or input level did not make a material change. Unfortunately this performance puts the OriGen V2 at the bottom of my measurement pile of SINAD ratings:
Very disappointing. As you can see, you can close your eye and pick any other DAC+amp I have reviewed and do better. As such, the rest of this review is abbreviated unless the owner wants to see more data.
Jitter and noise is decent although due to above, has high noise floor:
It does present a nice teaching moment though. When the timing of the DAC clock gets varied by a sine wave of say 8 kHz, it will create two sidebands, one above and one below of our main tone (12 kHz) at +- 8 Khz relative to it. Hence, we can be confident here that we have a jitter to the tune of 8 kHz. This may be due to USB package noise.
I measured power at 300 Ohm relative to distortion and got this:
We have extreme flattening of the graph as levels go up because of the high noise floor of OriGen G2. Power output is decent though at 100 milliwatt with no clipping.
I am going to skip listening tests here.
Conclusions
I could not recommend the original OriGen+ DAC and headphone amplifier because my unit came with one channel not working and horrible driver install procedure. This unit did not have those problems but then substituted pretty poor measurements -- much worse than OriGen+. Needless to say, I cannot recommend it. In this crowded market, there are so many better choices. It is a sad thing because the unit comes in very good packaging at reasonable price.
As always, all questions, comments, etc. are welcome.
-----
If you like this review,
please consider donating funds
using Patreon (
https://www.patreon.com/audiosciencereview
), or upgrading your membership here though Paypal (
https://audiosciencereview.com/foru...eview-and-measurements.2164/page-3#post-59054
).