Major Contributor
Forum Donor
Joined

Dec 1, 2018
Messages

4,219
Likes

11,336
Location
https://www.audioholics.com/bookshelf-speaker-reviews/rbh-pm-8-monitor
https://rbhsound.com/pm8.php
$3200 in standard finish, $4000 with side accent panels (made of stone)
Not sure why the RBH site shows a silver woofer and Audioholics a black woofer.
I won't post all the graphs, just the Spinorama (valid to 250Hz):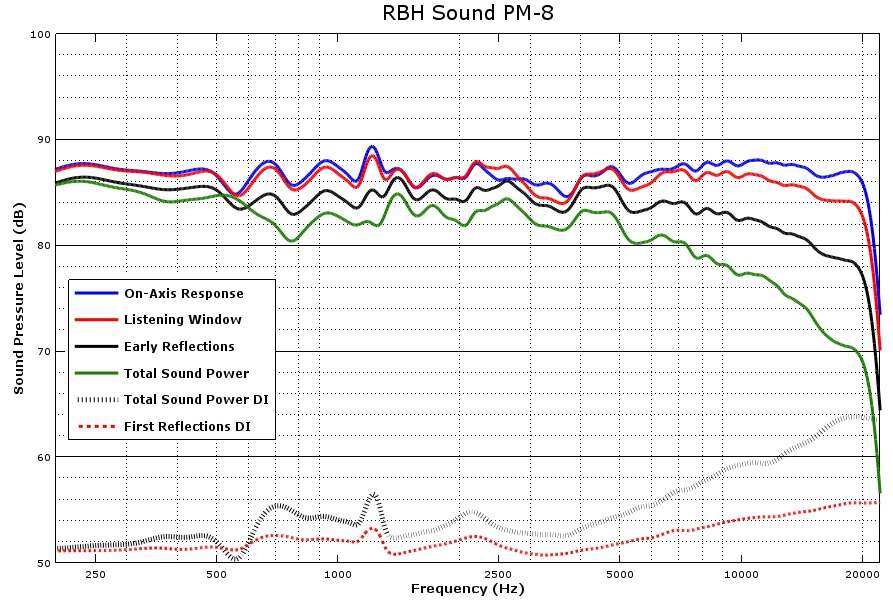 Not very impressive. It is an 8" paired with an AMT, so at least the special 48dB/oct FIR filter seems to be doing it's job. The tweeter's upper response is also pretty directional, I would assume a studio monitor should shoot for wide dispersion. The bass response in the other graph shows pretty deep extension though, so RBH probably used an 8" instead of say a 6" in order to lessen the need for customers to add a subwoofer.
The side accent panels are I guess to appeal to the consumer market even though they are studio monitors. I don't know how that works, if it's a magnetic attachment or something, than that will alter the horizontal off-axis response, as you are changing the shape of the cabinet, the the baffle diffraction may alter be altered. So, this may explain away some of the non-linearity shown in the Spinorama (it was measured with the panels).
Last edited: