Founder/Admin
Staff Member
CFO (Chief Fun Officer)
Joined

Feb 13, 2016
Messages

37,945
Likes

162,043
Location
This is a review and detailed measurements of the FiiO FD5 IEM. It is on kind loan from a member and costs US $299.
The FD5 is very elegant looking and feeling. It is solid weight wise yet has those fine features. It is not too big so fit my ear easily.
Note
: The measurements you are about to see are made using a standardized Gras 45C. Headphone measurements by definition are approximate and variable so don't be surprised if other measurements even if performed with the same fixtures as mine, differ in end results. Protocols vary such as headband pressure and averaging (which I don't do). As you will see, I confirm the approximate accuracy of the measurements using Equalization and listening tests. Ultimately headphone measurements are less exact than speakers mostly in bass and above a few kilohertz so keep that in mind as you read these tests.
If you think you have an exact idea of a headphone performance, you are likely wrong!

FiiO FD5 Measurements
Let's start with our usual dashboard and special target for IEMs:
I was pleased to see proper amount of deep bass response albeit, with some overshoot in upper bass/lower midrange. We also have a small trough and a bit of peaking from 3 to 6 kHz. Overall compliance is very good.
Here is the relative response which is useful for developing EQ filters:
Distortion is exceptionally low, beating a some "high-end" audio electronics!
Group delay is very clean:
Impedance is low but flat:
Sensitivity is typical for IEMs:
FiiO FD5 Listening Tests
As soon as I played my standard playlist, I could immediately tell the neutrality but with great precision/clean sound. I almost didn't develop an EQ but I thought I should to see the validity of our target response. I am glad I did because it did provide an improvement: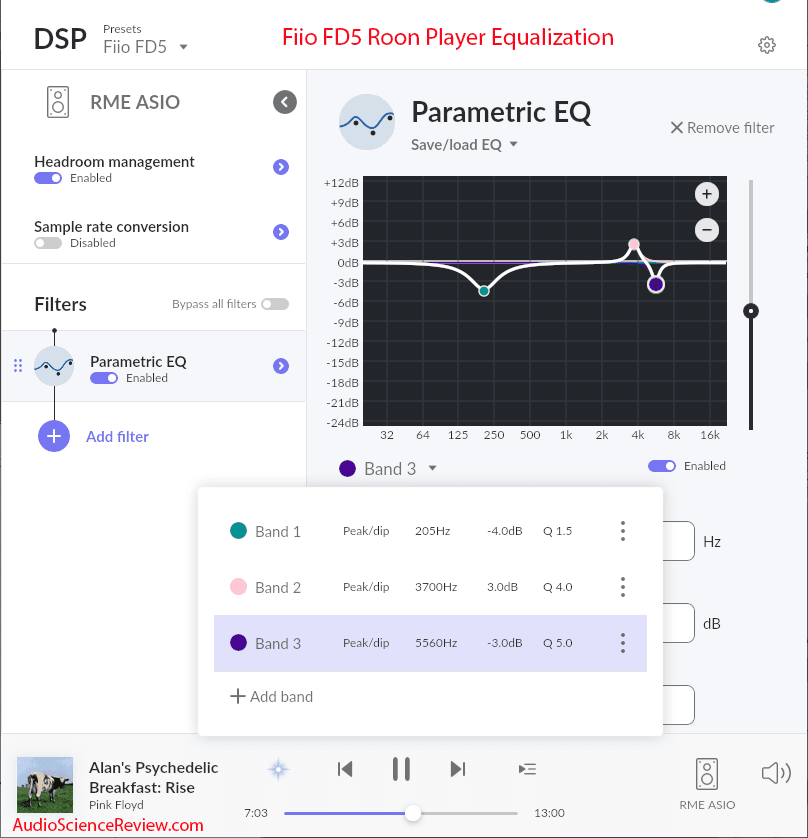 Without the filter, you thought the bass was just fine but put in that dip, go back and forth, and you realize that it is a bit boomy without EQ. Typical of this type of correction, the sound can then be a bit bright but pulling that the peak with filter 3 did the job nicely. Band 2 just filled the last piece of the puzzle. As much as I like the sum of these three filters, I could see someone thinking the sound is better without them which is fine by me. We are not talking about big correction here.
Once done, I could not wait to take the picture of the FD5 for the review, and return to listening to them. That is what I am doing as I type this! The sound is so gorgeously detailed and clean without a hint of brightness or distortion. Deep bass while not the same as the over the ear best-in-class headphones, is actually able to impart the impression of sub-bass. It is hard to ask for more.
Spatial effects at times were startlingly good such as the intro in the Pink Floyd track you see above. This kept repeating in other tracks where such effects existed. The level of realism made you want to turn your head to see what is behind you!
Conclusions
The FD5 shows excellent engineering with a response curve that is close to our target. The deviations in it are minor and easily corrected. Once there, you are treated to superb fidelity with amazing lack of any flaws/distortion. It is a joy to listen to. $299 is high compared to budget IEMs but at the same time, is way below high-end ones that fetch thousands. So depending on your perspective, it presents a nice bargain.
It is my pleasure to recommend the FiiO FD5.
-----------
As always, questions, comments, recommendations, etc. are welcome.
Any
donations
are much appreciated using
:
https://www.audiosciencereview.com/forum/index.php?threads/how-to-support-audio-science-review.8150/