Founder/Admin
Staff Member
CFO (Chief Fun Officer)
Joined

Feb 13, 2016
Messages

41,259
Likes

200,156
Location
This is a review and detailed measurements of the CHORD Mojo 2 portable, battery operated stereo DAC and headphone amplifier. It is on kind loan from a member and costs US $799.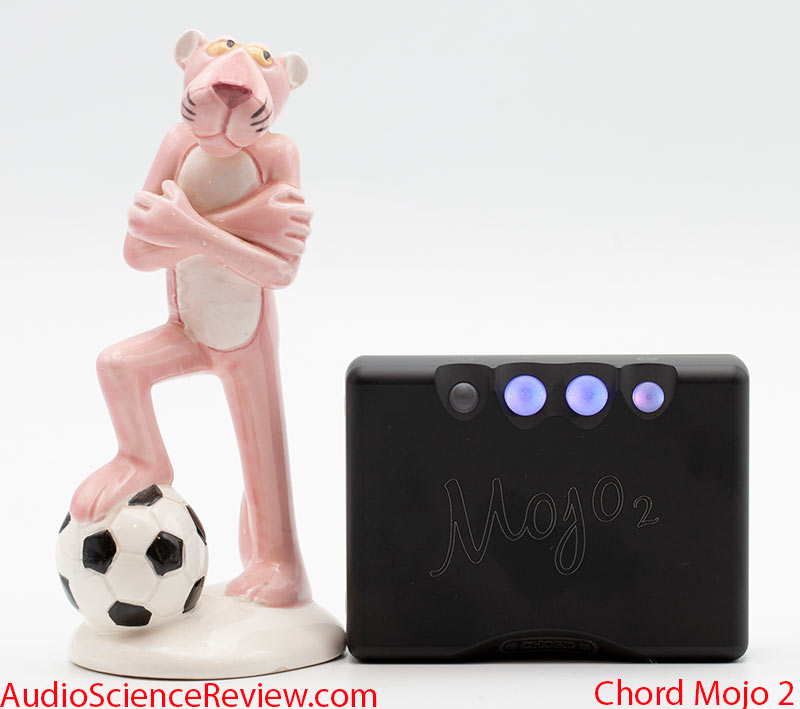 The Mojo 2 is solidly built. While I am definitely not a fan of multi-color interface, the buttons feel better in this model and some of the lights kind of make sense (e.g. showing volume level).
Input interfaces are crammed into one side but it is workable and I appreciate having dual USB input jack options (USB-C and Micro-USB):
On the other side there are two headphone jacks:
I am unclear why in this day and age of personalized music consumption, one would want to share the device with another person listening to the same content.
I charged the unit and tested it with USB input and the left headphone jack out.
Chord Mojo 2 DAC Measurements
Let's treat the unit as a DAC by adjusting the output to 2 volts and run our tests:
This would be an excellent performance for a desktop DAC and superb for a portable one:
You get slightly better performance if you allow the output voltage to go up higher:
Dynamic range is again, competitive for desktop DAC and excellent for a portable one:
Claim to fame of Chord DACs is their high-tap reconstruction filters. I was pleased to see it deliver the best performance I have seen in just about any DAC:
You get the full audio band to nearly 22 kHz and then excellent attenuation. This is what I hope every DAC chip/company implements instead of the lazy ones we see where cut off is at 24 kHz.
Linearity is excellent:
Multitone shows impressively low distortion levels:
IMD distortion test shows very well behaved response, again rivaling good desktop products:
Jitter was a bit disappointing given how good the device is otherwise:
But not remotely an audible issue.
Sweeping frequencies we see a slight rise in distortion with frequency:
We can confirm that by running a spectrum analysis:
Chord Mojo 2 Headphone Amplifier
We can let the device loose by maxing its volume and see how well it produces power, starting with 300 ohm load:
My threshold for desktop products is 100 milliwatts and this is close. Noise and distortion are impressively low. Switching to 32 ohm load we get similar results:
Checking for noise at tough 50 mv shows middling performance:
So careful with ultra sensitive IEMs.
Chord Mojo 2 Listening Tests
As usual, I started with my Sennheiser HD-650 headphone to test high impedance response. Sound was wonderful and there was enough volume/dynamics to bring out the bass out of this headphone. Switching to Drop Ether CX, there was even more volume available before slight distortion set in at max volume. I then plugged in the torcher test: Dan Clark Stealth which is my everyday headphone. Volume dropped quite a bit. Increasing it using the controls on Mojo 2 created static proportional to how much I cranked it up. Unless you are happy with pretty soft volume, it is not usable with Stealth (not that it would be in portable class).
Conclusions
Company is know for overdesigning its reconstruction filters. I see no benefit in that but the implement of Mojo 2 has definitely benefited from excellent engineering and closed loop (with measurement) design. Even as a desktop DAC it would be an excellent product. As a portable battery operated one, I think but I suspect it is the best I have tested.
It is my pleasure to recommend the CHORD Mojo 2. Yes, the price is up there but at least you get great objective performance to go with it.
---------
As always, questions, comments, recommendations, etc. are welcome.
Any
donations
are much appreciated using
:
https://www.audiosciencereview.com/forum/index.php?threads/how-to-support-audio-science-review.8150/