Founder/Admin
Staff Member
CFO (Chief Fun Officer)
Joined

Feb 13, 2016
Messages

30,340
Likes

89,973
Location
This is a review and detailed measurements of the CEntrance Hifi-M8 V2 portable headphone amplifier and USB DAC plus Bluetooth. It was kindly sent to me a member who waited over a year for it to ship! The Hifi-M8 V2 costs US $750. Yes, popcorn blew out of my nose too when I saw that price.
The unit strives for a pro/field recorder look:
I was quite surprised that the slide switches for gain and such are completely recessed and cannot be changed without a tool. I used a screwdriver but some paper clip looking thing comes with the unit for that purpose. Why, oh why? I get that you don't want that switch to change while in your pocket but there are plenty of switches that are flush mounted yet you don't need a tool to change them. And why protect the gain switch when the volume control can change easily with a brush of hand?
The side that you see is the low power output which I did not test. The other side is the high power one:
You can't see it well here but the 1/4 headphone jack pokes out quarter of an inch. It is a threaded jack and they left out the nut. You can see it better in this shot: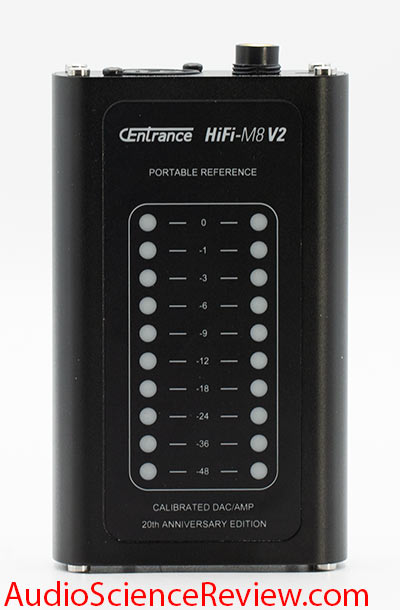 That thing is going to poke a hole in my pocket in short order and then I will really be mad!
Then there are those white LEDs. They say they are calibrated. Calibrated or not, why would I want dancing VU meter in my pocket when I am trying to conserve battery power? Surely if I want something dancing I have it in my source. And in pro applications, there are ton of other meters elsewhere as to not need a row of LEDs this way.
I just don't understand the focus of this product other than empty appeal to pro market which they say is their motivation.
Mind you, it is not super bad like say, Chord products are. I could use the unit and figure out what it did.
What I could not figure out is the ASIO driver. The Hifi-M8 is one of the few devices which Windows thinks (at WDM level) is only 16 bit, 48 kHz capable. This causes the ASIO wrapper interface I use to get confused and perform a very low quality sample rate conversion which messes with measurements. So I was pleased to see that they have ASIO drivers. First bit of annoyance was that they would only email a link to you to the driver. Why? I tell you why: they really wanted to pile on reasons to annoy Amir!
I install the package which was painless enough but then it kept reporting that it could not find the device. Multiple reboots, re-installs, plug and unplug the device before or after install/reboot made no difference. It would not whatsoever recognize the device even though Windows would.
What happened next was the biggest annoyance: my PC became quite unstable. It hung once and it would no longer even reboot properly! After pulling some teeth I got the system rebooted and uninstalled the package with a sigh of relief.
Just so there is no confusion, all sample rates are exposed through Windows USB class driver. So your media player should have no trouble using them all. The above only applies if you are trying to use an ASIO wrapper (i.e. ASIO4ALL) or their native ASIO interface.
Hifi-M8 V2 Measurements
Given the limitations above, I could not run my full suite of tests but we have plenty of data to assess its performance as you will shortly see. Let's see our usual dashboard, treating the unit as a DAC with 2 volt output:
Man, this is really poor. Look at the high level of second harmonic (at 2 kHz) which with a couple of dBs of noise, pushes our SINAD down to unacceptable level:
This is a DAC performance level which I expect in a $9 dongle, not in a nearly $800 audio device designed for "Pro" applications. Even for 16 bit music you don't have transparency here.
So as a DAC, this is a bust. Let's look at it as a headphone amplifier, first using a 300 ohm load in both balanced and unbalanced:
Unbalanced performance with just 30 milliwatts of output is barely good enough. With balanced output though, it easily exceeds my 100 milliwatt threshold so I am happy about that. But notice that noise and distortion are fairly high.
Switching to 33 ohm we get:
Again, distortion and noise are rather high. Not a lot of power but if it steps up in balanced mode, that should be remedied.
Channel matching is perfect due to the level control actually being digital:
You could sense this as there are distinct steps in volume control.
Hifi-M8 V2 Listening Tests
As usual, I start with my inefficient 25 ohm Ether CX headphone. I took advantage of the balanced output and queued up my track. There was good bit of volume. Alas, the last 20% was not usable due to excessive distortion and harshness. I then switched to Sennheiser HD-650 using 1/4 unbalanced jack. Now there was just enough volume and gain, the last 20% of the volume range resulted in distortion especially in bass and brightness in highs. I highly recommend that you stick to the balanced output for any standard to inefficient headphone.
Conclusions
When I see a nearly $800 price tag on portable amp and DAC, I expect flawless execution. Sadly we don't that anywhere. Measured performance is very poor starting the DAC. Unbalanced out has insufficient output. And while balanced remedies that to some extent, it does so with noise and distortion at the limit. Subjective results were also disappointing unless you use the device with low level output in which case I question why you want this instead of a $9 dongle.
I just can't understand why a device like this exists. A pro product should be about performance and that is sorely lacking here. As a consumer device usability is poor and price way out of proportion with what the unit does. There are plenty of portable devices that perform superbly and cost a fraction.
Needless to say,
I can't recommend the CEntrance Hifi-M8 V2.
------------
As always, questions, comments, recommendations, etc. are welcome.
Appreciate any donations using:
https://www.audiosciencereview.com/forum/index.php?threads/how-to-support-audio-science-review.8150/