I recently bought a used "Asus OC Panel" for my Asus Z270f motherboard which uses my i7 6700. It sounds stupid putting a non-K CPU into something like that but it has the features I was looking for but I digress. I won't be going over every feature, just saying. The Asus OC Panel is a hand held tool which can be used to overclock and monitor your CPU without going into the BIOS. It can be set into extreme mode (hand held mode) and normal mode (5.25 bay mode). The OC Panel was only sold with high-end motherboards but luckily you can find them cheap for $35 USD complete used.

I bought this to be used as a fancy 5.25 bay monitor and a fan extension.

Normal/Extreme button is what sounds like. OC button selects between 2 OC profiles. I'm fairly certain the Fan Speed button is only for the CPU as mentioned on the website but this product does feature 4 4-pin fan headers. In terms of the screen, On the top left, it shows your CPU temp in Celsius. Top right is your CPU's fan rpm. Bottom left is your CPU voltage. Bottom middle is your motherboard model name and finally bottom right is your CPU ratio.
Here is the layout: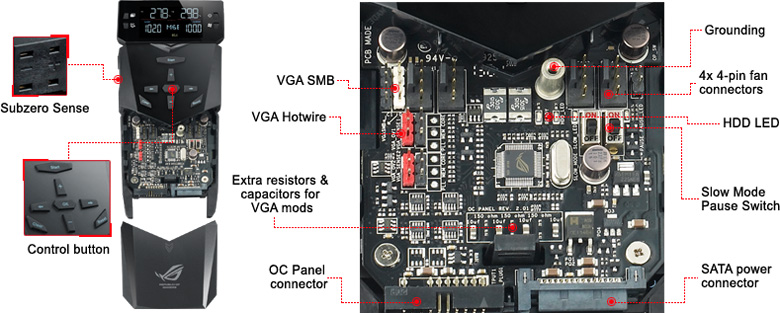 Personal experience:
My motherboard offers the "OC Panel" connector, so naturally I wanted one to use mainly a monitor. It does work even thought its not on the supported list. The panel is showing 0 rpm is because I told my motherboard to ignore the speed of the CPU fan because it'll refuse to boot, due to it thinking my CPU fan is running "too slow". It sounds dumb to do this but luckily the motherboard and software can still control the CPU fan just fine, its just an Asus feature
. In terms of those fan headers, they don't show up in the BIOS and Asus's AI Suite 3 but its not too much of a worry. If you have mostly the same 4-pin fans, I would suggest getting a cheap PWM hub. In terms of power, the OC panel itself only draws power from the OC panel connector, the sata power connector is only for the fans. If you got different fans or want finer fan control, you can get the "ASUS Fan Extension Card", which actually adds fan headers but it costs a cool $50+ for a complete set. If you don't care about owning the OC panel, you can use a part of the OC Panel connector on your motherboard as a 1-port USB header.
Final thoughts:
This is a niche product for niche motherboards. If your a serious overclocker and want bang for your money, I wouldn't get this since a modern stock intel i3 can beat these overclocked i7's that use this product. So essentially its a fun monitor novelty. The screen is alright, plug-n-play, CPU info is great and its affordable. The downside is that those fan headers just power the fans, they don't really get be controlled.