Founder/Admin
Staff Member
CFO (Chief Fun Officer)
Joined

Feb 13, 2016
Messages

42,673
Likes

214,917
Location
This is a review, listening tests and detailed measurements of Truthear x Crinacle Zero:RED IEM. It was sent to me by the company and costs US $55.
I was relieved that they are more mahogany/darker red than what the name implies. Compared to the previous Zero version, they are supposed to have slightly different frequency response and lower distortion. We will test both. Different silicone tips are included. Here are the sets I used for testing:
Measurement set was recommended by the company and are the same ones that I used for original
Truthear Crinacle Zero IEM review
.
If you are new to my testing, please watch this video on
headphone measurements
.
Truthear x Crinacle Zero:RED Measurements
As usual we start with our frequency response measurement:
That is very good match to our target with just a bit less bass. The original zero had slightly more energy in the 2 to 5 kHz: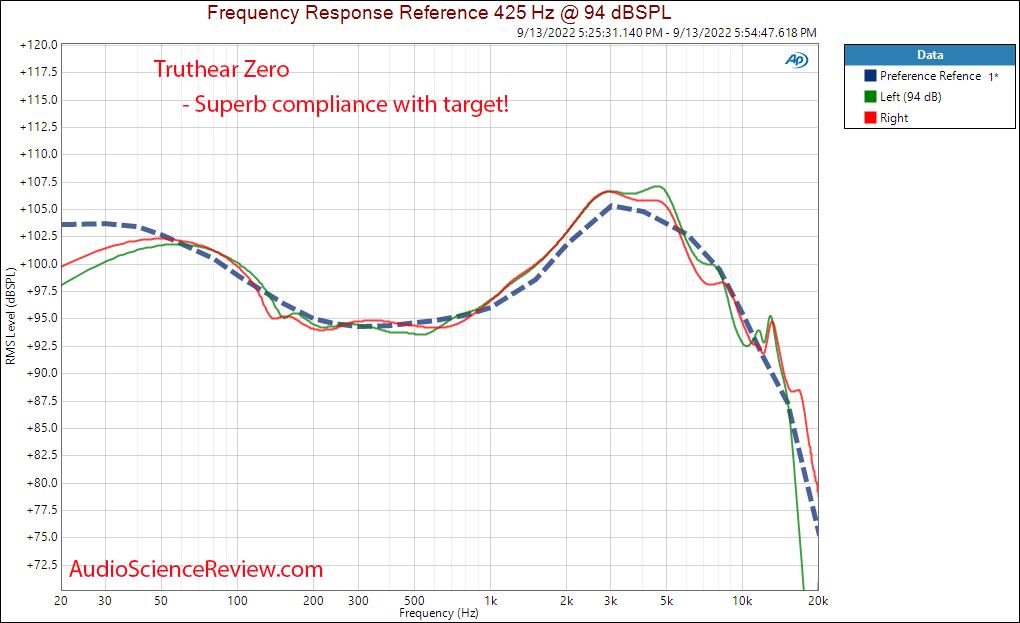 Given the precise matching to our frequency response, the differential to our target is quite small and limited to bass:
Edit: there is an inline resistor which reduces sensitivity some but effectively boosts bass:
I was happy to see nice reduction in distortion:
That's incredibly low distortion even at 114 dBSPL! Love it....
The dual elements and crossover within cause non-flat frequency response:
Company takes advantage of this by including an inline resistor adapter which would cause more losses where impedance is low. This means you get less highs or put the other way, you get more bass, albeit with some power loss. I would not mess with the adapter.
Group delay is non revealing as is the case with most IEMs:
The Red remains in the class of less sensitive IEMs:
Truthear x Crinacle Zero:RED Listening Tests
I was so anxious to start listening to these but imagine my surprise when the first track sounded anything but correct. I quickly realized bass was not there and bam, I had forgotten to go to the next size up! Did that and immediate joy was to be had with accurate and deep bass complimenting the higher frequencies. The low distortion and detail gave me goosebumps sometimes.
I did find the sound a bit closed so I dialed in a low Q (2) 1 to 2 dB gain filter centered at 3 kHz. This substantially improved the spatial effects. But also caused some brightness at times. The designer expressed dissatisfaction with the original Zero's higher response and lowering it in this revision. I think the truth, pun intended, is somewhere in the middle.
EDIT: in the original review, I used the wrong target which showed great matching with target in bass. With the correct target, we see a bit of bass deficiency which would explain why boosting treble caused brightness.
Conclusions
Folks, we have another reference class IEM for hardly any money. Yes, there is a bit different tuning but whether that is better or not, is hard to determine given the uncertainty in measurements, and listening preference at granular level. I am happy with either but like the lower distortion in RED. If I want more spatial effects, I can dial up the mid treble. I could not reduce distortion the original Zero. So the RED gets my vote as to the better of the two by small margin.
It is my pleasure to add Truthear x Crinacle Zero RED to my recommended list.
Skip a lunch or two out and put this in your arsenal even if you are not a regular IEM user.
----------
As always, questions, comments, recommendations, etc. are welcome.
Any
donations
are much appreciated using
:
https://www.audiosciencereview.com/forum/index.php?threads/how-to-support-audio-science-review.8150/
Last edited: