Founder/Admin
Staff Member
CFO (Chief Fun Officer)
Joined

Feb 13, 2016
Messages

32,916
Likes

110,630
Location
This is a review and detailed measurements of the Sennheiser HD 820 closed back headphone. It is on kind loan from a member and costs US $2,400.
The 820 is a very large headphone but feels like and fits well on my head:
It comes with two different length cables, both of which are quite thick and microphonic. They seem strong enough to hang yourself from them!
The 820 weighs 409 grams and has internal cup dimensions of 62, 80 and 30 (width, height, depth). The driver is angled so the other side is less deep.
The measurements you are about to see are made using a
standardized Gras 45C
. I searched for any and all measurements I could find online. Alas while a number of them are close to mine, none are using the exact fixture down to coupler and pinna. As you will see, I have confirmed the approximate accuracy of the measurements using Equalization and listening tests. Ultimately headphone measurements are less exact than speakers above a few kilohertz so keep that in mind as you read these tests.
Usually I calibrate the loudness relative to 425 Hz. At this frequency the two channels were wildly out of sync as you will see later so I opted for 1 kHz instead. This can change the filter set you create but net results is the same.
As you see below, the channels did not match even though Sennheiser has a reputation of good matching between drivers. Despite the large cups, slight changes would vary the levels fair bit and at any rate, I could not get the two to match in 15 minutes or so I spent on it.
Sennheiser HD 820 Measurements
There is nothing more important than frequency response of a headphone as each is seemingly different and that difference leaves a very distinct character:
At first glance this looks pretty ugly. We have a dip around 60 Hz and then a giant hump followed with a dip. Thankfully in the all important range of 1 to 3 kHz, we have excellent tracking. Note that if you are comparing my measurements to others, they are syncing the preference point at a different spot so wind up showing this compliance differently. We also have a rather broad notch between 3 and 5 kHz.
Subtracting the response from our preference curve gives us:
I have marked two points of interest there. Let's look at the distortion percentage:
Starting to the right, it is interesting that we have a distortion in the same 3 to 5 kHz range that there is a dip in the driver response. All the way to the left, there seems to be a sudden rise in distortion at the same dip in bass frequency but distortion level actually doesn't change:
THD% is a ratio of level to distortion so when the level dropped due to that dip, it artificially created a spike in THD%.
Overall, this is a low distortion headphone other than 3 to 5 kHz where our hearing is most sensitive.
Group delay is rather clean other than indicating once again something is wrong around 60 Hz and then where that hump is: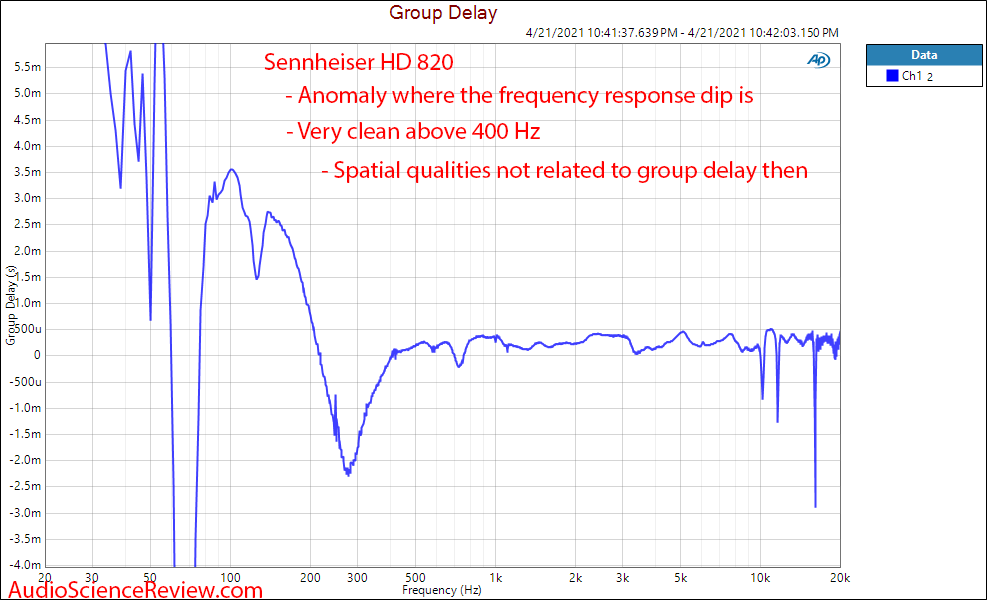 We had a running theory that headphones with good spatial effects would have a messy group delay in the lower treble area. Such is not the case here at all.
Impedance is variable and can get quite high:
So you want to pay attention to how high a voltage a headphone amp produces. Typical phone output is usually low in that department making the 820 not a great fit for them. Efficiency is slightly below average which makes this a worse situation:
Sennheiser HD 820 Headphone Listening Tests
One look at the frequency response and you think the 820 is going to sound strange but it does not. The good sub-bass response means there is healthy response there. Combined with good spatial qualities, you have fair amount of tail wind behind you to like the sound of the headphone. Still, one is forced to try to correct the response errors to see how much better it can get with equalization:
The three left filters should be self-explanatory and are inverse of the frequency response errors (more or less). Let me put a pin in the right shelf for now.
With this new filter, I not only found the sound more correct, but also more detailed and cleaner. With or without the filters though, I found an emphasis in high frequencies resonances of female vocals. Not lisping mind you. But a bit of extra zing. I went back and listened with my AKG K371 and the same thing was there but not nearly as emphasizes. This bothered me a bit without EQ. With equalization in the 3 to 5 kHz to make up that dip, the effect was hugely magnified and perhaps distorted. I resorted to putting that shelving filter on the right to make up for it but it was no help. I tried many techniques to find the cause of this issue but had to give up and not put that correction in there. It is a shame as filling in that hole improved the spatial effects.
Anyway, with what you see above, this was a very comfortable headphone to wear, with decent amount of isolation and good spatial effects. I am listening to them as I type this.
Conclusions
Hard to imagine what was behind the motivation to produce a headphone with this kind of objective frequency response. Then again, I appreciated the deep bass response out of the box. Pulling down that hump seemingly reduced distortion anyway so I did not mind it. The 3 to 5 kHz remains a puzzle that I could not solve. Usually I get to the bottom of the "story" behind a headphone by the time I am done but here, I declare defeat and leave it at that.
Overall, based on
post EQ and subjective results, I can recommend the Sennheiser HD 820.
Mind you, I personally would not at all pay $2,400 for it. Performance ratings are price independent for the most part so there you are.
------------
As always, questions, comments, recommendations, etc. are welcome.
Any
donations
are much appreciated using
:
https://www.audiosciencereview.com/forum/index.php?threads/how-to-support-audio-science-review.8150/