Founder/Admin
Staff Member
CFO (Chief Fun Officer)
Joined

Feb 13, 2016
Messages

32,170
Likes

106,300
Location
This is a review and detailed measurements of the Schiit Asgard 3 with its optional AKM4490 DAC Module. It was kindly purchased by a member and drop shipped to me for testing. By itself, the Asgard 3 costs US $199. With the optional DAC, the price becomes US $299 plus shipping.
The look is typical of Schiit products:
Power switch is unfortunately on the back. You have a choice of low gain (0 dB) and high gain. And using it as a variable pre-amp or headphone amp.
The unit is quite heavy due to inclusion of mains power supply which I like:
What I didn't like is how hot the unit runs. During testing the right side where the DAC board is, quite very hot on the bottom. The metal chassis should help with heat dissipation but still, I like to see it run cooler.
Since there is a DAC in there, let's measure that by itself first using preamp mode.
DAC Audio Measurements
As usual we start with our dashboard:
Ouch! This is not good. We have a second harmonic distortion at 2 khz of nearly -90 dB which sets our SINAD (sum of noise and distortion) to almost the same value. This places the DAC in the "poor" (red) section of all DACs tested:
This must be one of the older DAC designs from DAC. As such, I am just going to quickly grind through a few more tests:
Very poor measurements. This DAC simply is not competitive this day and age.
Headphone Amplifier Audio Measurements
Again, let's start with our dashboard, feeding the unit 2 volts and asking it to generate the same ("unity gain"):
Ah, now we are talking! This is much more respectable. Distortion is an inaudible -115 dB. Overall ranking is very good as a result:
Noise performance falls in the same category:
Frequency response is excellent:
Output impedance is very low as well which is good:
Channel balance as you rotate the volume control is "OK" at 20 dB of attenuation:
Note that with these analog volume controls there are a lot of variations so your unit may be better or worse.
Headphone Amplifier Power Measurements
Now we get to the meat of the review to see how much power this amplifier has starting with 300 ohm load for high impedance headphones:
Interesting results. In low gain mode you have very low noise and distortion, almost approaching state of the art. If you need more power, then toggle the high power mode and boy does this thing pump out wattage! It produces 650 milliwatts which is huge. My standard for power in this test is must 100 milliwatts. There is a ton of headroom available here to drive high impedance headphones.
Switching to low impedance causes some heartburn for Asgard 3: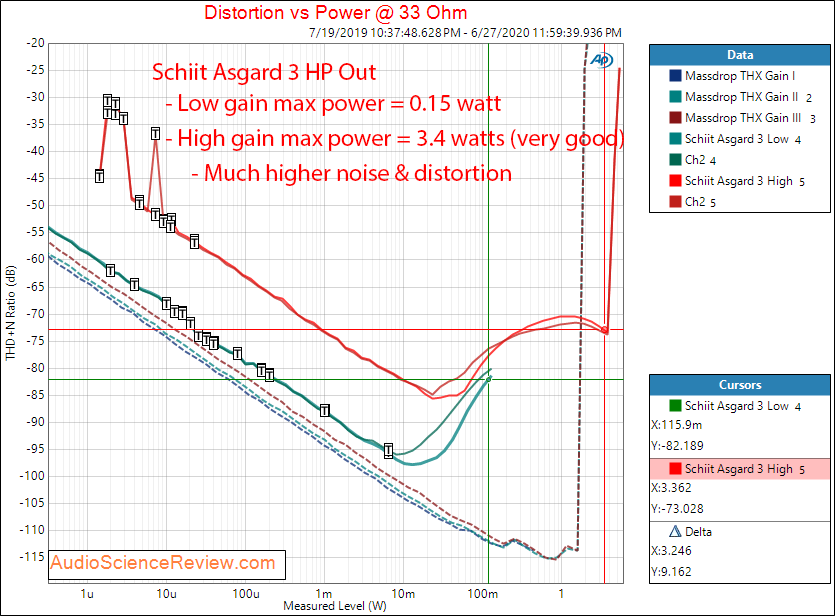 While low gain mode still has very low noise, distortion sets in at 10 milliwatts and climbs. High power mode is much worse but produces lots of power again at 3.4 watts.
Headphone Amplifier Listening Tests
As usual, I start with my tough to drive, low impedance (25 ohm) Ether CX headphone. I drove the Asgard 3 using its DAC input and while I had enough power to drive the CX, I was surprised that I had to max out the volume control to get it super loud. Same thing happened with Sennheiser HD650 headphone. This was puzzling.
I switching things around and drove the Asgard using my everyday
RME ADI-2 DAC V2
. Wow, what a transformation. I had enough power to once again cause my ear lobes to literally resonate with the bass beats! Power was clean and seemingly infinite. Yes, with the CX I got it to crackle but that was at such a level that hearing damage would occur at any moment. Overall fidelity was superb with fantastic detail, resolution and impressive bass.
It seems that the internal DAC is the older Schiit designs that only output 1.4 volts and hence can't drive the amplifier section to max power (nominal DAC output is 2 volts for RCA/unbalanced).
Conclusions
Let's dispense with the bad news first: the AKM4490 DAC simply is not performant. It doesn't measure well and produces too little output to let the amplifier spread its wings. It doesn't integrate well anyway, forcing you to still use an analog volume control with its attendant channel mismatch.
Pair the Asgard 3 with an external DAC though and you have one of the most powerful headphone amplifiers out there especially for high impedance headphones. The results is immediate satisfaction with amazing authority to produce any level of loudness you want or need.
Assuming you leave the DAC behind,
I am happy to recommend the Schiit Asgard 3 headphone amplifier.
------------
As always, questions, comments, recommendations, etc. are welcome.
Spent all afternoon planting watermelon seedlings in the garden. Fingers are tired from all the digging. Can't wait until they produce some fruit. Until then, I love to have some to eat so please
donate
what you can using
:
https://www.audiosciencereview.com/forum/index.php?threads/how-to-support-audio-science-review.8150/