I am looking into making a low-cost coaxial with this driver. My aim is $200-250USD per speaker.
Google found this post:
Moin, in diesem Thema habe ich Ja schon ein paar Fotos und Messungen des 13er Coax veröffentlicht.:) http://www.diy-hifi-forum.eu/forum/showpost.php?p=198379&postcount=44 http://www.diy-hifi-forum.eu/forum/showpost.php?p=198388&postcount=47 In den vergangenen Tagen habe ich ein 12L BR...
The measurements look like shit. After a little VirtuixCAD tinkering, I could see most of the mess was the person's baffle.
Top lines are a baffle sim made with manufacturer data in vcad. The bottom two lines are traced from the german guy's real measurements.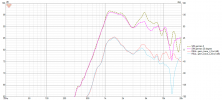 the orange line is a 44mm edge radius baffle - it improves things a bit!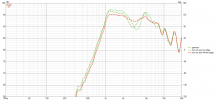 A fuzzy look at the directivity with a 44mm edge radius. I had to use the manufacturer's 20 degree to generate all the off-axis data. XO is around 2khz. Again this is fake and fuzzy but looks nice!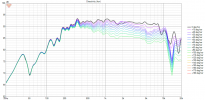 I guesstimate that the baffle will cost $45-65USD to produce using laser-cut sheets.
PE 0.23 cu.ft. mini bookshelf $26.98
44mm edge: $50 (if you have a menard's store you can get it delivered there for free)
Sb coax $66.20
I have not decided if I am going to go cheap active or passive:
Dayton KAB-250 $45.00
or
Passive XO parts $150 - $50 ... I priced this on PE and madisound and came up with a range
The XO parts are here:
https://www.madisoundspeakerstore.com/pdf/SBAcoustic_PFC_Coaxial_Crossover_Designs.pdf
I have not simulated what the SBA XO is doing.
I am still debating if I want to make a 3way, but I think the same box and baffle can be used to make a bass box to go underneath.
That's all I have for now. I have not purchased anything yet but wanted a ballpark look at the costs and what it could do.