Founder/Admin
Staff Member
CFO (Chief Fun Officer)
Joined

Feb 13, 2016
Messages

43,282
Likes

221,388
Location
This is a review and detailed measurements of the RSL C34E MKII architectural, home theater speaker. I purchased it for testing and costs US $149.
Please excuse the stock picture. Speaker is still on an ugly baffle on Klippel NFS. As this type of speaker goes, the C34E MKII is lighter than others I have tested. Instead of one large and heavy woofer, two smaller mid-woofers are deployed at an angle. I was not a fan of the rotating tabs in the back as they did not extend past the edge of the rim. This means if you cut your hole a bit too big, they won't bite. There is a diagram that I think shows you can rotate them but I did not mess with that.
Measurements are performed without the grill using the "baffle" mode of Klippel NFS where the system computationally eliminates the back wave and diffraction from edge of my mounting board. The result is anechoic measurements as if the speaker was mounted on an infinite wall. I measured the C34E at 90 degree out relative to mounting surface. In that regard the drivers are pointing down. I left the high frequency attenuation switch at 0 dB.
RSL CE34E MKII Speaker Measurement
Let's start with our anechoic frequency response measurements:
I must stay I expected a messy response given the multiple mid-woofers but this is actually pretty good! On-axis response is nearly flat to 4 kHz. Above that there is a zig-zag response but we have seen much worse. Directivity however suffers due to multiple drivers interfering with each other at higher frequencies (above 2 kHz). So response will be somewhat room dependent.
Our model of early reflections and predicted response are for stand-alone speakers away from the wall. So they don't apply here but their averaging function is useful and points to a rather smooth response:
How you angle these speakers if mounted in the ceiling is important. Horizontally you have a sort of an "MTM" configuration so best point the speaker at best seat:
Otherwise you get that trough between 1 and 2 kHz.
"Vertical" response in the case of ceiling mounting means moving from being right under the speaker to further out: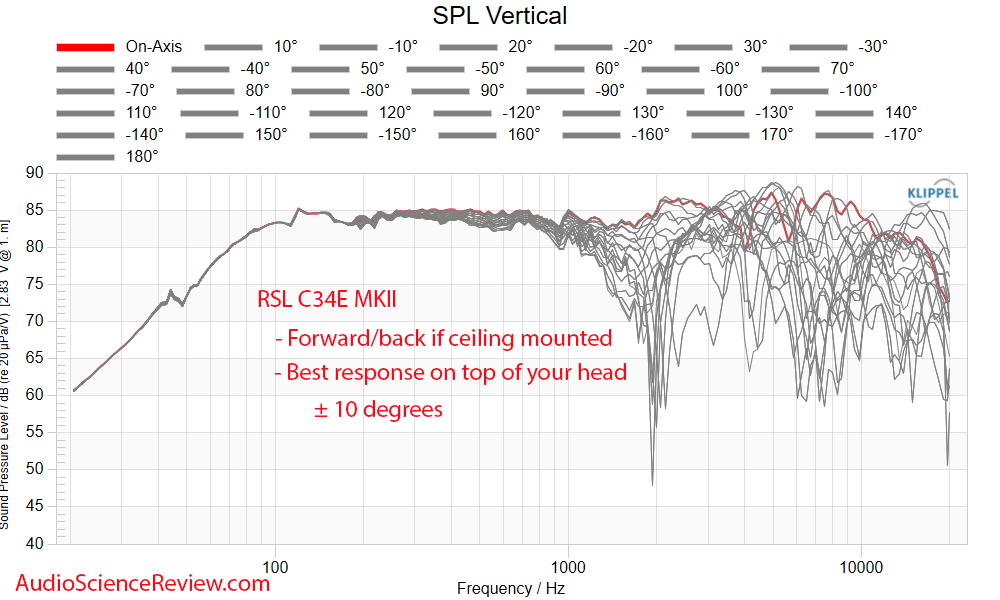 Surprisingly the best response seems to be right under the speaker. If you go past ± 10 degrees, response gets quite messy. So seems off-axis response of these drivers is more optimal than their on axis!
As I noted, directivity is quite poor and you can see it in all of our plots:
See how messy the vertical directivity is. The only clear path through it is the on-axis at 0 degrees.
Power handling was very good at 86 dBSPL but at 96, or even before it, it started to make all kinds of intermodulation noises during frequency sweeps:
Those sharp resonances may be accentuated in the way I have it mounted in my baffle. Then again, you may suffer the same or worse when you mount it on your surface.
Impedance is relative high which should make it an easier load to drive for the amplifier:
Finally, here is our waterfall and step responses:
Conclusions
In this class of speakers, we are used to uneven responses. In that context, the C34E MKII performs pretty well. For most of the important range in frequency response, it produces a neutral sound. Directivity is poor and is to be expected based on multiple drivers. Fixing these with EQ may be hard and require fair amount of experimentation. Power handling is good enough but will not be suitable to high SPL situation. Now take into account the $149 price and you have a killer offering! Hard to imagine all of these parts and this level of performance for so little money. Company really knows what it is doing on this front.
I don't provide recommendation for speakers I have not listened to but if I were to do so based on the data alone, I would put it on my list.
Manufacturer SPECIFICATIONS:​
C34E MKII In-Ceiling Speaker
Woofer(s): Dual 4 1/2" woofers with high-energy ferrite magnets, woven aramid fiber cones, butyl-rubber surrounds, and high-strength cold-rolled stamped steel frames
Tweeter: 22mm treated-fabric exposed dome swivel tweeter with neodymium magnet
Frequency Response: 65Hz – 20,000 Hz
Nominal Impedance: 8 ohms
Sensitivity: 89dB SPL (1W/1M)
Recommended Amplifier Power: 25 – 150 watts
Crossover Frequency: 2,800 Hz
Crossover Slope: Asymmetrical 12/6dB per octave
Crossover components: Proprietary, low insertion-loss lami-core and air-core inductors, RSL poly capacitors, non-inductive resistors, gold-plated spring-loaded binding posts, FR-2 PCB
Tuning Method: Infinite baffle
System Resonance: Application dependent
Weight: 4.25 lbs.
Dimensions (overall): Diameter: 11 5/8", Depth: 3 3/4"
Hole: Cut-out Diameter: 10 1/8″, Mounting Depth: 3 1/2"
-----------
As always, questions, comments, recommendations, etc. are welcome.
Any
donations
are much appreciated using
:
https://www.audiosciencereview.com/forum/index.php?threads/how-to-support-audio-science-review.8150/
Last edited by a moderator: