Founder/Admin
Staff Member
CFO (Chief Fun Officer)
Joined

Feb 13, 2016
Messages

25,937
Likes

57,720
Location
This is a review and detailed measurements of the Revel M22 Stand-mount speaker. It is on kind loan from a member who I think was the second person to send me a speaker. The M22 is long discontinued. It cost I think US $2,000 when new but I see it on used market for around US $600. As such, it may make an alternative to buying something new now at $600 price point.
The M22 enclosure is extremely solid and finished well:
While the grill was a bit frayed, the rest of the speaker has endured the years very well, something that you may not be able to say about a vinyl wrapped budget speaker you buy today.
The back panel shows not only the binding posts but also a set of useful controls (if you don't use electronic EQ):
I measured the unit as seen. For listening tests however, I also used the tweeter control (see later in this review).
Love the fact that the binding posts are far apart, making it easy to screw and unscrew them.
Measurements that you are about to see were performed using the
Klippel Near-field Scanner (NFS)
. This is a robotic measurement system that analyzes the speaker all around and is able (using advanced mathematics and dual scan) to subtract room reflections (so where I measure it doesn't matter). It also measures the speaker at close distance ("near-field") which sharply reduces the impact of room noise.
Both of these factors enable testing in ordinary rooms yet results that can be more accurate than anechoic chamber.
In a nutshell, the measurements show the actual sound coming out of the speaker independent of the room.
All measurements are reference to tweeter axis with the grill removed. Frequency resolution is 2.7 Hz. Over 700 measurement points were used to assure high precision in higher frequencies, resulting in well under 1% error. I am also using averaging to lower noise in bass frequencies. I also doubled the drive voltage (for spinorama) to overcome low frequency noise in my setting.
All measurements are with no grill and on tweeter axis.
Spinorama Audio Measurements
Acoustic measurements can be grouped in a way that can be perceptually analyzed to determine how good a speaker can be used. This so called spinorama shows us just about everything we need to know about the speaker with respect to tonality and some flaws: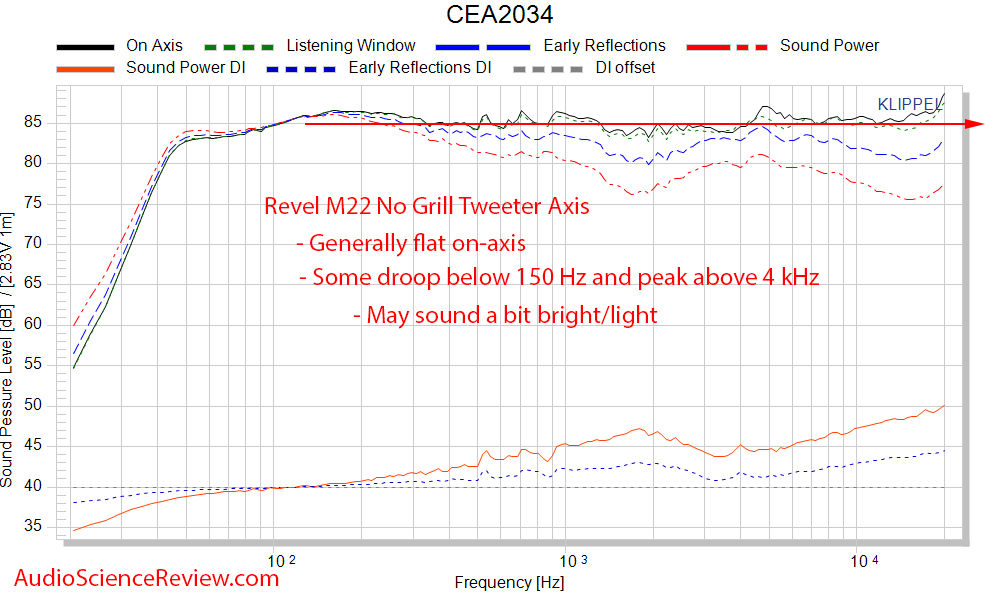 Well, you really have to squint to see any flaws. On-axis response is quite flat as it should be. And directivity (difference between direct sound coming at you and those reflected) is quite good as well. There is a dip in low frequencies and when combined with the peaking at higher ones, it may make the speaker sound light.
Predicted in-room response tells you that depending on where you draw the linear prediction line:
Impedance is typical of small speakers with a difficult combination of 60 Hz phase shift around 100 Hz:
This means the amplifier needs to be able to handle more current than it would otherwise. Don't make the mistake of thinking a small speaker needs a small amplifier. They rarely do.
Distortion graph shows the typical low frequency peaks and some woofer struggle in the crossover region before it is retired:
Eye-candy Speaker Measurements
As usual with non-coaxial drivers, the vertical dispersion is not nearly as good as horizontal so absorption on the floor (rug) and ceiling is advised:
Speaker Listening Tests
I pluck down the Revel M22 on the same stand in my listening room I have used for other speaker tests. Starting listening with just a single filter at 102 Hz or so to dial out a room mode. First reaction was a clean sound that was a bit bright with little "bottom end." With tons of power on tap, I could drive it hard with nary any distortion but the bass while present, was not making an impact. This made vocals less exciting. The highs were present and clean so not jarring but too much in the context of low bass response.
So I resorted to dialing in a shelf boost in Roon player I was using:
Credit to the nice woofer, while I could see it moving substantially back and forth now, distortion not present. The sound was now warmer but still not quite there so I dialed in the treble two notches on the back of the speaker. This made the overall experience much more positive.
Knowing you all would ask, I swapped in the
Elac DBR-62 speaker which I reviewed recently
. The subjective experience was definitely better with the Elac. Warm, nice sound that was a delight. I then put in the Revel M16. Here, the M16 sounded cleaner but didn't quite have the bass that the Elac had. It did sound a lot better than the M22 however.
Overall, the sound from M22 is screaming for a sub to supplement it where as with the more modern speakers (ELAC DBR-62 and Revel M16) you could easily live without.
Conclusions
The Revel M22 measures well and has low distortion, clean sound in a very sturdy cabinet. The tonality however is too light for my taste to be used as is. While new 2-way speakers try hard to replace a full sized speaker, the M22 seems to have set it sight on the classic bookshelf that produces just enough bass but not more. Equalization helps and maybe that is enough for you. It is not enough for me to recommend it over the Elac even though the build quality of Elac is substantially lower.
I have a pair of even older Revel M20s that I use for our TV sound. They are fine for that purpose and hugely better than anything a soundbar can produce. The M22s could work just as well in that application.
Given the rather strong objective performance, I can recommend the Revel M22 but not wholeheartedly.
------------
As always, questions, comments, recommendations, etc. are welcome.
Got my paperwork together for my accountant to do our taxes. Depressed that good chunk of everything you all donated is taxable and I need to cough that up by mid-year. There is a relief plan from the government due to the pandemic and I am hoping that I can count the pink panthers as "children." If that fails, I would appreciate a few more dollars
donated
using
:
https://www.audiosciencereview.com/forum/index.php?threads/how-to-support-audio-science-review.8150/
:
https://www.audiosciencereview.com/forum/index.php?threads/how-to-support-audio-science-review.8150/