Founder/Admin
Staff Member
CFO (Chief Fun Officer)
Joined

Feb 13, 2016
Messages

42,714
Likes

215,338
Location
This is a review and detailed measurements of the PSM156 "Studio Master Mains Purifier" from the British company, Puritan Audio. It is on kind loan from a member and costs £1,449. I can't find a US price for it.
The PSM156 is a much more stout and serious looking AC conditioner than we find from typical audio companies:
I was surprised to see these massive outlets with auto closing lids:
The little green thing on top is the grounding lug which was floating in the box when I received it. The screw was sheered off even though the unit was well protected and packed.
A super thick 20 amp cord is provided which conveniently terminates in a 15 amp connector. Despite being thick, the cord is super flexible which I really appreciated. It was a delight to hold and use. A big lesson for audio companies who build these stiff cables that risk breaking off the mains IEC plug.
Puritan PSM156 Measurements
As always, we attempt to tease out the transfer function of the conditioner using normal audio level signals. The unit doesn't care about the voltage and this way, we can fully quantify its performance. So let's start with a frequency sweep to see what kind of filtering it provides:
I was pleased to see substantial filtering of input, down some 57 dB at 20 kHz. Compare this to
Audioquest Niagara 1200
which only filtered less than 6 dB. Filtering is not flat though. It starts to make a difference around 500 Hz and has a resonance around 4.7 kHz which causes its attenuation to drop fair bit.
The application is AC mains filtering so let's start with measuring my AC mains first:
This is using a differential 100:1 probe so "1.17" volt is rally 117 volts RMS. The 60 Hz component is visible in FFT and so is its harmonics which make the bulk of "junk" that is in there.
Now let's route that AC through PSM156 and see what it filters:
As we expected, there is good amount of filtering in higher frequencies. Alas, as noted just now, our "problem" was below 500 Hz which this device doesn't filter. As a result, THD+N which is sum of distortion + noise for our mains input remains identical to not using this filter.
We don't listen to AC mains directly so let's test it with some audio devices. First up is the Topping Pre90 which is a state of the art analog pre-amplifier. Let's test it again with generic AC mains input:
Superb performance as always with distortions at -140 dB and lower. Now let's route its input through the PSM156 and see if it makes a difference:
It doesn't. Nothing remotely is changed here. So much for "very resolving gear" showing the difference.
But others say it may help devices that have performance problems. I just tested such a device: the
Leaf Audio PA-03 tube preamplifier
. Let's test that by feeding it 4 volts and setting the volume to output something reasonable:
Above is with generic AC mains. Let's route the plug through PSM156 filter and see if there is a difference: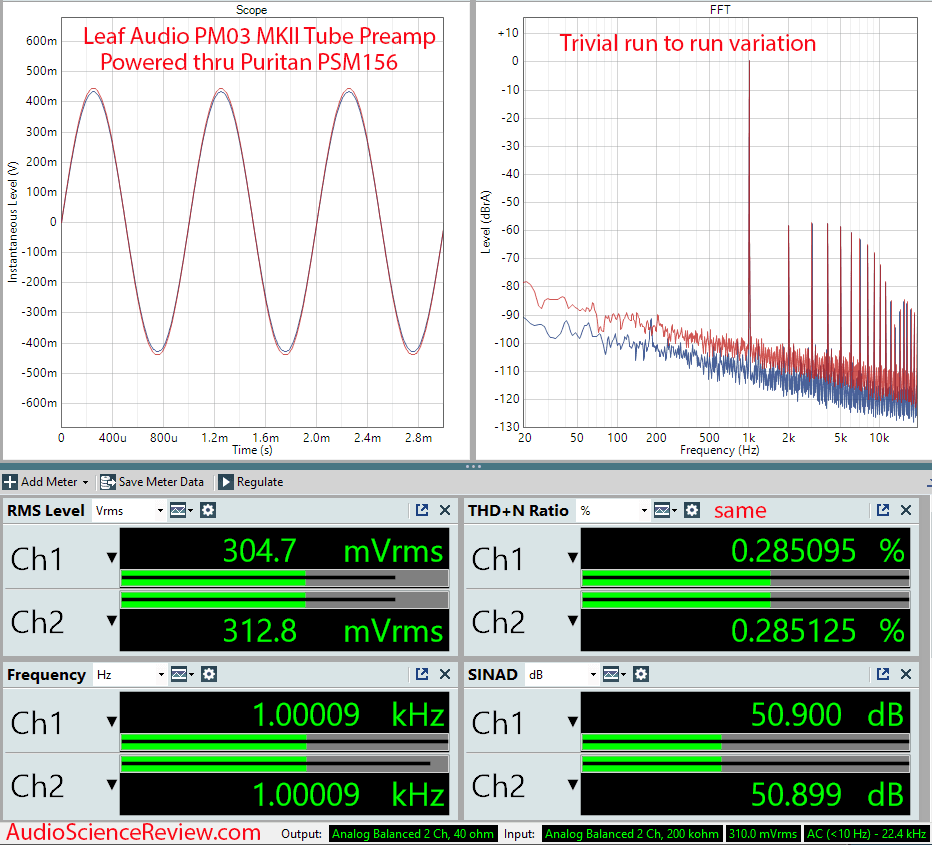 There is a tiny difference in output voltage but that is due to vagaries of tube amp and it power cycling. Otherwise there is no impact on level of noise and distortion products.
Above is at one frequency and measurement is limited to 22.4 kHz bandwidth. Let's sweep all frequencies and increase bandwidth to 90 kHz which should let the PSM156 show what it can do:
Ignoring that blip which is a random fault in this preamp, performance as you see remains identical. The variation in the peak around 20 Hz is also random so don't assuming something improved. It is just run to run variation and faulty design of this equipment in bass region.
Conclusions
As you see, I have run a number of tests to give the PSM156 ample opportunity to show it can do something to improve audio but it can't even move the dial one hair. There is no indication or logic that would tell us that it can make an audible improvement. Yet the company says this in the feature list of this product:
None of these things is observed in the measurements.
The device however seems to have real filtering in there as opposed to toy implementation we see in other audio devices. So if you have audible mains related interference that is above a few hundred Hertz, then the PSM156 may have an effect.
As an audio fidelity improvement device, I can't recommend the Puritan Audio PSM156.
As a mains filter in general, it seems to be well built and does a far better job than typical consumer gear sold for this purpose.
-----------
As always, questions, comments, recommendations, etc. are welcome.
Any
donations
are much appreciated using
:
https://www.audiosciencereview.com/forum/index.php?threads/how-to-support-audio-science-review.8150/