Founder/Admin
Staff Member
CFO (Chief Fun Officer)
Joined

Feb 13, 2016
Messages

26,046
Likes

58,444
Location
This a review and detailed measurements of the Pioneer SC-1222 Home Theater Audio/Video Receiver. It is on kind loan from a member. The SC-1222 is discontinued. I see one on sale on Amazon for US $540.
The SC-1222 came out in a series of AVRs from Pioneer with class-D amplifiers, running much cooler than competing class AB units of the time: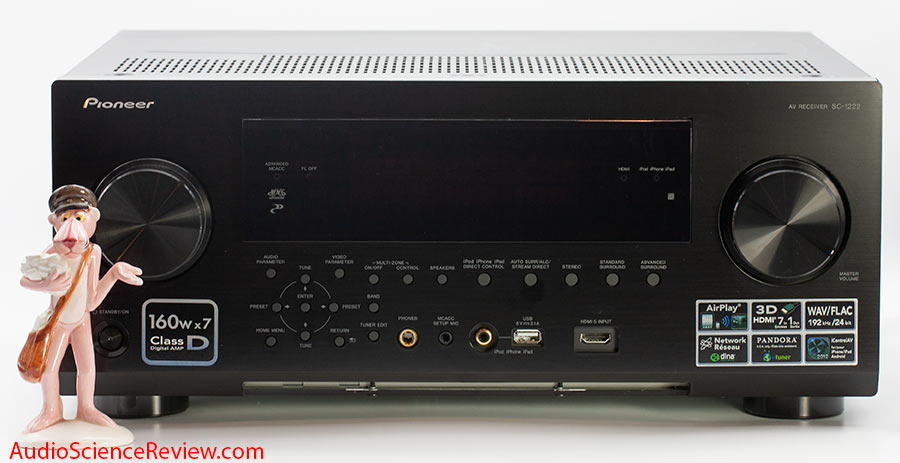 I had an SC series which I retired due to a bad TI DSP IC that fails and causes loss of audio. So if you are going after then in used market, be very careful.
Being class D, the AVR ran very cool in my tests and never shut down or go into protection. As I note later though, at or near max power there is a loud mechanical buzz/hum from the transformer that is proportional to power level. Likely you won't hear it because the sound it produces will also be loud but it is something that should not be there.
Testing was performed after a factory reset and disabling subwoofer.
AVR DAC Audio Measurements
As usual, we first focus on digital to analog conversion by feeding the unit a 1 kHz tone and see how much distortion and noise the analog output produces:
I had to go up to +2 dB on the volume control to get the nominal 2 volt output. There is what appears to be jitter components around our 1 kHz tone which is very unusual. Jitter is proportional to frequency so if a 1 kHz tone produces it, it means our 12 kHz test signal for jitter will show a lot more of it. More on that later. For now, SINAD is set by these jitter components and as bad as that is, it is still above average for AVRs:
Dynnamic range is "OK:"
Jitter is not as indicated:
The narrow pulses correspond to changes in the j-test signal which should never be visible. Because they are, it means the nature of the digital data you send to this DAC changes its analog output which is bad. I think this is one of the worst jitter performances I have ever seen in any audio product I have tested!
Linearity is also "OK:"
AVR Amplifier Audio Measurements
As usual we start with our 5 watt dashboard:
This is again above average for AVRs:
And even among larger collection of all amps tested:
Dynamic range is rather weak:
Frequency response test shows peaking, indicating high sensitivity to speaker load (due to output filtering):
Power output is good though:
Conclusions
The Pioneer SC-1222 is a mix of above average and well below average objective performance. Given its age and proclivity to failure around now, I don't recommend that you chase it on the used market. If you have it, mind the rising frequency response and speaker dependency.
-----------
As always, questions, comments, recommendations, etc. are welcome.
Going to go to grocery store after 3 weeks of avoiding it. Thinking about taking a couple of panthers with me just in case I find some toilet paper and I need them to help fight off others trying to buy them. This means I have to pay them for the trip time so please
donate what you can
using
:
https://www.audiosciencereview.com/forum/index.php?threads/how-to-support-audio-science-review.8150/