Founder/Admin
Staff Member
CFO (Chief Fun Officer)
Joined

Feb 13, 2016
Messages

40,003
Likes

185,861
Location
This is a review and detailed measurements of the ifi Zen Phono pre-amp. It is on kind loan from a member and costs US $199.
As you can see, it comes in a similar case to other (newer) ifi line. And as with those, the white labels are not legible in all but one or two angles. The left switch is power which has a delay in it (?). The right switch is a sub-sonic filter. The four dots are LED indicators for the four separate gain settings which you can select in the back:
Power is provided by an ordinary (non-ifi) 5 volt supply. Internally this is stepped up using a very high frequency switching regulator (running at 1.5 MHz). This should do away with mains spikes we see in many phono stages.
An unusual output is the 4.4 mm penticon balanced output. This is a very unusual connector for anything but headphones. It is nice to see it though if it provides a benefit in the form of cutting out ground loops. Internal architecture is balance as well (I think).
Company provides extensive measurements/specifications compared to what we typically see and speaks a lot to the low noise of the unit.
ifi Zen Phono Measurements
I stayed with the gain setting 1 which is suitable for Moving Magnet cartridges. Here is our dashboard using 5 mv input:
The spectrum of our 1 kHz signal is extremely clean. It is free of both power supply and distortion spikes. You would expect SINAD to excel but it does not:
The reason it doesn't is that noise floor is rather high. This did not add up with company specs/brochure and member comments about it being quieter. So I emulated one of the company SNR measurements:
As you see, I am very close to their specs/measurements. Balanced output does not help: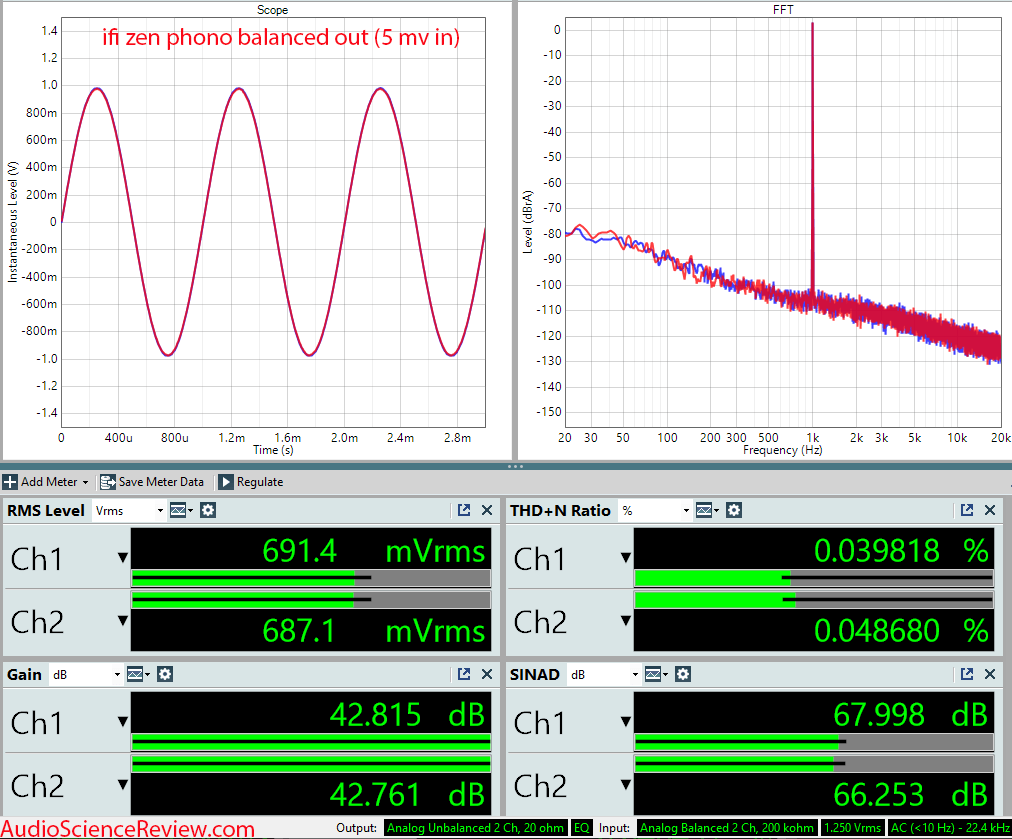 You can see the elevated noise level in this measurement and comparison:
Our top of the line pre-amps have far lower noise floor in low frequencies.
Distortion is also rather high when we discard noise from it:
On the other hand, the RIAA equalization is the best I have ever seen/measured:
It is essentially ruler flat!
On subsonic filter, I am measuring its static response. It may do better in practice due to "AI" logic that it say sit has.
Headroom shrinks sharply as frequencies increase which is unfortunate:
There is also increased distortion with frequency which is something I don't normally see.
Conclusions
Going into this review, I expected to see excellent measurements across the board. But this did not come to pass as far as noise and distortion. However, RIAA implementation is superbly accurate and this is something you will hear. On the strength of this, I am going to recommend the ifi Zen Phono pre-amp.
-----------
As always, questions, comments, recommendations, etc. are welcome.
Any
donations
are much appreciated using
:
https://www.audiosciencereview.com/forum/index.php?threads/how-to-support-audio-science-review.8150/