Founder/Admin
Staff Member
CFO (Chief Fun Officer)
Joined

Feb 13, 2016
Messages

35,867
Likes

142,305
Location
This is a review and detailed measurements of the 2020 version of the popular Hifiman HE400i open back planar magnetic headphone. It is on kind loan from a member and costs US $170.
The new revision is a bit more serious looking with its matt finish:
These are comfortable headphones with their round cups with inside dimension of 58mm diameter. Depth is 26 mm. Weight is on the average side:
Note
: The measurements you are about to see are made using a
standardized Gras 45C
.
Headphone measurements by definition are approximate and variable so don't be surprised if other measurements even if performed with the same fixtures as mine, differ in end results. Protocols vary such as headband pressure and averaging (which I don't do).
As you will see, I confirm the approximate accuracy of the measurements using Equalization and listening tests. Ultimately headphone measurements are less exact than speakers mostly in bass and above a few kilohertz so keep that in mind as you read these tests.
If you think you have an exact idea of a headphone performance, you are likely wrong!
Fitment on the fixture was somewhat variable. I spent quite a bit of time messing with them and what you see is the best I could get.
Hifiman HE400i 2020 Version Measurements
As usual we start with the headphone frequency response as comparison to our preference curve:
I have enclosed the graph for the original version. There is some difference around 2 kHz with the response a bit higher. Whether that is measurement error or variations between units, is hard to say. Not sure why the bass steps down. I messed with it a ton but that step would not go away. The rest of the graph is very noisy unlike any other headphone I have measured. It is even worse than the original. I think these are indication of resonances throughout the response.
Here is relative frequency response for eq purposes:
The roughness of the response and mismatch between channels will make it more challenging to build an EQ.
Distortion overall is good but we see a lot of wiggles and bumps in there which I think again indicate resonances:
Group delay is very mess which I think indicates many sound sources mixing up and creating it:
And for fans of timing response, here is another graph for you:
Seems like it is swinging up down for a few cycles before settling down.
Finally here is frequency response which remains unchanged: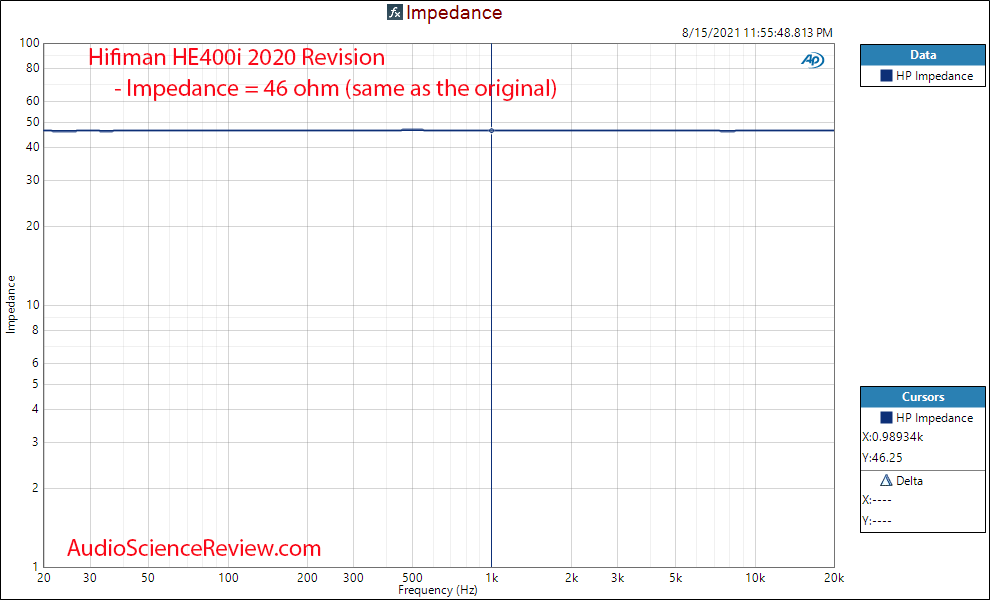 Hifiman HE400i 2020 Listening Tests and Equalization
The overall sound without EQ is inoffensive. Let's EQ it though and see if we can improve it:
This is based on the older version EQ which I found to be just as good for this revision. But I spent some time refining it more. Once done, the sound is very good and enjoyable.
Conclusions
Technically the HE400i has fair number of smaller flaws and mismatch with our target. As noted though, out of box response is not bad in that it is mostly missing energy than having too much of it. EQ works but hard to develop a perfect one given the rough response of the headphone. Still, I managed to get very good response out of them.
I am OK with someone buying the HE400i 2020 and use it without EQ. Personally I would only recommend it if you EQ it.
----------
As always, questions, comments, recommendations, etc. are welcome.
Finally took the time to plant some flowers this year and results are great! Latest pick:
Any
donations
are much appreciated using
:
https://www.audiosciencereview.com/forum/index.php?threads/how-to-support-audio-science-review.8150/