Member
Forum Donor
Reviewer
Joined

Jun 8, 2022
Messages

87
Likes

1,113
Location
This is a measurement and review of the Elax Monitor III MK2.
Here we go.
I measure and review speakers using DIY turntable, Earthworks M30 mic, and Klippel Distortion Analyzer 2.
First, the impedance response.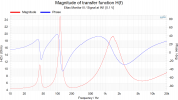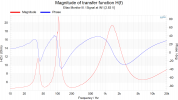 It was measured at 0.1V and 2.83V, respectively.
Next, SPL/FR and near-field measurements from the front.
(I follow the manual of the Klippel document when measuring ported speakers.)
1/12 Smoothing.
There is something unusual about the nearfield measurement data.
No filter was found on the woofer unit at the crossover point between woofer and twitter.
Next, the directivity.
I use DIY turntable to measure orientation, and I use 5ms window, so the data is meaningful after 200Hz.
Horizontal Directivity.
Vertical Directivity
Beamwidth
Polar plot
Next, a nonlinear distortion measurement.
I use CHD (Characteristic Harmonic Distortion) to display THD-relative because it is impossible to measure an odorless room.
It calculates the proportion of the harmonic distortion component based on the average sound pressure in a predetermined frequency band (possibly within the critical distance).
Using this method, the In-room measurement can also obtain relative data that is not affected by the fundamental's dip and peaks.
Next, the multi-tone test.
I've originally included a multi-tone test in all my reviews.
And this is even more disadvantageous for a single unit with a wide lower bound.
So, from this time on, we decided to do additional measurements that limit the range to '80Hz - 20khz'.
(I was inspired by Erin's Audio Corner.)
Strong multi-tone distortion was found near about 5.5khz where the dip occurred.
And overall, the level of multi-tone distortion is high.
(approximately -35 dB)
The following is the multi-tone distortion for each sound pressure level.
The 5.5 khz multi-tone distortion noted earlier has less movement than the increase in sound pressure levels.
Something strange is happening.
Next, the compression test.
(I used a multi-tone, not a sine sweep.)
I am careful to make subjective evaluations of speakers other than data.
The speaker is currently on sale at a Korean store for about $92 a.m.
(I think it's a joint purchase.)
What do you think?
Please feel free to share your opinions.