Founder/Admin
Staff Member
CFO (Chief Fun Officer)
Joined

Feb 13, 2016
Messages

43,282
Likes

221,380
Location
This is a review, listening tests and detailed measurements of the Dan Clark Audio Ether Flow 1.1 open back headphone. It is on kind loan from a member and costs US $1,799.99.
The Ether flow is an attractive headphone and pretty comfortable to wear. It comes with different set of pads. Owner bought it used so was not sure what is default. I am not either
. So I measured the Right channel (red below) with a thick black pad and left the other one the way it was (an open transparent mesh).
Note
: The measurements you are about to see are made using a
standardized Gras 45C
.
Headphone measurements by definition are approximate and variable so don't be surprised if other measurements even if performed with the same fixtures as mine, differ in end results. Protocols vary such as headband pressure and averaging (which I don't do).
As you will see, I confirm the approximate accuracy of the measurements using Equalization and listening tests. Ultimately headphone measurements are less exact than speakers mostly in bass and above a few kilohertz so keep that in mind as you read these tests.
If you think you have an exact idea of a headphone performance, you are likely wrong!
It was non-trivial to get the same bass performance for both channels on the fixture. But after some trying, I got there.
Dan Clark Audio Ether Flow 1.1 Measurements
Again, note that the right channel in red has an extra pad:
This is a pretty odd response. There is no part of our target curve that is adopted. We also have interesting set of resonant peaks which seem to diminish with the extra pad. EQ will be darn necessary. To that end, here is your guide:
On very good news front, there is essentially no distortion even at punishing 114 dBSP!
Group delay is not revealing of much other than some messiness:
Impedance is flat and low:
Which when combined with about average sensitivity means it is an easy headphone to drive:
Dan Clark Audio Ether Flow 1.1 Listening Tests & EQ
The immediate impression was that of the somewhat exaggerated upper bass/warmth. You could listen to them as is because it is not annoying in any regard. But EQ is mandatory to bring out what this headphone can do. The complex shape of the deviations made it a bit difficult but I managed to get there up to a few kHz: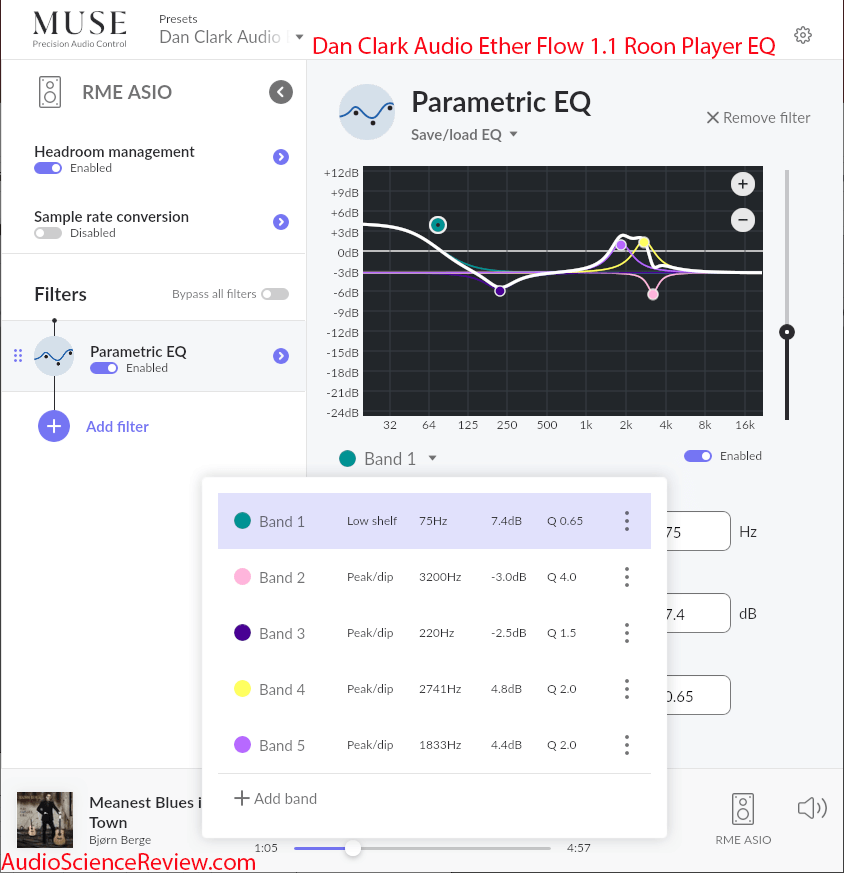 Strategy was a dip for the resonant peak and then two PEQs to boost the whole region. Upper bass was pulled down and low bass pulled up to taste. Depending on good your high frequency hearing is, you may want to play with pulling those resonant peaks down as well.
Me? I was satisfied and was blown away by the incredible fidelity I was hearing with those 5 filters. The track you see on the snapshot of Roon was to die for with amazing resolution and detail. You cold almost feel the strings courtesy of very nice spatial qualities.
The high sensitivity allowed my RME ADI-2 Pro to drive them up to as high a level as I wanted with thundering bass that resonated the cups and my ear! I wish I didn't have to take pictures of the headphone for the review so I could keep listening to them!
Let say that I did not expect to be able to correct the response as well as I did. It was tempting to just write off the headphone and not bother. But owner had told me to try so I am glad I did.
Conclusions
There is no question that the stock frequency response is off compared to what research tells us it should be. Even though the deviations are broad, the stock sound is not annoying so in a pinch you could use it as is. But add half a dozen filters to your EQ datapath and the ETher Flow 1.1 comes to life like nobody's business. Credit likely goes to good bones in the form of incredibly low distortion. To some extent, maybe the headphone we want is an extremely low distortion one we can EQ as we need!
Price is up there though so I can't recommend the Dan Clark Audio Ether Flow 1.1 open if you are going to use them as is. If you can pick one up used and add EQ though, you have a winner there.
-----------
As always, questions, comments, recommendations, etc. are welcome.
Any
donations
are much appreciated using
:
https://www.audiosciencereview.com/forum/index.php?threads/how-to-support-audio-science-review.8150/