Founder/Admin
Staff Member
CFO (Chief Fun Officer)
Joined

Feb 13, 2016
Messages

40,359
Likes

191,250
Location
This is a review, detailed measurements and equalization for the Audio Technica ATH-M50X. It is on kind loan from a member and costs US $149 on Amazon including Prime shipping. There are an incredible 24,000 reviews on Amazon! It averages 4.5 stars
Nothing looks fancy here:
The fit was more or less the same as other closed headphones in its class with cups a bit rubbing against my ears. The cable is removable:
The sample I had was well used with some of the pad surface starting to disintegrate.
Note
: The measurements you are about to see are preformed using
standardized GRAS 45CA headphone measurement fixture
. Headphone measurements require more interpretation than speaker tests and have more of a requirement for subjective testing as a result. In addition, comparison of measurements between different people performing it using different configurations requires fair bit of skill. So don't look for matching results. Focus on high level picture. Listening tests are performed using
RME ADI-2 DAC
and its headphone output.
Mounting the headphone on my test fixture was challenging, resulting in quite a lot of variation between channels and overall response. I optimized this as best as I could but like there are some error in low frequencies.
Audio Technical ATH-M50X Measurements
Let's start with frequency response of M50X and comparison to our preference target to figure out tonality of the headphone:
Due to the dip around 425 Hz, I actually referenced this headphone to the response at 600 Hz (otherwise the whole curve would be above our target). Once there, we see good agreement from 500 Hz to about 3000 Hz which is very good. Sub-bass is nice too unlike many headphones I measure. The hump centered around 150 Hz of course is a glaring fault as are a couple of peaks between 4 and 6 kHz.
Subtracting one curve against the other we get: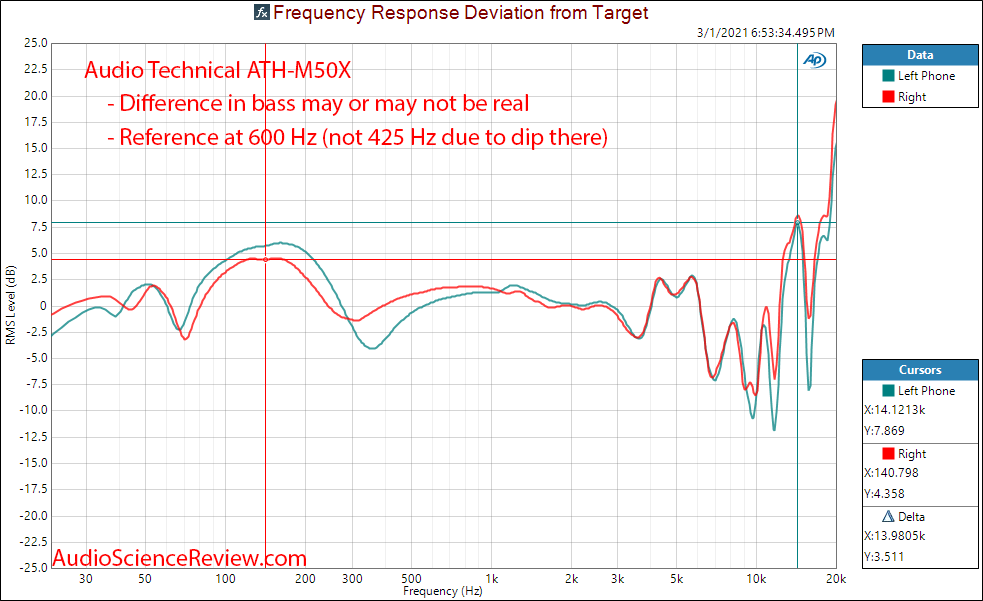 I liked the impressively low distortion from midrange up:
After we pull down the hump around 150 Hz, distortion should improve even more there.
Group delay shows some indication of why the response is so clean from 500 Hz and up:
Impedance is dead flat and low so look for amplifiers that have good current capability:
Sensitivity is very good:
My RME ADI-2 DAC could drive the M50X to ear bleeding levels.
Audio Technical ATH-M50X Headphone Listening Tests & EQ
Without equalization the sound was fine. Bass was exaggerated a bit depending on content. Spatial qualities were low with sound on each side of the ear. You could live with it if you didn't have EQ. I have EQ so I went to work on that.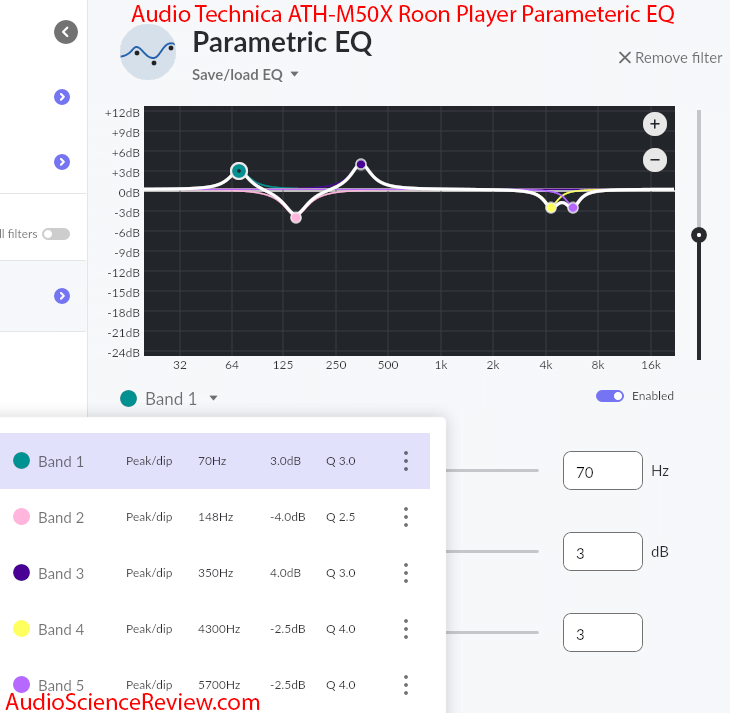 Getting rid of the bloat in upper bass let more of the detail in music to be heard. There was too little bass though so I put in the other two boost filters around it. I found the treble a bit annoying so dialed in two small filters for the two peaks we saw in frequency response.
At this point, the sound was quite good. Power handling was superb with me not be able to find the limits of the headphone as noted earlier. You can put an early end to your hearing without the headphone complaining with heavy distortion.
Note: I did not spend too much time fully tuning the filters. I got the results I wanted so I stopped there. Due to large difference between the two cups, more optimization may result in slightly better response.
Conclusions
There is no feeling of fanciness here which goes with the cost of the unit. Performance without equalization benefits from lots of good bass but that can be too much of a good thing. Equalization took the headphone from just "OK" to "yeh, this is sounding really good!"
I am only going to recommend the Audio Technical ATH-M50X with equalization.
------------
As always, questions, comments, recommendations, etc. are welcome.
Any
donations
are much appreciated using
:
https://www.audiosciencereview.com/forum/index.php?threads/how-to-support-audio-science-review.8150/
Last edited: