Founder/Admin
Staff Member
CFO (Chief Fun Officer)
Joined

Feb 13, 2016
Messages

39,953
Likes

185,258
Location
This is a review and detailed measurements of the new Topping D30Pro. It was kindly sent to me by the company. Alas, I forgot to ask them how much it costs when released. I will update the review when I find out.
Edit: as of March 1, 2021, the cost of this unit is US $399.99.
The D30Pro is released in a lovely medium sized chassis with my favorite display color: orange!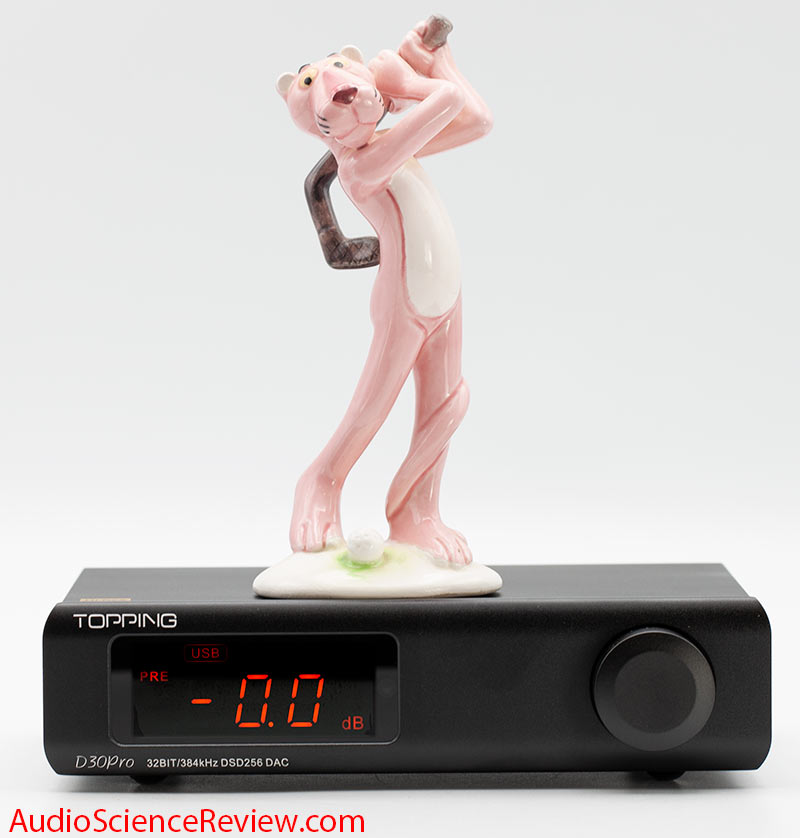 I was surprised to see it have balanced outputs and included mains power supply:
Reading the manual and using the device, I was pleased to see that the outputs are selectable. You can have XLR out, RCA out, or both. So you can now feed powered speakers from one output and RCA to another and select which one comes on. Note however that there are no discrete controls in the remote and you have to cycle through them.
For those of you who are picky and will find this, the round wheel is really round. There was a piece of fuzz that I took out quickly in Photoshop which gave it a little nick.
Topping D30Pro Measurements
As usual we start with our dashboard, this time using USB In and balanced out at maximum volume:
Distortion is down to incredibly low -135 dB. My analyzer noise plus what the D30Pro has on its own contribute to bring SINAD "down" to 120 dB:
Switching to RCA out, we loose a tiny bit:
Dynamic range is superb:
As is intermodulation distortion versus level:
Linearity is absolutely perfect:
Five filters are provided:
Nice to see very high attenuation with Filter 2 which is the default.
Distortion+noise was quite high versus frequency when measuring wideband:
This could be either distortion, ultrasonic noise, or both. Let's look at the spectrum to find out:
Ah, it is not distortion. It is a technique for reducing noise in audible band called "noise shaping." You take out noise in audible band and park it in ultrasonic range that we don't hear. This is a very mild version and starts well above audible range ag 45 kHz. So no consequence as far as audibility.
When I measure jitter on DACs these days, usually USB is great but Toslink and Coax, not so much. D30Pro goes against the trend, producing superb and identical results with all three inputs:
Edit: forgot the multitone:
Conclusions
Consistent with tradition, Topping D30Pro produces excellent objective results courtesy of the company doing its homework during design rather than waiting for me to find the faults! Assuming this is a mid-priced DAC, the feature set of balanced and selectable outputs combined with a bright and pretty display is a winner in my book. Inclusion of AC mains (and regulatory certifications to go with it) removes clutter form the desk finally making for a compact DAC.
Needless to say,
I am happy to strongly recommend the Topping D30Pro DAC.
NOTE:
this is a brand new products. I cannot test for bugs and issues beyond what goes on in my testing. While I did not find any issues whatsoever, you may find otherwise. If you are squeamish about such things, wait for early adopters to buy it and put it through its paces.
EDIT: just did a video review of this. Although it covers the same info as above, I explain the measurements in more detail:
------------
As always, questions, comments, recommendations, etc. are welcome.
Any
donations
are much appreciated using
:
https://www.audiosciencereview.com/forum/index.php?threads/how-to-support-audio-science-review.8150/
Last edited: