Founder/Admin
Staff Member
CFO (Chief Fun Officer)
Joined

Feb 13, 2016
Messages

39,148
Likes

174,996
Location
This is a review and detailed measurements of the LA-QXD1 balanced (XLR) USB DAC. It was kindly sent to me by the company. It costs US $199 and is already shipping in small quantities (I am told they will have a lot for sale in a week or two).
The case on this DAC is quite high-end and not at all proportional to its price:
It is heavy, and very nicely machined. The former is nice because the cords don't pull it around.
The back shows the typical DAC connectors and inputs/outputs:
You need independent power input from USB bus. I tried powering it with a normal USB jack on the computer but it would not power on and Windows complained that too much power was being requested. So I used a Samsung phone charger for the measurements you are about to see. I did try other supplies including my audiophile power supply but it made no difference. So use a branded good quality phone charger and you should be good to go.
Actually, let me modify that: the orientation of the Samsung AC plugs mattered a bit. These chargers try to shunt some of the output emissions to the AC mains. If you plug them in backward, then it is connecting the input to output from the hot terminal which is less optimal.
Anyway, operation of the unit is simple enough. The gear symbol changes inputs. Plus and minus change volume but they do so in the operating system. As such, the granularity is low. Out of box it starts at low volume so be sure to turn up the volume to use it.
DAC Audio Measurements
As usual we start with our dashboard: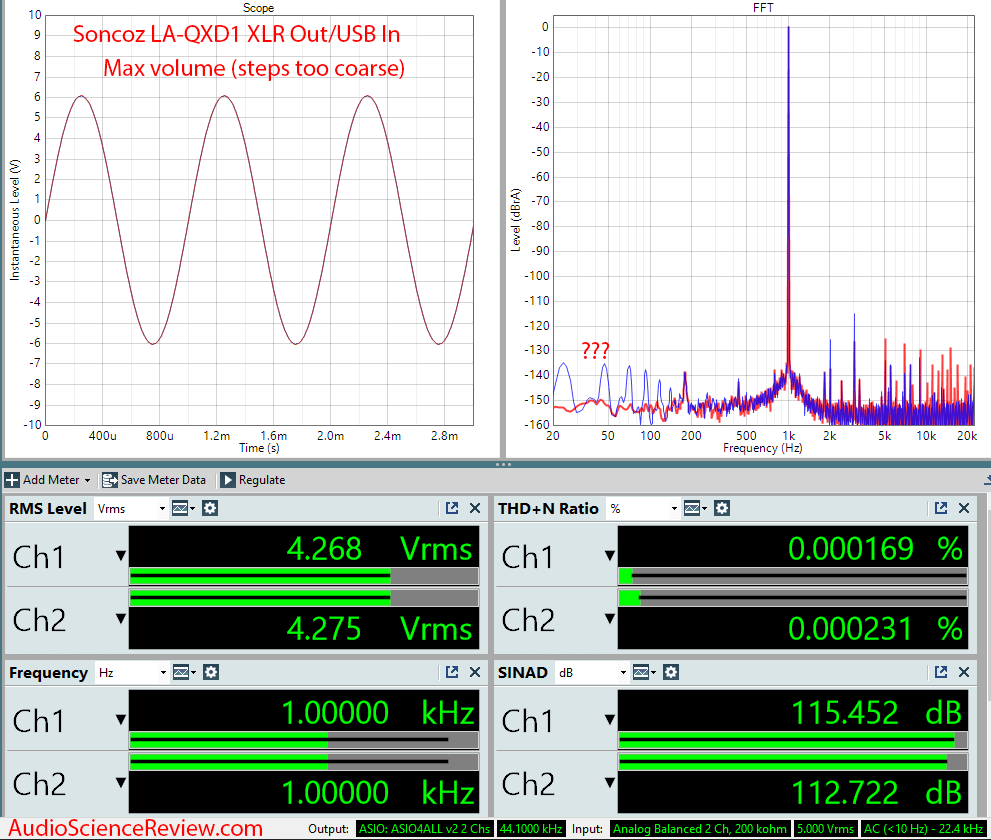 Company measurements show a SINAD of 117 dB. We are a bit short of that in the "good" channel. The "bad" channel has a bit of noise as I have marked and more distortion. Averaging the two channels still places the LA-QXD1 way up in the ranking of the all DACs tested regardless of price:
This is excellent price/performance.
Dynamic range is up there in similar standing as its SINAD rating:
Intermodulation+noise performance is very nice as well:
Jitter performance for both USB and Coax are the same (and very good):
Linearity is superb:
Filter response is a bit odd:
I like that it drops at the required 22.05 kHz (most DACs incorrectly go up to 24 kHz) but don't know why it then peaks back up.
Conclusions
I really like to have balanced outputs in a DAC given the fact that they connect to a PC and hence, it is very easy to wind up with ground loops. Usually balanced output comes at a cost of higher price as it is considered a premium feature. Not the case here. You get XLR output and importantly, with superbly low noise and distortion for a really budget price. The nice case completes the picture.
Given all of this,
I am happy to recommend the Soncoz LA-QXD1 DAC.
-----------
As always, questions, comments, recommendations, etc. are welcome.
Think about it: if you are reading this, you are putting some value on these lame jokes. This means I should get something for them. So please reach in your virtual pocket and
donate a bit
using
:
https://www.audiosciencereview.com/forum/index.php?threads/how-to-support-audio-science-review.8150/