Founder/Admin
Staff Member
CFO (Chief Fun Officer)
Joined

Feb 13, 2016
Messages

28,509
Likes

75,395
Location
This is a review and detailed measurements of the Talema power Volume Remote Control Relay 128 Steps Constant input impedance 4 CH passive pre-amplifier. It is on kind loan from a member. You can find it on various online sites. An ebay listing shows it costing US $130. Given the four channel input and remote control, it seems like very good value.
The box won't win any design awards but is solid metal as is the remote:
The knob on the left selects input and the one on the right changes volume. Max volume level is 128 by the way, not 100.
The remote is ugly but is made out of heavy metal. It has nice little green LED that comes on when you press any buttons.
The back panel is as you would expect:
The inclusion of power supply inside the box makes things tidy but of course, there is NO regulatory certification. The picture on ebay listing does NOT show proper grounding of the safety terminal: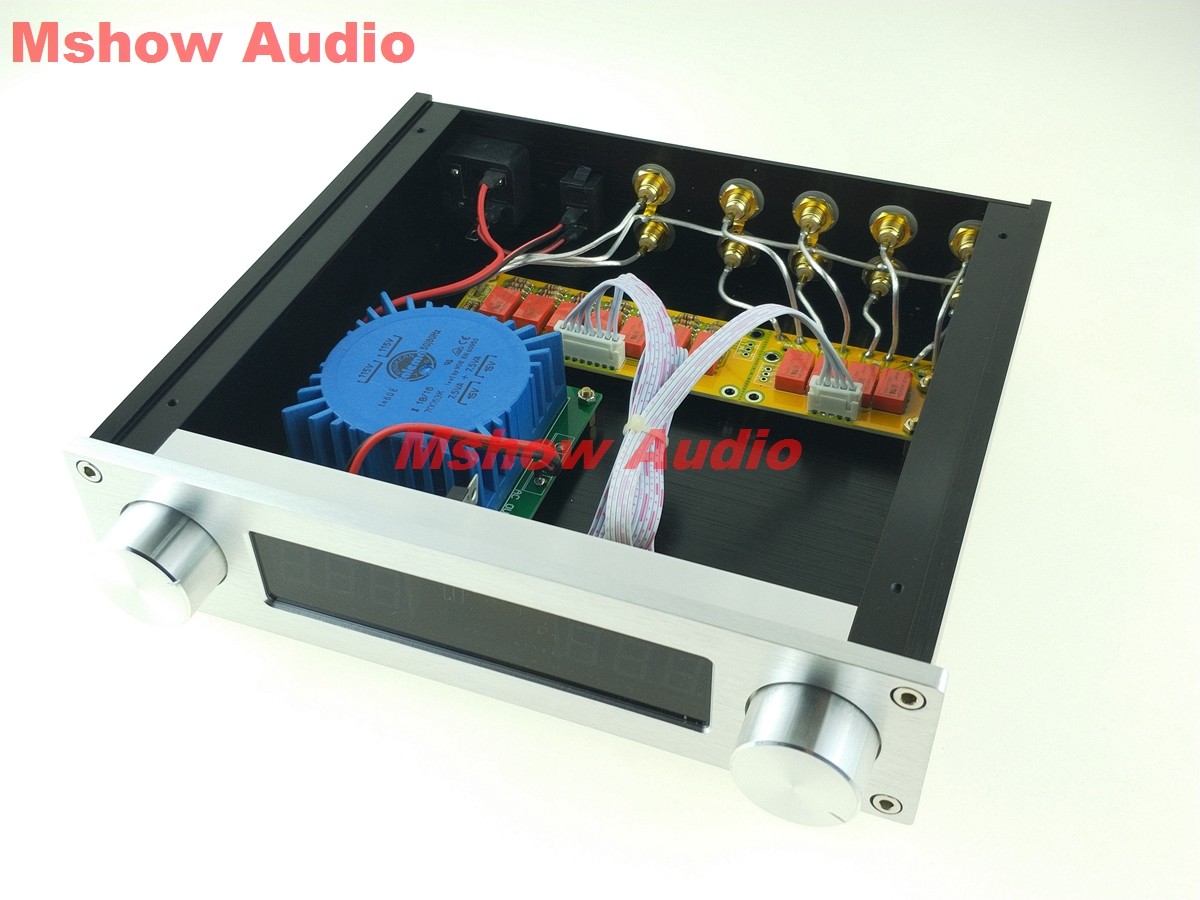 Audio Measurements
Let's start with our dashboard with 2 volt input and volume set to max (128):
Channel matching is excellent. THD+N and hence SINAD is dominated by the mains noise and harmonics created by the power supply. As it is, it would degrade the performance of any audio device with SINAD better than 97 dB or so. Then again those low frequency spikes are likely not audible due to high threshold of hearing in that region.
You won't be using this device at full volume often so I reduced the volume until the display showed 100:
Relative amplitude of mains noise increases of course and once again sets the limit for SINAD. There is also a bunch of extra junk to the right, some of which are mains harmonics but others are likely noise from the display, microprocessor and such.
Frequency response shows ruler flat so no issues there:
Crosstalk is also quite nice:
Intermodulation distortion at maximum volume is almost the same as what the analyzer produces plus some noise:
Let's reduce the volume to "100" again and see what happens:
Ouch. The baseline noise is really hurting its performance. Digging deeper, here is the spectrum with 20 millivolt input:
The spurious tones are taking over relative to our main tones resulting in poor IMD. Looking at the scope display, a sequence of dancing spikes show up:
Conclusions
I must say, I went into this review expecting a very broken device but did not find such. There is a ton of functionality here for just $130 and performance is really good. Yes, more attention needed to be there to guard against unexpected noise from the rest of the unit bleeding into audio path. But that is to be expected at this price range.
I can't recommend the unit based on measured performance. But with respect to functionality and value, it is a worthwhile option.
FYI, I am boxing the unit right away to ship to the owner who sent me the Schiit headphone amps. All have been here for 3 months and I need to get them back to him. So no more measurement requests please.
-------
As always, questions, comments, recommendations, etc. are welcome.
Came back from our nice road trip to western Canada. Expectly, I depleted some of my pocket money so appreciate you all help replenish the bank account by donating using:
https://www.audiosciencereview.com/forum/index.php?threads/how-to-support-audio-science-review.8150/