Founder/Admin
Staff Member
CFO (Chief Fun Officer)
Joined

Feb 13, 2016
Messages

42,691
Likes

215,114
Location
This is a review and detailed measurements of the Minidsp C-DSP 8x12 V2 DSP for automotive (12 volt) applications. It was kindly sent to me by a member and costs US $760.
As the name indicates, you have 12 analog outputs which can be driven by either digital or analog inputs. USB connections is for control and configuration (no data transfer). Back panel shows the 8 analog inputs and dual digital:
The relay uses an RJ-11 connector/telephone wire so you should be able extent or shorten the cable as you wish. The LCD is very high contrast and volume control responsive. For testing I powered the unit using my lab bench power supply at 12 volts. Idle current usage was 570 milliamps (6.84 watts). So be sure to use the remote connection to power it on when the head unit turns on.
If these measurements are new to you, I suggest watching my
video on DAC measurements
.
Minidsp C-DSP 8x12 V2 DAC Measurements
Using Minidsp configuration utility, I muted all channels but the coax S/PDIF input. I routed that to RCA channels 1 & 2 and adjusted the volume to get 2 volts nominal out:
Noise and distortion as expressed in SINAD is pretty good for the application:
I set the volume to 0 and gradually turned the volume up from -30 dB to 0:
So even though we have an RCA connection, it is good to 4+ volts. SINAD goes up another 4 notches as a result. Many automotive products support higher voltages to improve noise immunity so this is good.
We can see the improvement in noise level in our standard dynamic range tests:
IMD test shows low distortion at extreme:
Linearity droops a bit as we get near 20 bits but is certainly good enough for what we need here:
Jitter spikes are visible but they are well below audibility let alone noise floor of a car:
The filter is the typical default you fine in audio DACs:
Attenuation is good enough that there is not much frequency dependence:
I was surprised a bit about low frequency saturation with 0 dB volume.
Minidsp C-DSP 8x12 V2 DSP Measurements
I spent a bit of time configuring various signal processing modes and the impact on frequency response. Let's dial in a crossover at 1 kHz/48 dB per octave:
Someone less lazy than me can see if the slope is right or not.
The crossover frequency is right on at 1 kHz.
Next I dialed in low and high shelving:
Looks correct. How about single filter with different Q levels?
Looking good. Let's test very high Q and see if we get ringing: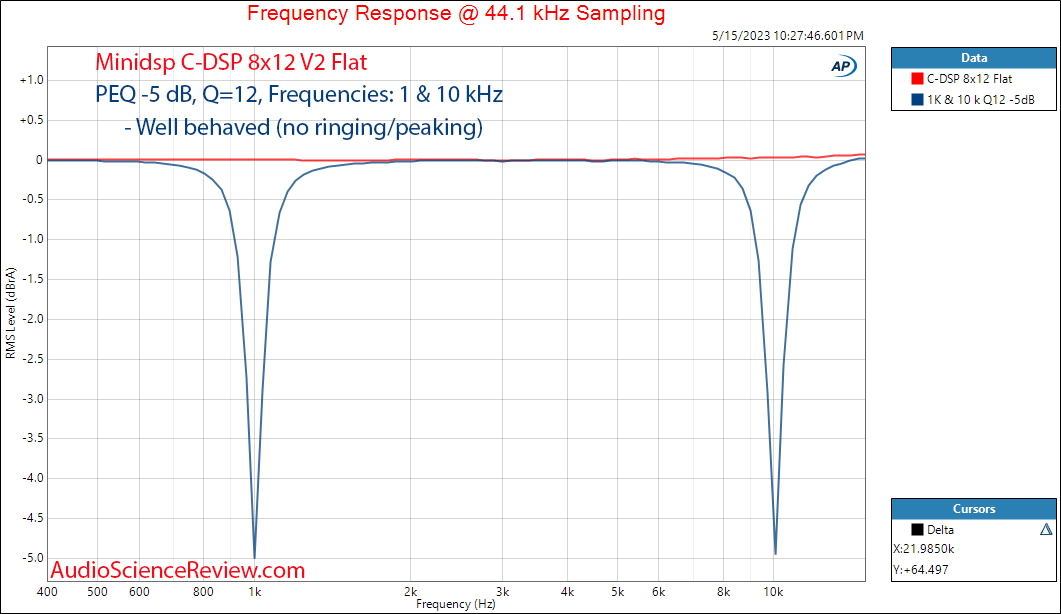 We don't. Please note that the sharp dip is due to lack of data points in the measurement and not the transfer function looking that way.
I turned on a PEQ and measured IMD (not shown) and it had no impact other than the expected due to change in frequency response.
Minidsp C-DSP 8x12 V2 Analog In/Out Measurements
In case you are stuck with analog pipeline in your system, let's treat the unit as a black-box pre-amp and see how it performs:
Ah, we take a pretty big hit in the form of distortion. We lose almost 20 dB relative to using digital input! You can see this better in IMD vs level:
I guess if you are turning the volume down at the source you will enjoy the best case scenario but even that is not great (0.7 volts in).
Frequency response is very flat and nice:
Noise is decent as well:
So is crosstalk:
There is no frequency dependence but levels are high enough that this is kind of moot:
I happen to have the measurements for a desktop Minidsp so we can compare them:
So not much worse.
Conclusions
I really like the extensive capabilities, ease of configuration and digital input performance of C-DSP 8x12 V2. They should let you optimize the sound of your car (or with power supply at home), far better than not using one. Clearly company cares about engineering and design in this regard. Performance using analog input though drops a few notches so if at all possible, use digital inputs.
Overall, I am going to recommend the Minidsp C-DSP 8x12 V2.0 signal processor.
------------
As always, questions, comments, recommendations, etc. are welcome.
Any
donations
are much appreciated using
:
https://www.audiosciencereview.com/forum/index.php?threads/how-to-support-audio-science-review.8150/