Addicted to Fun and Learning
Forum Donor
Joined

Nov 21, 2018
Messages

870
Likes

3,331
Location
So riddle me this: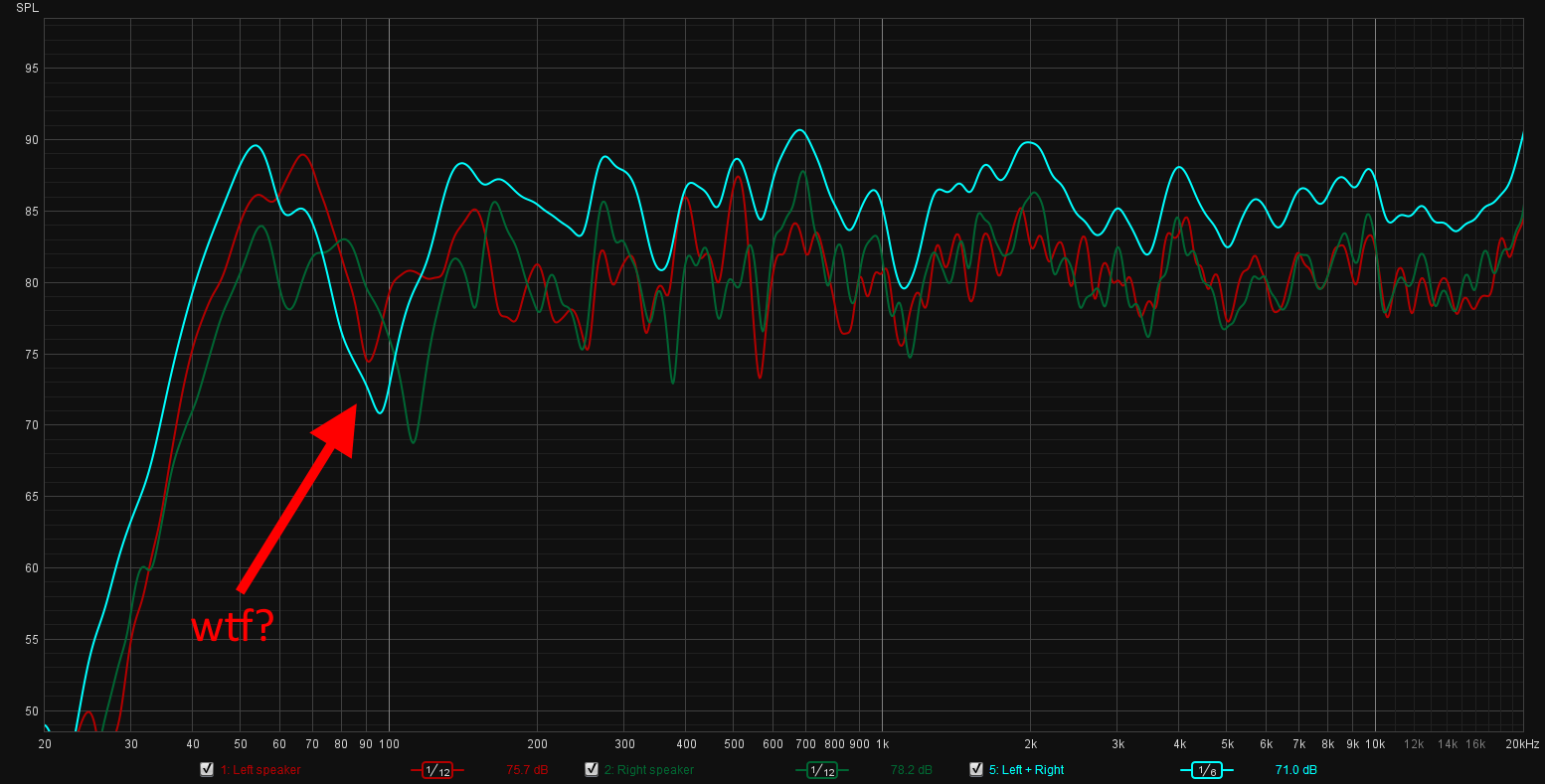 The above graph shows the response at my listening position from my left speaker (red), right speaker (green) as well as the response of both playing at the same time (blue). All graphs use 1/12 octave smoothing for readability.
Ignore the large null on the right channel at 112 Hz - that's not what I want to talk about. (Yes, it's a problem, but not one I've been able to solve thus far.)
What's driving me nuts is the summation - or lack thereof - between the left and right speakers around 90 Hz.
Mathematically, this can only be explained by the sound arriving at the listening position out of phase between the left and right channels. And indeed:
There is a whopping 187° difference between the left and right channels at 90 Hz. (Note: these measurements were made using the REW acoustic timing reference feature to ensure this comparison is valid.)
Computing the vector vs. RMS average of the two channels yields a result that should come as no surprise at this point:
And if we compute the difference between the two, we can see that this problem results in an eye-popping 6-12 dB destructive interference between the two channels across an entire octave:
This leaves me somewhat flabbergasted. I've calibrated quite a few systems before, and I've never seen bass frequencies get out of phase like this. I just assumed there was some kind of physical law that somehow guaranteed that, as long as the speakers were at equal distance/delay (and in this case they are), in a typical room, bass frequencies would be in phase and would sum constructively. I guess that means my room is atypical in a particularly weird way…
This is a big problem because I'd expect most recordings to assume coherent bass summation, but that's not the case in this system.
I have no idea what's causing this in this particular room. I've tried various experiments (including covering an entire wall with
bass traps
) with no success. Sometimes I manage to change the responses of the left and right channels somewhat, but no matter what I do, they always stay out of phase.
The only solution I could find was to work around the issue using EQ allpass filters to restore proper phase - so that, after EQ, the summed response is consistent with the response of left and right channels. That works, but obviously a lot of finesse is required in designing the EQ filters. Someone who only has access to "basic" PEQ or doesn't know how to manipulate phase using allpass filters would have no chance of getting this right. They would have to make a carnelian choice between having a correct response when individual channels are playing, or the correct response when both channels are playing. And that's assuming they even spot the problem in the first place. I really hope my case is some kind of isolated extreme scenario - if it's not, then I guess we'll have to revise standard calibration procedures!
I'm not quite sure what I'm hoping to get out of this thread, but I guess it could serve as a warning to watch out for this problem. Obviously, if anyone has any theories or possible acoustical solutions (besides manipulating phase via EQ which is what I'm already doing), please shout!
Additional information
Pictures of the audio system, room and listening position:



The speakers are Genelec 8030As. The squares/rectangles on the walls are
RealTraps Fat MondoTraps
. (They were positioned for optimal frequency response as empirically determined through measurements.)
Before you ask:
Did you try removing/moving the bass traps or the desk? Yes. It doesn't make any difference. It changes the responses somewhat but they are still out of phase by a similar amount.
Are you sure one speaker is not wired out of phase? Yes. Also it would be extremely obvious in the above graphs if that was the case. The sound is only out of phase between 60-120 Hz, not elsewhere.
Are you sure it's not a problem with one of the speakers? Yes. I checked for that by swapping the front pair for the rear pair. The results are exactly the same.
Are you sure it's not the DAC/some DSP/etc.? Yes. I tried a different DAC and cable. The results are exactly the same.
Did you try moving the speakers or the listening position? No, because unfortunately I can't really do that. As you can see on the pictures it's a small room and the current layout is the only one that's practical.
Maybe you can work around the problem by crossing the sub above the problematic region? I tried that, but I have to cross the sub so high (~110 Hz) that it becomes audibly localizable and the sound stage gets pulled towards the sub, which is located in the front left corner to avoid room modes.
Maybe a cardoid bass speaker like the Dutch & Dutch 8C could help? Maybe. I'm sceptical because even the D&D 8C is still omnidirectional at 90 Hz. The Kii Three seems to fare a bit better, maybe it's worth a try, I don't know. Given how much these speakers cost it's quite the risky bet!
Last edited: