Founder/Admin
Staff Member
CFO (Chief Fun Officer)
Joined

Feb 13, 2016
Messages

31,753
Likes

103,071
Location
This is a review and detailed measurements of the Audiophonics EVO-Sabre Balanced DAC. It was requested by a member and the company was kind enough to send me one. It costs 239,00€ including tax and 199,17 € without (US $235).
The EVO is an unusual DAC in that it both works stand-alone due to use of an on-board microcomputer and display, and also as a slave to Raspberry Pi single board computer:
I tested it in stand-alone mode but you can plug in the RPI on the right and it will feed it power and I think its USB port becomes a peripheral to RPI.
The unit requires 9 volt input and is not self-powered with USB. I used my bench power supply to provide that as no power supply comes with it.
I was impressed with the quality of the OLED display with sharp, clear graphics. A remote control is also provided which is nice.
DAC Audio Measurements
As usual we start with our dashboard driven by the USB input:
Not bad! Distortion is below audible threshold at -115 dB. A bit of noise reduces SINAD which takes into account both factors and results in 110 dB:
Dynamic range is excellent, providing a noise-free 20 bit data path:
Multitone matches the same: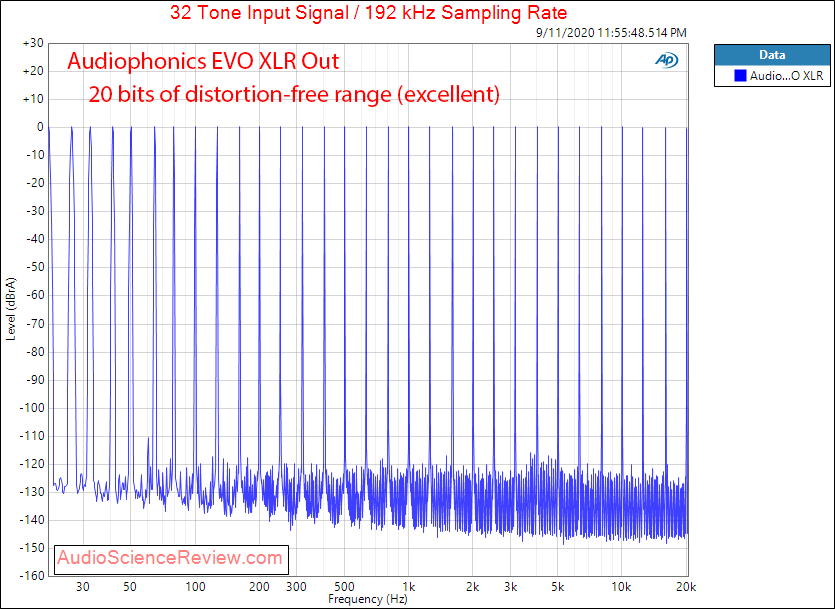 Jitter performance was very good as well:
Linearity was text-book perfect:
THD+N tracked my reference Khadas tone Board which was fascinating:
IMD distortion relative to level unfortunately brought back our old friend the "ESS IMD Hump:"
The low noise floor accentuates the hump.
Finally, I was so happy to see one of the few technically correct default DAC filters in the market:
Conclusions
Other than the IMD ESS Hump which can be fixed with a few minor circuit changes, the performance of Audiophonics EVO is solid. And the form factor and functionality is great to build your own streamer in a much more integrated way than using desktop DACs, or shoehorning elaborate DAC board on top of RPi.
I am happy to recommend the Audiophonics EVO Sabre given the unique functionality, form factor, and performance.
------------
As always, questions, comments, recommendations, etc. are welcome.
Second article/review of the day... I DEMAND OVERTIME!!! So reach in your pocket and
donate
what you can using
:
https://www.audiosciencereview.com/forum/index.php?threads/how-to-support-audio-science-review.8150/