Founder/Admin
Staff Member
CFO (Chief Fun Officer)
Joined

Feb 13, 2016
Messages

34,992
Likes

130,359
Location
This is a review and detailed measurements of the Adam S2V Professional Studio Monitor (powered speaker). It is on kind loan from a member. The S2V costs US $1,750 (each, NOT a pair).
This is one beefy, heavy and deep bookshelf speaker:
Yes, the cone was a bit dusty.
The back panel shows the inputs and output plus user interface:
We are now at a price point where digital input (and pass-through) are provided. I used analog input however for my testing.
There is an OLED display which while small, is workable. What is not workable is the non-intuitive user interface involving that clickable rotary encoder. Even after reading the manual and watching a video, I still could not figure out how to interact with it. I was however able to select Analog input with Pure mode which is the factory preset for "flat" response.
There is a USB connector for PC control. Went to download the app but it asked me to register. Fine, I do that. But then it wants the serial number. I gave it the serial number and if of course tells me it is in use.
Do they think no one ever sells these speakers? Being smart, I put in a random serial number and got through.
The app was much easier to use but still has issues. None of the changes you make take effect. Good test to see if you are subject to placebo! You have to hit the grayed out "store" or "write" to get them to take. And that takes 5 to 10 seconds and involves some ticks and pops and fade up. Shame as the filters in there would be great for quick fine tuning and lowering room modes.
Measurements that you are about to see were performed using the
Klippel Near-field Scanner (NFS)
. This is a robotic measurement system that analyzes the speaker all around and is able (using advanced mathematics and dual scan) to subtract room reflections. It also measures the speaker at close distance ("near-field") which sharply reduces the impact of room noise. Both of these factors enable testing in ordinary rooms yet results that can be more accurate than anechoic chamber. In a nutshell, the measurements show the actual sound coming out of the speaker independent of the room. All measurements are reference to tweeter axis with the grill removed.
Over 1000 points around the speaker were measured (from 20 to 20 kHz) which resulted in well under 1% error in identification of the sound field emanating from the speaker. Resulting database is 1.3 Gigabytes in size.
Spinorama Audio Measurements
Acoustic measurements can be grouped in a way that can be perceptually analyzed to determine how good a speaker can be used. This so called spinorama shows us just about everything we need to know about the speaker with respect to tonality and some flaws:
I know, I know. You think that step deep is because the speaker went into compression. Not so. The levels were already lower than what I use with passive speakers. But to stay on the safe side, I ran the entire ~3 hour measurement at less half the level and got the identical outcome. Levels were extremely low in the second try and the shelving behavior was there. The frequency is too low to have anything to do with directivity. I suspect this is a correction curve applied to the speaker on purpose, hoping that the room gain fills in the rest. What I can't explain is the anechoic chamber Adam provides:
Interesting enough though, we see a variation in response at the same point I measured a rise in response. I wonder if they used some kind of near-field curve to stitch here and the gain level is wrong there. They do show a tilt up the same way I have it at higher frequencies.
I plan to contact Adam and see if they have an explanation. And am open to suggestion and comments you may have on what may be going on.
Back to measurements, the crossover is at 3 kHz but you can't see it in the response curve which shows excellent blending of the two drivers. Likely DSP was used to fully correct the response but we take it however it comes.
Interestingly enough, the predicted in-room response is very good:
So that in-room shelving may be correct on-axis. We still have a dip though around 200 to 500 Hz so bass performance will still be a bit light.
That's it folks. The rest of the show is for people who want to dig really deep.
Advanced Speaker Measurements
Here is our zoomed in directivity: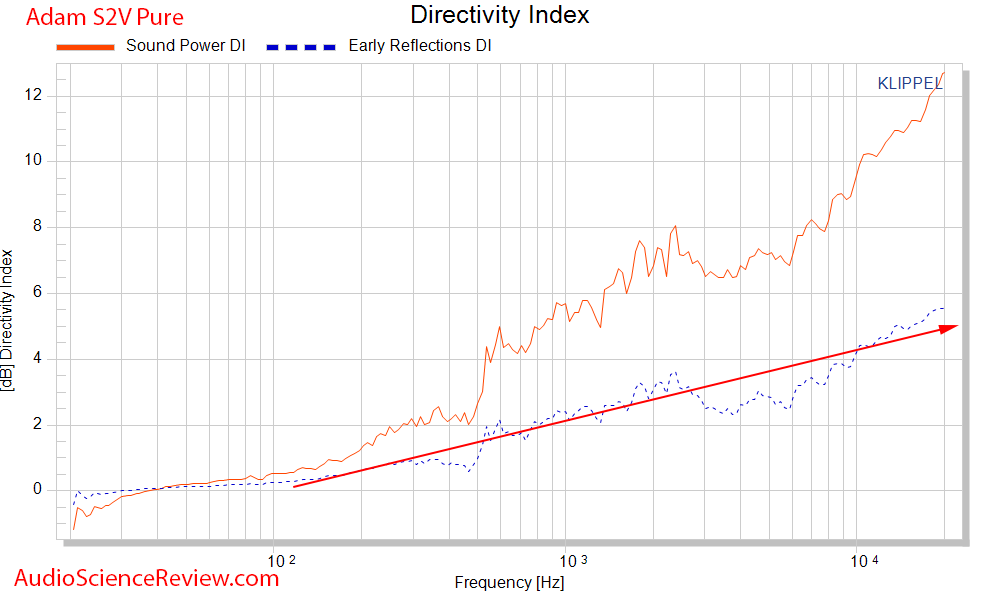 We some error around the crossover area (3 kHz to 10 kHz) so a bit of room sensitivity is to be expected.
The manual systems to get rid of all reflections. Above graphs says be careful in doing so. They are balancing each other out to give a very smooth curve.
Eye-candy Speaker Measurements
Here is our contour plots which agree very well with the manufacturer measurements (theirs is much lower resolution):
Here is the company waterfall:
It is interesting in that it also shows the shelving response (top of the waterfall) which we have measured!
Speaker Distortion Measurements
You can see the true SPL levels in my first measurement presented above:
If one believes above, it is very low level of distortion.
Listening Tests
I didn't have time for extended listening and comparison. I had the cheap Pioneer SP-BS22-LR on the right and the Adam S2V on the left. Levels roughly matched, the Pioneer definitely had more bass. That is, until I increased the volume a bit and it fell apart while the S2V powered on with authority. So subjectively seems like measurements were correct in bass being low on purpose. To wit, I changed to second factory house curve mode on S2V and bass came in with vengeance.
Overall, the Adam S2v is very listenable. I would of course EQ that shelve out to get the bass where it needs to be.
Conclusions
The Adam S2V is a serious monitor with seemingly good design. The low bass probably has an explanation that we can find. Or else easily correct with an EQ (including the one built into the speaker itself). The S2V was the first powered monitor I have tested so far that did not run out of power. Nor sounded like a little point source.
I am going to put the Adam S2V on my recommended list.
------------
As always, questions, comments, recommendations, etc. are welcome.
My wife is out and called to see if I want her to pick up something for dinner. Feeling quite poor, I suggested Kentucky Fried Chicken (KFC). Not looking forward to soggy chicken by the time she arrives but this is all I could afford. Please
donate
a few dollars so I can have better dinner tomorrow night using
:
https://www.audiosciencereview.com/forum/index.php?threads/how-to-support-audio-science-review.8150/
Last edited: