Founder/Admin
Staff Member
CFO (Chief Fun Officer)
Joined

Feb 13, 2016
Messages

43,167
Likes

220,536
Location
This is a review and detailed measurements of the 2023 edition of Sabaj A20d balanced DAC and headphone amplifier. It was sent to me by the company and costs US $420.
As with last generation, the A20 comes in gorgeous packaging that completely sets it aside from its competitors. The display is ultra clear and very responsive and I like the large volume level indicator. Back panel shows what you expect:
The labels were a bit hard to read but that is a one-time aggravation.
The 2023 revision switches from ESS DAC to AKM AK4499EX.
Sabaj A20d 2023 DAC Measurements
When I first started to test the unit, I was getting high harmonic distortion, sinking expected SINAD by some 15 dB. It took a bit of looking but then found four "sound color" settings with all but the first one causing such distortion. I turned that off to get proper results:
This is excellent performance, easily landing the A20d in our top 20 best DACs ever measured:
Unbalanced RCA performance is almost as good:
Output was actually higher than the above and performance improves a bit if you let it go to the max:
You need exceptional noise performance to land in our top 20 list and A20d naturally delivers:
Linearity is perfect:
Multitone distortion is vanishingly low:
In order to make our tests more comparable to what is published elsewhere, I added a test of 50 Hz tone driving into a very low impedance of 600 ohm as used by Stereophile:
As a way of comparison, here is how the
dCS Rossini Apex
($32,800) performed in the same test: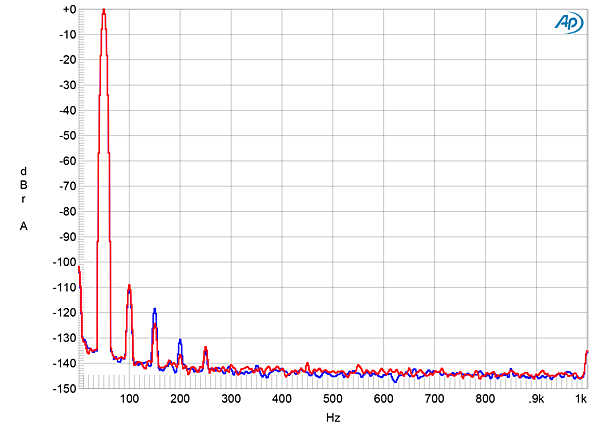 The A20d beats the worst case harmonic of Rossini by 7 dB yet costs nearly 80 times less!
IMD performance is excellent:
Jitter test shows a bit of internally generates spurious tones but otherwise is excellent:
We have the usual set of filters:
Here is our wideband noise+distortion vs frequency:
Sabaj A20d 2023 Headphone Amplifier Measurements
We have both 1/4 inch and 4.4 mm jacks but both convey the same signal so let's go with the latter:
These are extremely clean with good bit of power to drive just about any headphone. Despite lack of ultra low (negative) gain, noise performance is excellent at just 50 mv:
Conclusions
The 2023 revision of A20d brings excellence in every category from look and feel to performance across the board. It leaves nothing to complain about.
I am happy to recommend the Sabaj A20d DAC and headphone amplifier.
Manufacturer Specifications
| | |
| --- | --- |
| Name | Sabaj A20d 2023 |
| Input | USB. Optical, Coaxial. Bluetooth |
| Output | 6.35mm/4.4mm headphone, RCA. XLR |
| Output level | RCA 2.3Vrms. XLR 4.6Vrms |
| HPA power | 2W*2(160) 1W*2(322) |
| HPA gain | LOW OdB. HIGH +8dB |
| THD+N | HPA 0.0001% (-120dB) . DAC 0.00006% (-123dB) |
| Dynamic range | RCA 126dB. XLR 131dB |
| SNR | RCA 126dB. XLR 131dB |
| Output impedance | HPA NEAR 0Q, DAC 1000 |
| Bluetooth | BT 5.0 (support apt-X HD, LDAC, apt-X, AAC, SBC) |
| USB transmission | Asynchronization |
| USB compatibility | Windows 7, 8, 8.1. 10, 11, Mac OS X 10.6 later, Linux |
| Bit width | USB 1bit~ 32bit, Optical/Coaxial 16bit~ 24bit |
| Sampling rate | USB 44.1~ 768kHz DSD64-512, Optical/Coaxial 44.1~ 192kHz DoP64 |
| Power Consumption | <20W |
| Size | 200×60×210 (W×H×D) |
| Weight | 1500 |
----------
As always, questions, comments, recommendations, etc. are welcome. Click
here if you have some audio gear you want me to test.
Any
donations
are much appreciated using
:
https://www.audiosciencereview.com/forum/index.php?threads/how-to-support-audio-science-review.8150/
Last edited by a moderator: